3/16 Morning Buzz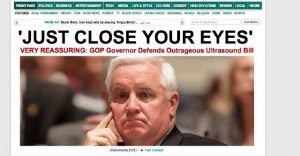 Good morning politicos, and here's the Buzz. Mellow pleads guilty, Corbett's ultrasound comments go viral, and presidential politics continue to heat up.
Don't forget to check back later for the Ups & Downs.
Mellow To Plead Guilty, Could Spend Five Years In Prison: The Times-Tribune reports that former state Sen. Robert J. Mellow will plead guilty to mail fraud and filing a false tax return.
Santorum Unlikely to Pull in Pa. Delegates: Dan Hirschhorn of The Daily reports that Pennsylvania delegates are likely to head to Mitt Romney regardless of the outcome of the state's primary. The Pa. primary results are unbinding, and party leaders are the favorites to win delegate seats.
Corbett Comments Go Viral: Governor Tom Corbett kicked a bees nest with recent comments about a proposal to mandate ultrasounds for women seeking abortions in Pa. The story is everywhere from the front page of the Huffington Post to fundraising emails from Democratic groups.
Bipartisan Praise for Gov. Corbett As Shell Announces "Cracker" Site For Beaver Co: The business opportunities presented by Pennsylvania's vast Marcellus Shale supply continue to attract suitors, as today, Shell Oil Company announced that they have signed an agreement for a "cracker petrochemical plant" in Beaver County.
Boockvar, Trivedi Sound the Alarm on Medicare: Two congressional challengers are gearing up for the next House GOP budget, and the next battle over Medicare reform. Kathy Boockvar is challenging Rep. Mike Fitzpatrick, Manan Trivedi is challenging Rep. Jim Gerlach.
Romney PA Surrogates Knock Santorum, PA Dems Knock Romney: The presidential campaign continues to heat up in Pennsylvania. Romney's Pa.'s surrogates took aim at Santorum, while the PA Dems took a shot at Romney.
Feinberg Unveils Massive Policy Paper: Evan Feinberg is bringing his years as a policy analyst to the campaign trail. In a 23-page document released today, Feinberg details the steps he would take to improve the economy – including a flat tax, closing four government agencies, and legalizing gold and silver as currency.
Steve Forbes Backs Smith for Senate: Steve Forbes, the Chairman and Editor-in-Chief of Forbes Media and a GOP presidential hopeful in 1996 and 2006, has endorsed Senate hopeful Tom Smith. He also backed Pat Toomey during his 2004 primary against Sen. Arlen Specter.
Teamsters Endorse Critz: The Pennsylvania Conference of Teamsters are backing Rep. Mark Critz today in his race against fellow Democratic incumbent Jason Altmire.
Labor $$ Helps Murphy AG Camp Catch Up: Patrick Murphy's contributions from labor unions have helped him close the gap with Kathleen Kane, his opponent in Democratic primary for Attorney General – though he still trails by $800K. Plus finance reports from the GOP Auditor General primary.
Obama Campaign Launches Nurses Coalition to Defend Health Care Law: March 23rd marks the two-year anniversary of the polarizing Affordable Care Act, nicknamed 'Obamacare' by critics. Wednesday, the President's campaign launched its national coalition Nurses for Obama to defend the law.
Legislative Election Updates
SD-15: Pa.'s biggest teachers' union, the Pennsylvania State Education Association has endorsed Democrat Rob Teplitz in the race to replace retiring Sen. Jeff Piccola. "As someone who is passionate about public education, as the son, brother, and husband of educators, and as the parent of a thriving public school student," said Teplitz, "I am humbled and honored by PSEA's endorsement and will work hard to continue to earn it every day."
SD-37: Rep. Mark Mustio is facing Raja for the seat of retiring Sen. John Pippy. Today he pulled in the support of Rep. John Maher (R-Allegheny), who is running for Pa. Auditor General and is also a resident of the 37th. "As a small businessman, Mark brings a valuable perspective to the discussion of how best to improve our economy.  Like me, he is a common-sense conservative who believes in lower taxes, less government spending and traditional family values," Maher said.
National:
The Daily: Pa. delegate rules mean Romney likely to do well
Early Returns: Romney camp after Santorum in Pa.
AP: Santorum Downplays Pa. Senate Defeat In 2006
AP: Murphy outraises Kane 5-1 in Dem contest for AG
Daily American: Transportation Bill Faces Hurdles In The House
The Hill: Brady, Among Others Says Nominate Jeffrey Sachs As World Bank President
Newark Post Online: Fattah To Introduce House Companion Bill Which Would Expand College Access for At-Risk Students
Morning Call: Bob Casey bridge amendment in highway bill
The Republic: PA GOP leaders not endorsing Santorum in presidential nomination race
Statewide:
Capitol Ideas: Public university cuts send Corbett's approval rating tumbling
Capitol Ideas: Men, women oppose proposed mandatory ultrasound bill in new poll
WITF: Voter ID signed into law
WITF: Quick permit approvals, no arrests at SRBC meeting
PA Independent: PA House OKs reforms for debt-financed capital program
StateImpactPA: Drill Bits: Could high gasoline prices create demand for natural gas-fueled vehicles?
StateImpactPA: "Rising sea levels a threat to coastal U.S."
StateImpactPA: Sources: Shell's ethane cracker will be built in Pennsylvania
StateImpactPA: More details on Shell's cracker decision
StateImpactPA: Shell's ethane cracker press release
StateImpactPA: First look at the ethane cracker site
StateImpactPA: Protests, but no arrests, at SRBC hearing
Capitolwire: Voter approval of Gov and his policies down, new Q-Poll reports
Capitolwire: Male voters oppose fetal ultrasound mandate while women tied in new Q-Poll
Post-Gazette: Corbett's job approval rating down, voters split even only his performance
Philadelphia:
Inquirer: Council opens budget season with SW Phila. community meeting
Inquirer: Courts or polls may be next stop in Pa. voter ID law fight
Inquirer: Ex-Pa. Senate leader Mellow pleads to federal charges
Daily News: More budget info to come?
Daily News: Council chief Clarke promises budget transparency, but won't say how
Daily News: Nutter: Feed the hungry, but indoors, not in parks
PhillyClout: Jones introduces Police Advisory Commission bill
PhillyClout: Property assessments on Council's mind
PhillyClout: Blackwell: Nutter's outdoor feeding ban is a 'negative approach'
PhillyClout: Not all Council members are wearing the green today
PhillyClout: Poll: PA voters unhappy with budget, ultrasound legislation
PhillyClout: Thursday's DN: SEPTA sees rise in thefts
Phillynow.com: Election 2012: Santorum will 'vigorously' crack down on porn
Phillynow.com: Corbett on Ultrasound Bill: 'You just have to close your eyes'
Phillynow.com: Nutter feeds us a load of crap with new homeless rule
Phillynow.com: Daily Grinder: Video: Corbett statement on Voter ID bill
KYW Newsradio: Pennsylvania ACLU puts new voter ID law in its legal crosshairs
WHYY Newsworks: Voter ID law's likely effect on November election unclear
SEPA:
Delco Daily Times: Poll: Corbett approval rating takes nosedive
Daily Local: PA House OKs reforms for debt-financed capital program
Pittsburgh:
Tribune Review: Western Psych mobile unit sent to apartment at mother's request
Tribune Review: Dairy Queen donates $100,000 to Children's Hospital
Tribune Review: Pa. bishops urge Catholics to observe day for religious liberty
Tribune Review: Another former Woods Run inmate sues prison, guards for assault
Tribune Review: Shell chooses Pennsylvania for possible ethane cracker location
Post-Gazette: Allegheny County wins grant money to fight homelessness
Post-Gazette: Prosecution about to rest in Orie case
Early Returns: Tom Corbett, shale, and Google Maps
Early Returns: Cracker plant reax
Early Returns: Critz gets Teamsters nod
KDKA: Local opinion mixed on new Voter ID measure
Southwest:
Johnstown Tribune-Democrat: Critz Will Not Appeal Petition Case
Beaver County Times: Politicians gushing over cracker plant decision
Beaver County Times: W.Va. officials see benefits from cracker site
Beaver County Times: Supervisors discuss road projects
Beaver County Times: Potter township site chosen for cracker plant
Observer-Reporter: Shuster primary opponent tossed off ballot
Observer-Reporter: Commissioners mull natural gas vehicles
Observer-Reporter: South Fayette leaning toward hospital proposal
AP: DEP says Pa. plant's pollution upgrades likely OK
Daily Courier: Mt. Pleasant school district energy deal to cut costs
Daily Courier: Scottdale again discusses code enforcement officer
NEPA:
Times Leader: ACLU may visit W-B council meetings
Times Tribune: Former state Sen. Mellow to be charged; plea deal expected
Times Leader: County to charge for pre-cremation investigations
Standard Speaker: House backs Toohil's version of Caylee's law
Daily Review: Funding shortfall discussed in Troy
Pocono Record: Boscola seeks to legalize office pools in Pa.
South Central:
Chambersburg Public Opinion: Dissent among county officials comes to light over special pay scale
Chambersburg Public Opinion: Shuster and other GOP leaders in Pa. support Romney
Chambersburg Public Opinion: Antrim Township: $32,000 available  for recreation grants
Lebanon Daily News: West Cornwall tables pay hike  for planner
Lebanon Daily News: DEP awards grant to Lebanon Valley Cycles
Lebanon Daily News: South Lebanon excepts expansion loan
ABC Harrisburg: Petition Challenge Leaves Shuster Alone On Primary Ballot
Lehigh Valley:
Morning Call: Judge select Bethlehem controller
Morning Call: Lower Macgunie commissioner to consider Jaindl subdivision plan
Express Times: Warren County freeholders disagree on landfill authority appointments
Express Times: Butler Park Fire Dept. wants more money from Mansfield Township
Express Times: Reliance Hose. Co. members appear at Phillipsburg Council to clear name
Express Times: Lehigh County sells Salisbury Township land to PPL for power substation
North by Northwest:
Sharon Herald: Council suspends plan to sell playground equipment
Sharon Herald: State cuts too deep?
Courier Express: Marcellus shale activity concentrated  in 11 counties
Courier Express: Lease opens doors for disposal wells
Erie Times-News: Beeman pleads guilty to Social Security fraud, may lose Erie County seat
Campaign '12 Blog: What do you think of the voter ID law?
Opinions:
Chris Freind, Delco Daily Times: Why Romney will lose to Obama
Post-Gazette: Editorial: Justice denied: Obama must defend killing citizens without a trial
Post-Gazette: Editorial: Modern Turnpike: Most drivers will gain from all-electronic tolling
Post-Gazette: Editorial: Lakes cleanup: The White House plan keeps the status quo
Post-Gazette: Letter to the Editor: Parks: good value
Post-Gazette: Letter to the Editor: Dixon's firing is the right move for the county
Tribune Review: Same ol' Arlen: Self-serving Specter
Altoona Mirror: Op/Ed: PSU statement rehashes past
Patriot-News Analysis: GOP Race Is Headed Toward A Mess
Morning Call: Corbett budgets cut weakening environmental protection
Express Times: Time – price – is right for Northampton County archives building purchase
Times Leader: No appetite for the slimeburger
Times Tribune: Ensure safety for exchange students
Times Tribune: New city chief steps right up
Daily Review: 'March Madeness' feature looney time for every one
Daily News: DN Editorial: When the earth moves…ask where the fracking is
Philly.com: Pondering the value of the Actual Value Initiative
Daily News: Defending Rush Limbaugh
Philly.com: Letters: Governor deserves respect
The Road Warrior: Casey amendment could mean more money for PA bridges
Blogs:
Keystone Politics: Women abandoning Tom Corbett, but maybe they should just close their eyes
Keystone Politics: Patrick Murphy slams Corbett's ultrasound comments
Keystone Politics: Critz picks up Teamsters endorsement
Keystone Politics: Amniocentesis blogging: doctor weights in on mandatory ultrasounds
Keystone Politics: House Republicans mobilize to save $260 million Horse Race Development Fund
Keystone Politics: State GOP fails to coronate Steve Welch
2 Political Junkies: Obama derangement syndrome – Trib style
Above Average Jane: Lie back and think of England
Keystone Progress: Arizone Senate committee endorses "Tell your boss why you're taking the pill" bill
Keystone Progress: Time to take Limbaugh off the air
Commonwealth Foundation: Oh, SNAP! Welfare cheats sentenced
Third and State: Let the facts get in the way of a good story: private school bus services in Pennsylvania cost more
Lehigh Valley Ramblings: Voter ID? No big deal, or is it?
NEPArtisan: PA now one of those "voter ID" states
NEPArtisan: PA-AG: Kathleen Kane responds to Corbett's assault on women's rights