4/4 Morning Buzz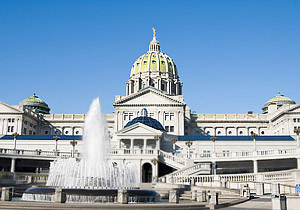 Good morning politicos, here's the Buzz. Rick Santorum is coming back to PA, and so is Mitt Romney. Both men have events here today, tomorrow, and onward. Romney has a bit of steam – he went 3 for 3 yesterday in primaries in Maryland, Wisconsin and DC.
And the redistricting commission announced it plans to meet on April 12.
Top 10 Most Interesting Pa. House & Senate Primaries: Around the state, a handful of primaries are beginning to really heat up. TV ads, upset alerts, legal troubles and more. Without public polling it's difficult to say which are the closest in margin – but these are the ten races that have PoliticsPA's attention.
Corbett Endorses Perry in PA-4: Gov. Tom Corbett officially threw his support behind Scott Perry, the state Rep. running to replace retiring U.S. Rep. Todd Platts. The announcement comes a day after Sen. Pat Toomey's leadership PAC began airing a TV ad for Perry's main opponent.
Toomey PAC on TV for Reilly in PA-4 (Watch Video): Pat Toomey is putting a significant chunk of change on television this week for congressional hopeful Chris Reilly, running to replace retiring Rep. Todd Platts. Meanwhile, Gov. Tom Corbett is attending a fundraiser for Scott Perry.
MCAP Poll: Santorum Losing Momentum in PA: Rick Santorum's lead over Mitt Romney in Pennsylvania has slipped to six points, according to the latest poll by the Mercyhurst Center for Applied Politics (MCAP).
Romney Coming to Delco on Weds: The former Massachusetts Governor will make a special appearance at the Iron Shop, a manufacturer of spiral staircases, Wednesday evening, the Delco GOP confirmed. A source indicates that there is no cost to attend.
PAC Unveils Anti-Murphy Ad (Watch Video): The Campaign for Primary Accountability has produced its ad against Rep. Tim Murphy. The Super PAC, which targets incumbents from both parties, blasts the Allegheny County Congressman for supporting earmarks, spending, and more. Updated with Murphy campaign response.
Post-Gazette Endorses Maher: Based on his resume as an auditor and his service in the state House.
Biz Groups Back Freed: Pennsylvanians For Effective Government (PEG) and the National Federation of Independent Business (NFIB) Tuesday announced their support of Republican Attorney General candidate David Freed.
Obama Campaign Opens 14th Pennsylvania Office: Organizing for America Pennsylvania (OFA PA) on Wednesday will mark the opening of the Northern Liberties Field office in Philadelphia. The office is the fourth in the city of Philadelphia and the fourteenth throughout Pennsylvania.
Toomey Makes Fundraising Appeal on Behalf of Texas Senate Candidate: United States Senator Pat Toomey on Monday made a fundraising appeal on behalf of Ted Cruz, a Tea Party-backed candidate for the Republican U.S. Senate nomination in Texas.
Philly-Area Tea Party Backs Smith: One of Pa.'s largest conservative organizations has endorsed Tom Smith for U.S. Senate. The PAC of the Independence Hall Tea Party threw its support behind the former coal company owner from Armstrong County.
Another Big Enviro Buy in PA (With Video): PA will be part of a seven-figure ad campaign by groups supporting environmental regulations – specifically EPA clean air standards. The ad features a politician using a nebulizer.
Post-Gazette Endorses Altmire: Rep. Jason Altmire, in an intense primary battle against fellow Democratic incumbent Mark Critz in the new 12th Congressional district, received the endorsement of the Pittsburgh Post-Gazette this weekend.
Legislative Election Updates:
If you haven't already, check out PoliticsPA's latest feature, out list of the top 10 most interesting state House and Senate primaries.
SD-29: The Argall campaign is sticking by its ads, which attack Brian Rich for seeking federal and state funds for various projects. Rich's brother John said he is planning to sue Argall for misrepresentations. The back-and-forth has gotten too detailed for the Buzz, so watch PoliticsPA for a more detailed story.
SD-31: Sen. Pat Vance (R-Cumberland) has sent out mailers virtually every day for the past week to GOP super voters, and we noticed a TV ad on Fox News (cable) last night.
SD-49: Three of four Democrats vying to replace the retiring Sen. Jane Earll – John Harkins, Brian Pitzer and Terry Scutella – will debate tonight at Penn State Behrend. The fourth, Sean Wiley, had a scheduling conflict. But he did meet with teachers put off over proposed education cuts.
HD-22, 24: The Progress Pittsburgh PAC is backing Erin Molchany and Ed Gainey, respectively. "Erin Molchany's commitment to supporting social and economic justice in her communities and in the region at-large is without question," the group said. "Ed Gainey has a history of and passion for leadership in our community that will make him a truly successful Representative."
HD-49: Shane Richardson, one of two Dems vying to face Rep. Keith Gillespie (R-York), picked up the endorsement of Manchester Borough Mayor Martin W. Keister and Mount Wolf Borough Mayor J.P. Bowers.
HD-79: Rep. Rick Geist (R-Blair) is facing a primary challenge from Tea Partier Joe McGinnis who accuses the 17-term lawmaker of being insufficiently conservative. Enter the PennPatriot blog, which notes that a Geist yard sign is visible in the yard of the President of the President of the Blair-Bedford Central Labor Council, which is affiliated with the AFL-CIO.
HD-186: Former state Rep. Harold James is on the ballot in the special election to replace now Philly Councilman Kenyatta Johnson, but not the primary for the November election. James, along with most of the Democratic establishment, is backing Jordan Harris, 27, the city's former Youth Commissioner. Harris faces attorney Damon Roberts and business owner Fawwaz "Jazz" Beyha in the primary.
HD-189: House Democratic candidate Liz Forrest contends recent support by incumbent Rep. Rosemary Brown (R-Monoe) for a property tax reform bill comes too late to effect passage this year, reports the Pocono Record.
Don't see your updates on the Buzz? Add press@politicspa.com to your press list!
National:
Pennsylvania Ave: More signs of trouble for Santorum in Pennsylvania
Politico: Land: Santorum must win Wisconsin
National Journal: Poll: Romney gains on Santorum in PA
Washington Post: Santorum in last chance territory
The Right Scoop: Santorum: We'd certainly be anxious to join forces with Newt to ensure a conservative nominee
The Hill: Santorum spokesman blames "vitriol" against candidate for expected DC loss
The Hill: Romney surrogate: Santorum "hanging on with ego," should drop out
Bloomberg: Romney-Santorum debt-control plans trail Obama: BGOV barometer
NY Times/Caucus: Santorum looks ahead to Pennsylvania
NY Times/Caucus: In poll, Santorum is ahead of Romney in Pennsylvania
Statewide:
Capitol Ideas: Corbett officials explain, defend privatization to House panel
Capitol Ideas: Santorum tops Romney in new Quinnipiac Poll
PA Independent: Correction: Welfare policy will not change for striking workers
PA Independent: Corbett admin: PA lottery could generate more money if privatized
StateImpactPA: Pumping at $4 a gallon to subsidize the House of Saud
StateImpactPA: "EPA delays 'Facking' air polution rules"
StateImpactPA: "Limited" operations resume at damaged compressor station
StateImpactPA: Environmental regulations: Job creators or job killers?
StateImpactPA: "Pennsylvania fracking firm in lead for Philly refinery"
Capitolwire: Delozier says GOP leaders will push to restore $100M in K-12 education block grants
Capitolwire: Pennsylvania records second-straight month of above-estimate tax revenue collections
Capitolwire: Lawmakers revive effort to eliminate school property taxes
Early Returns: DeWeese Bids Farewell to House
Philadelphia:
Daily News: 89,000 poor Pa. kids slashed from Medicaid
Inquirer: Pennsylvania law mandates that drivers give bikers a wider berth
Philly Clout: Philly to get 3-1-1 smartphone application
Philly Clout: Pew Charitable Trusts donates $4.3M to help Philadelphia's elderly
Philly Clout: Nutter: tainted spinach makes headlines more than black on black crime
Philly Now: Philly Courts: Judicial Hellhole or best in the country
Fox Philly: Candidate targeted with racial slurs
WHYY Newsworks: City Council wants more action to reduce sign clutter
WHYY Newsworks: Philadelphia Housing agency losing $20M in funding
SEPA:
Philly Burbs: Democrats to face off in primary for freeholder board; GOP to run incumbents
Delco Times: Chester Fund for Education appeals Chester Upland charter denial
Bucks Local News: Landmark towns unveils plans for interconnected bike trail between four Delaware Canal boroughs
Daily Local: East Goshen supervisors to vote on Parks & Rec commission
Daily Local: West Vincent amends zoning ordinance
Pittsburgh:
Tribune Review: Pa. officials OK nearly 200 school districts to raise taxes
Tribune Review: Another poll shows Santorum's support waning in Pa.
Tribune Review: Leechburg eliminates per capita, occupation taxes
Tribune Review: Bill DeWeese bids farewell to Pennsylvania House
Post-Gazette: Pittsburgh Council supports challenge of shale regulations
Early Returns: Q Poll: Santorum by six
Early Returns: Another outside attack on Murphy
Early Returns: Daily Santorum: I'm not Mormon!
Southwest:
Beaver County Times: Recovery threatened by runaway student loan debt
Beaver County Times: Mark Critz opens campaign office
Observer-Reporter: Motion for Act 12 preliminary injunction filed
Indiana Gazette: House debates trimming members
Indiana Gazette: DEP approves permit for scrubbers at power plant
Indiana Gazette: Saltsburgh: Council pursues land acquisition
Altoona Mirror: AASD Board: Budget "not pretty"
Altoona Mirror: Santorum sets visit
WJAC: Voters head to polls in Clearfield County
Johnstown Tribune Democrat: State hearing set on Altoona's 'distressed' status
NEPA:
Pocono Record: Brown challenger says tax bill support late
Pocono Record: Public pensions' future may mean higher taxes
Citizens Voice: Juvenile bill heads to governor's desk
Citizens Voice: Munchak imprisoned in North Carolina
Citizens Voice: State approves Keystone Landfill plan to accept more waste
Citizens Voice: State Oks limited operations at damaged  compressor station
News Item: 11th district hopefuls disagree on Obamacare
News Item: Mack would be only county employee to serve with commission on the board
Times Tribune: Free cash for local government goes unclaimed
Times Tribune: Feds moved to seal Mellow documents
Times Tribune: Ransom Twp. looking to replace  secretary-treasurer  amis audit trouble
Lehigh Valley:
Morning Call: Allentown Councilman Frank Concannon resigns
Morning Call: Hellertown wants to join lawsuit fighting Allentown NIZ
Morning Call: Bethlehem School District may restore team teaching in 6th grade
Morning Call: Macungie mayor police union grievance
Reading Eagle: Retired Reading detective is backup at City Hall
Reading Eagle: Friends recall controversial ex-mayor of Kutztown
Reading Eagle: City Council rejects managing director nominee
Reading Eagle: Property taxes again targeted
Express Times: Hackettstown School Board names David Mango new superintendent
Express Times: Lower Mount Bethel Township supervisors receive anti-sludge petition
Express Times: Lehigh Valley jobless rate falls to 8.1 percent, Pennsylvania reports
Express Times: Pennsylvania must save the Keystone Recreation, Park and Conservation Fund
South Central:
Carlisle Sentinel: South Middleton to hold informational meeting for those affected by boundary change
Carlisle Sentinel: Carlisle Borough Council sets new strategic goals
Carlisle Sentinel: 2012 unemployment not off to good start as originally thought
Carlisle Sentinel: South Middleton aims at no tax increase for 2012-2013 budget
Harrisburg Patriot-News: State Rep. Thaddeus Kirkland organizes 'Hoodies on the Hill' event to call for justice in Trayvon Martin case
Harrisburg Patriot-News: Another Harrisburg School Board member resigns
Harrisburg Patriot-News: Convicted Rep. Bill DeWeese gives farewell address before Pa. House
Harrisburg Patriot-News: Harrisburg-area religious leaders warn voter ID law will hinder poor, racial minorities
Harrisburg Patriot-News: Steelton hires new borough manager
Lancaster Intelligencer: Permit parking challenged in Mount Joy
York Daily Record: Sen. Toomey to deliver York College commencement address
York Daily Record: Congressional candidates talk the Bible, "Decision Points," and other books
York Daily Record: Residents respond to 4th Congressional district debate
Chambersburg Public Opinion: In Chambersburg, GOP Senate candidate Scaringi outlines plans to limit government if elected
Chambersburg Public Opinion: Franklin County gained about 1,700 jobs
North by Northwest:
Your Erie: Local leaders, Bob Merski and Senate hopeful Sean Wiley against state budget cuts
Erie Times-News: State Senate debate set at Behrend
Erie Times-News: Post Office branch to open in Erie's Mercantile Building
Courier Express: Jobless rates stabilize
Centre Daily: County commissioners approve Marcellus Shale impact fee
Centre Daily: State College seeing less federal funds for public service agencies
Sun Gazette: Impact fee interest
Sun Gazette: Board facing huge decision
Opinions:
Tribune Review: The Highmark scandal: Answer the questions
Tribune Review: Restoring fiscal sanity
Post-Gazette: Top auditor: Maher is the better choice for Republicans
Post-Gazette: Fighting words: Mayors tell Harrisburg to quit bullying on guns
Post-Gazette: Women are underrepresented in Congress; let's change that
Post-Gazette: EPA clears the air: Pittsburgh must honor its legacy of environmentalism
Post-Gazette: Every voice counts
Altoona Mirror: End tax breaks, but don't spend savings
Altoona Mirror: Tenacity on center pays off
Inquirer: Know when to fold 'em
Philly Burbs: What did the superintendent intend to say?
Delco Times: College grads deserve a smarter deal
Daily Local: Sound off
Harrisburg Patriot-News: We're still waiting for Gov. Corbett's legislative reform push
Harrisburg Patriot-News: Corbett cuts school districts to the core
Harrisburg Patriot-News: Inefficient state system fails seniors, taxpayers
Chambersburg Public Opinion: Improving Legislature takes more than cutting
Courier Express: Prevailing wage law hurts teachers, just buys union votes for politicians
Sun Gazette: Legalizing drugs is not a solution
Morning Call: Opinion: National Park Service made correct choice on Pocono power line route
Morning Call: Opinion: Two years later, health care law still difficult to comprehend
Morning Call: Opinion: Don't forget that Sgt. Robert Bales served our country
Express Times: Letter to the Editor: Sludge police off duty; Conception law problematic
Express Times: Editorial: Firefighters deserve thanks
Blogs:
Young Philly Politics: Prevailing wage opponents fail labor market statistics 101
Commonwealth Foundation: Time for prevailing wage reform: Support HB 1329
Commonwealth Foundation: PA to copy Missouri's failed land banking policy
Lehigh Valley Independent: Birth control opposition a huge political loser
Lehigh Valley Independent: The House doesn't work without earmarks
2 Political Junkies: Contact your Allegheny County Councilor and ask them to support anti Citizens United Resolution
2 Political Junkies: Western PA mayors fall short on support for same-sex marriage
Pennsylvania Progressive: Veterans call for Kane apology
PennPatriot: Rick Geist vs John McGinnis: Perception becomes reality in the PA 79th legislative district race
Keystone Politics: Is the Philly land bank going to be a tool for NIMBYism
Keystone Politics: Go back to the drawing board on Delaware loophole bill
Keystone Politics: Why not just eliminate the State House altogether
North Pittsburgh Politics: Critz's answer to attack ad ignores facts
John Hanger: Grading EPA's investigations in Parker County, pavillion, & Dimock "Fracking" cases