4/12 Morning Buzz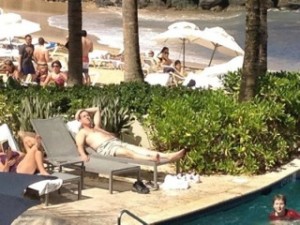 Good morning politicos, here's the Buzz. The presidential primary buzz has cooled down, but PA races are heating up. And we may finally have some new maps today. This is the latest.
Note: PoliticsPA is upgrading our server today. That means, hopefully, no more error messages when the site gets busy. It also means that the site will be static starting around 10am this morning until the switch is done (hopefully in the afternoon).
Boockvar Raises $330K in Q1: She's serious. Kathryn Boockvar, who will face Rep. Mike Fitzpatrick (R-Bucks) in the fall, is reporting an impressive fundraising quarter: $330,000.
Inquirer Endorses Kane for AG: In perhaps the most interesting endorsement yet this primary, the Inky threw its support behind former Lackawanna County prosecutor Kathleen Kane: "In a close contest, though, the edge of her experience in Pennsylvania courts goes to political newcomer KATHLEEN KANE in the Democratic race for attorney general."
Feinberg's Busy Day: Evan Feinberg, the conservative former U.S. Senate staffer challenging Rep. Tim Murphy, has had quite a day. He raised $71K in Q1, produced a TV ad, and scored a local newspaper endorsement.
No Cartwright/Holden Debates: It's one of the hottest races in PA, but there won't be a candidates debate between Rep. Tim Holden and Dem challenger Matt Cartwright. "I don't know what his schedule looks like, but I'm booked right through this election," Holden said.
Auditor General Jack Wagner and Pa. Young Democrats Endorse Holden: Pennsylvania Auditor General Jack Wagner visited Lackawanna and Luzerne Counties on Tuesday in support of incumbent Rep. Tim Holden who faces Matt Cartwright in the Democratic primary.
PA-15 Democratic Primary Debate: Muhlenberg College hosted a debate between PA-15 Democratic challengers Jackson Eaton and Rick Daugherty at Seegers Union on Tuesday night.
Gerlach, Schwartz Support Hire Just One Initiative: Fox News reported Friday that Reps. Jim Gerlach (R) and Allyson Schwartz (D), have recently expressed their support for the'Hire Just One' program, a job creation initiative.
State Rep. Mark Cohen's Parking Wars: State Rep. Mark Cohen received some flack on Monday for incident that could have come straight out of an episode of "Parking Wars".
Legislative Election Updates:
SD-29: Rep. Mario Scavello (R-Monroe), who someday may serve in the Pa. Senate, backed Sen. Dave Argall (R-Schuylkill) over GOP Challenger Brian Rich. "Senator Argall understands the burden of the school district property taxes, especially how it's affected the residents of Monroe County," said Scavello.  "If we want to have a leader in the Senate on reducing government spending as well as fighting for the elimination of the crushing property tax, we need to send Dave Argall back to Harrisburg to fight for us and our values."
SD-37: Sue Means sometimes gets lost in the high-dollar battle between Rep. Mark Mustio and Raja for the seat of retiring Sen. John Pippy. But the homeschooling advocate threw a punch Wednesday at Mustio. "In response to campaign opponent Mark Mustio's admission that he did not know what he was voting on when he approved the 2005 "midnight pay raise" for state legislators, 37th District State Senate candidate Sue Means today pledged to read all bills before voting on them," her release read.
HD-124: Will Rep. Jerry Knowles (R-Schuylkill) debate? His challenger, Larry Padora, wants to know. "We owe it to the voters in the 124th to let them know our records and where we stand so that they can make an informed decision on Primary Election Day.  Any politician who won't participate in debate is not worthy of the people's vote," he said.
HD-153: Above Average Jane has a recap of the debate between Democrat Madeleine Dean and Republican Nick Mattiachi, the candidates vying to replace Josh Shapiro in the upcoming special election.
HD-167: How much pull does the PSEA have in a GOP primary? Rep. Duane Milne (R-Chester) could find out. The statewide teachers union sent out a mailer supporting him this week. He's facing a challenge from Joe Corrigan.
HD-202: Philly Councilwoman Cindy Bass is backing Rep. Dan Cohen's Democratic challenger, Numa St. Louis. "I know Numa through his work in the community and am proud to endorse him in his run for the State House," said Bass. "Numa is the right choice for a new energy, a new voice and a new direction for this diverse district and I look forward to working with him on improving the Olney and Logan communities when he goes to Harrisburg."
National:
Pennsylvania Ave.: Toomey steps into presidential campaign spotlight
Politico: What Mitt Romney needs to do now
Politico: Porn-maker cheers Rick Santorum exit
Politico Playbook: Santorum super PAC daddy
Roll Call: Mark Critz, Jason Altmire battle in round 2
Real Clear Politics: Romney set to build lead on April 24
New York Times: With Santorum out, Evangelicals edge toward Romney, but cautiously
New York Times: For Santorum, a hard road to harmony with Romney
The Caucus: The early word: farewell
USA Today: Santorum: Quitting campaign was harder on family
AP: Santorum's early successes pushed GOP to the right
Examiner: Did Sen. Pat Toomey's (R-PA) endorsement for Romney motivate Santorum to quit ?
Statewide:
AP: State GOP pleased by Santorum withdrawal
AP: Judge halts zoning limits in Pa. gas drilling law
AP: Gov. Tom Corbett blames Pennsylvania school boards for tax increases
AP: Doctors say Pa. gas-drilling law hurts health
AP: PA state police issue 31 texting-ban tickets
Capitol Ideas: Wednesday morning coffee: With Santorum's exit, the Tea Party looks to Romney
Capitol Ideas: Corbett: tax hikes are school boards fault – benG
Capitol Ideas: Pa joins multi-state e-books anti-trust suit
ABC News: Bobby Jindal, Pat Toomey and Rick Scott line up behind Romney
Capitolwire: Reapportionment panel expected to vote
Capitolwire: Santorum exit could give Smith a small boost in GOP Senate race
StateImpactPA: Read Commonwealth Court's impact fee injunction
StateImpactPA: What you need to know about today's impact fee hearing
Pa Independent Auditor general: Fix this pa bridge – and all others
Pa Independent: Revised redistricting maps could hold twist for Pa Senate
Philadelphia:
Inquirer: New president named to head Rutgers University
Inquirer: Passion for social issues may have doomed Santorum
Inquirer: Montgomery County aims for 'honest budgets'
Philly News: Rick, exit stage right…towards 2016
Daily News: City to place abuse agencies under one roof
Daily News: Top-dollar GOP candidates go negative in U.S. Senate race
Daily News: PA voter ID coalition kicks off voter ID hotline
Daily News: Tax deadbeats owned site of Monday's fatal fire
Daily News: State flags at half-staff for fallen firefighters
Philly Now: Philly RCC endorses Romney for president
Philly Tribune: Stetser Elementary helps first lady with planting
WHYY Newsworks: The Santorum effect
WHYY Newsworks: Santorum's exit could mean lower turnout in Pa. primary
WHYY Newsworks: Gingrich makes third campaign visit to Delaware
WHYY Newsworks: Rendell on Santorum: dropping out is like kicking heroin
The News Eagle: PA National Organization for Women endorses Patrick Murphy for AG
SEPA:
Pottstown Mercury: Romney visits Chester County Republican reception
Delco Daily Times: Mitt earns backing of Delco GOP
Delco Daily Times: Delco stalwart, Senate leder Pileggi faces tea party contender in April 24 primary
Pittsburgh:
Post-Gazette: Ravenstahl encourages college seniors to stay in Pittsburgh
Tribune Review: Candidates make their case for redrawn for 12th district
Tribune Review: Corbett wary of new fee for transportation
Post-Gazette: Santorum's improbable presidential race rooted in 2006
Post Gazette: Santorum leaves race
Early Returns: Romney stands down
Early Returns: Feinberg: $80K in cash
Early Returns: Murphy deeply concerned about Super PACs
Southwest:
Observer Reporter: System faces tests in Pa.
Valley Dispatch: Health care law defense incomplete
Altoona Mirror: Challenger is lone candidate at chamber debate
Daily Courier: Pa. Senator to address PSU Fayette graduation
Lehigh Valley:
Express-Times: Daugherty, Eaton debate at Muhlenberg
Express-Times: Holden visits Victaulic plant in Forks Township
Express-Times: Santorum more likely 'the next Sarah Palin' than VP candidate, says political experts
WFMZ: Off the campaign trail, Santorum comes to Lancaster Co.
NEPA:
The Times Leader: Federal judge unseals documents in Mellow case
The Times Leader: Pa. voter ID law focus of hearing
The Times Leader: County plans for Piazza-less primary
Times Tribune: House bill seeks social media privacy
Daily Item: District atty responds to planned cut
Wayne Independent: Decision Day: Cast your votes on April 24
Times News: Yudichak joins governor for signing of bill protecting minors
South Central:
AP: Poll: Party platforms a mystery to many
Patriot-News: Scott Perry & Sean Summers clash in Republican race to replace Todd Platts
Patriot-News: Pennsylvania Auditor General Jack Wagner calls for transportation funding program
Patriot-News: Rick Santorum takes last graceful exit from surprising run at Republican presidential bid
York Daily Record: Susan Corbett stopped in York to honor U.S. Rep. Todd Platts for his art advocacy
York Dispatch: Congressional candidates point to what sets them apart
York Dispatch: Congressional candidates to square off again Tuesday night
York Dispatch: Santorum's exit could affect local voter turnout
North by Northwest:
Erie Times-News: Gamblers bet $39.9 million on slot machines on Erie casino
Courier Express: Commissioners group says state budget is a "bitter pill"
Williamsport Sun Gazette: Retirees express their frustration over Medicare, Social Security
Williamsport Sun Gazette: Lt. Gov. visits with Northern Tier residents in roundtable
Opinion:
Inquirer: Experience tilts the scale for Kane
Inquirer: Regional Spotlight: Pa.'s skills deficit keeps joblessness high
Inquirer: Finding journalism's future
Inquirer: U.S. companies are in recovery mode
Daily News: Government's no break…and broken
Daily News: Letters: POL says editorial a case of blind leading the anti-brine
Hotline On Call: Tommy Thompson loves the 90's
Washington Post: Rick Santorum's most memorable moments
New York Times: The dusted indigo period
Daily Item: Santorum's last stand
Daily Item: STOCK act a start toward stopping 'insider' trading
Standard Speaker: Go all the way on PLCB reform
The Daily Review: McLinko had the right idea
Patriot News: Op/Ed: Modernize Pennsylvania's archaic prevailing wage law
Patriot News: Letter to the Editor: Perry is most qualified to be representative
Patriot-News: Editorial: A poor excuse: DPW's 'get tough' policy lacks compassion
Erie Times-Review: Goldberg: Obama policy rapped
Erie Times-Review: Leubsdorf: Obama's fight parallels FDR's Supreme Court battles
Erie Times-Review: Dionne: Conservatives in shock at sight of non-wimpy liberal
Courier Express: Hurt rural areas' is the excuse of the doofuses (OK, then; doofi?)
Courier Express: Pennsylvania's fork in the road on transportation spending
Williamsport Sun Gazette: The full state story on public education funding
York Daily Record, LTE: Perry can fill Platts' shoes
Centre Daily Times: Murphy stands up to the GOP
Tribune Review: Primary 2012: Nominate Feinberg
Post Gazette: Major powers prepare for talks on nuclear arms
Observer Reporter: He read it somewhere
Blogs:
Keystone Progress: Happy birthday to Romneycare!
Keystone Politics: Tom Corbett's hilarious attempt to dodge blame for local tax hikes and layoffs
Keystone Politics: Who will win the downballot races in a Santorum-less world?
Keystone Politics: Gerlach and Schwartz want to divert individuals' unemployment checks to employers
Keystone Politics: Where Corbett thinks the waste is: children's health insurance
Pennsylvania Progressive: As sponsors leave ALEC, Pennsylvania legislators remain
Pennsylvania Progressive: Cartwright leading Holden
Third and State: Memo to lawmakers: there are better options
NEPArtisan: PA-17: Holden takes money from corrupt Koch brothers