4/17 Morning Buzz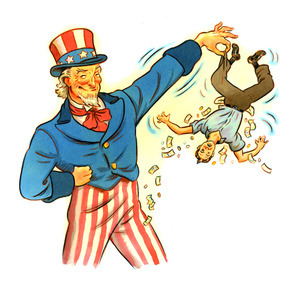 Good morning politicos, happy Tax Day! Here's the Buzz. We're racing toward primary day, and these campaigns are heating up. Here's the latest.
Congrats to the Philadelphia Inquirer and the Harrisburg Patriot News for their Pulitzer Prize wins!
Vote in Our Poll! Who is going to win the Democratic Primary between Altmire & Critz?
Low COH Limits Welch TV Presence: Senate hopeful Steve Welch reported $390K on hand as of April 4, and the total is limiting his TV presence in his home turf: the Philadelphia market. His campaign says organization will make up for a lack of paid media in SEPA.
Where's Tom Smith? The front-runner in the GOP race for U.S. Senate has missed a number of high-profile and televised candidates events in the past few weeks. Rival Steve Welch is calling him on it.
Michelle Obama and Mitt Romney Come To Pittsburgh Today: First Lady Michelle Obama will be visiting the Pittsburgh area on Tuesday, the White House has announced. Former Massachusetts Governor Mitt Romney will also be in the area on Tuesday. He will be attending a roundtable event in Bethel Park around midday.
Manzo Gets 18 to 48 Months: Mike Manzo, a former top aide in the state House of Representatives apologized for the Bonusgate scandal and was sentenced to up to four years in prison Monday. He was a witness for the prosecution and his testimony against his past colleagues that aided in the conviction of Rep. Bill DeWeese.
Rove Super PAC Hits Obama Over Coal (Radio Ad): American Crossroads, the Super PAC founded by Karl Rove, recently launched a radio advertisement entitled "Cecil Roberts" that will air in western Pennsylvania and other states. It blasts President Barack Obama's "War on Coal."
Where will the Presidential candidates be the rest of the week? Check out our Presidential Campaign Open Thread.
Conservative Groups, Leaders Back Rohrer: Sam Rohrer's rolodex of conservative groups and leaders is coming in handy. The former state Rep., 2010 gubernatorial candidate and U.S. Senate hopeful rolled out a number of their endorsements in the past week.
Sestak Backs Altmire: Former Congressman and 2010 Senate candidate Joe Sestak threw his support behind Rep. Jason Altmire Monday in his battle with colleague Mark Critz.
Cartwright Says He'd Have Supported Obamacare: Matt Cartwright, the Lackawanna County attorney challenging Rep. Tim Holden, now says he would have supported the Patient Protection and Affordable Care Act which Holden opposed. The clarification came four months after he told PoliticsPA he would have opposed the measure.
Murphy Goes Negative: Patrick Murphy has thrown the first televised punch of the Attorney General race. His new 30 second ad blasts rival Kathleen Kane for her past contributions to Republicans and her family's company's record on labor issues.
Reilly Goes on TV in PA-4: With little more than a week to go before the primary, Chris Reilly's campaign is airing a new advertisement touting him as "the true conservative for Congress."
Congressional election updates:
CD-4: Chris Reilly wrote an op-ed in the Patriot-News about his concern that the federal government is spending too much money and he made clear that from his perspective Washington does not have a revenue problem.
CD-17: Roll Call's Shira Toeplitz takes a look at the biggest upset alert in PA, the race between Rep. Tim Holden and attorney Matt Cartwright.
CD-18: The Post-Gazette strongly endorsed Rep. Tim Murphy and blasted GOP challenger Evan Feinberg's election argument: "When it comes to the body politic, this strident extremism is not principle but poison. Republicans will follow this path only at the party's peril."
Legislative election updates:
APSCUF, the union representing faculty at the 14 PA state system of higher ed, made its primary endorsements Monday. Here's the list: PDF. The two candidates who sent out releases boasting the endorsement are Rob Teplitz (Dem for SD-15, and Shane Richardson, Dem for HD-47). Some of the candidates who didn't boast their endorsements were Sens. Pileggi, Argall and Vance.
SD-29: Brian Rich goes direct-to-camera in his latest ad, saying, "Dave Argall cannot defend his liberal tax and spend record." Meanwhile, the Kline Township Republican Committee today threw their support behind Argall.
SD-37: Raja picked up a few endorsements in his race to replace retiring Sen. John Pippy (R-Allegheny): Jim Bolas, Chair of the Upper St. Clair GOP, Robert Jones, Mayor of Ben Avon, Glen Meakem, Entrepreneur & Radio Show Host and more.
SD-49: Democrat Sean Wiley, St. Vincent Foundation Director running for the 49th District seat has enjoyed several endorsements within the past few days in his race to take the seat of retiring Sen. Jane Earll (R-Erie): SEIU PA State Council (SEIU 668), International Association of Firefighters (Local 293), Equality PA, Rep. John R. Hornaman, Former County Executive Judy Lynch and more.
HD-22: The Pittsburgh Federation of Teachers backs Erin Molchany in the race to replace Rep. Chelsa Wagner. "We are proud to endorse Erin Molchany," said Nina Esposito-Visigitis, PFT President.  "The choice is clear in this race.  Erin will stand up to invest in our children and teachers again.  Her opponent said he could not promise to fight against vouchers, a massive part of Governor Corbett assault on public education."
HD-37: Republican Steve Black and his wife Gloria L. Black poured $15,000 into his campaign for state House in Lancaster County.
HD-66: Rep. Sam Smith and his two GOP challengers will meet for a debate on Wednesday.
HD-122: In an interview with the Times Tribune, Rep. Ken Smith (D-Lackawanna) lays out his case for re-election: "While he still may seem like the new guy, state Rep. Ken Smith noted that, with the retirement of his colleague Ed Staback, he'll be the senior member of the Scranton-area delegation." He faces Kevin Haggarty in the Dem primary.
HD-134: Patrick Slattery, the Dem running in the special election to replace former Rep. Doug Reichley, has been named in an anti-defamation lawsuit by former Emmaus borough Councilman Otto Slozer and former candidate for council, John Donches.
HD-182: The Sims-Josephs campaign has continued to go negative (surprise). The Josephs campaign sent a mailer to people in the district associating Sims with Gov. Corbett on the grounds that Sims said he would seek to reach across the aisle and work with Republicans.
HD-198: Linking appropriate commercial development to job creation is the number one priority for Malik Boyd, who is asking Democratic voters in the 198th Legislative District to put him on the fall ticket, the Philly Tribune reports.
National:
Tribune-Review: Analysis: Pennsylvania a prime player for fall
AP: Fence-mending time for Romney as he woos the right
Politico: Political races run hot on energy
Politico: Obama-DNC raise $53 million in March
Politico: GOP to Romney: Own your Mormonism
Politico: Priorities USA targets Romney in four states
The Caucus: Romney moving ahead with search for running mate
The Caucus: Romney talks of ending some tax deductions for wealthy
Washington Post: Lead-up to Labor Day may determine winner of presidential race
Washington Post: Democratic super PAC targets Romney's wealth in new ad
NY Times: House Republicans and Romney face a delicate tango
USA Today: National polls differ on Romney vs. Obama
National Journal: Poll: Voters doubt Romney can beat Obama
National Journal: Boehner inching closer to Romney endorsement
The Hill: Republicans ramp up Hispanic outreach
The Hill: Romney tells Obama to 'start packing'
Statewide:
Capitol Ideas: Howard Dean shakes the money tree for Patrick Murphy
State House Sound Bites: Links: House GOP held hostage by its own, Dems battle in new 12th CD
Capitolwire: Pennsylvania Democratic Party: The choice in the GOP Senate primary: How to dismantle Medicare
Erie Times News: Welch criticizes Smith over taxing issue
Capitolwire: Sen. Daylin Leach: Leach introduces bill reversing gag order on doctors under Marcellus Shale Act
Capitolwire: Mitt Romney campaigns in Pennsylvania
WITF: Meet the candidates: Kathleen Kane
Philadelphia:
Philadelphia Inquirer: Romney's tea party crashing
Philadelphia Weekly: Romney in town tonight, tax day protests tomorrow
Philadelphia Weekly: Daily Grinder: Philly Pols jump in Attorney General campaign for TV ad
Philadelphia Tribune: PA House candidate Boyd promises jobs
PhillyNow.com: Daily Grinder: Philly Pols jump in Attorney General campaign for TV ad
WHYY Newsworks: Bucks County Vietnam vet reaches for U.S. Senate
WHYY Newsworks: Former PA House staffer gets up to 4 years in "Bonusgate"
SEPA:
Delco Daily Times: Senate candidate makes stop at MiImont Fire Co.
Daily Local News: Chester County businessman running for Senate
Pittsburgh:
Tribune Review: Democratic AG hopefuls Kane, Murphy tout experience
Tribune Review: First lady to visit Pittsburgh on Tuesday
Tribune Review: Mitt Romney to visit Bethel Park Community Center
Early Returns: Romney, Michelle O to Pgh
Early Returns: Murphy goes negative in AG race
Early Returns: Programming note: House races
Early Returns: Sestak endorses Altmire
Southwest:
Tribune-Democrat: Calculating victory: Critz, Altmire eyes numbers in the 12th District
PetersPatch: Republicans unite in Upper St. Clair
Altoona Mirror: University's event stirs political passion
Observer-Reporter: Correction
NEPA:
Citizens Voice: Jack Wagner visits Luzerne counties to endorse re-election of Holden
The Times Leader: Some college IDs get the vote
The Times Leader: Holden gets Sen. Casey's backing in writing
Times Tribune: Carney rallies for Holden in 17th
Times Tribune: Candidates for Congress have broad ideas but few specifics to address federal deficit
Times Tribune: Holden, Cartwright rack up big spending on campaigns
Times Tribune: Cartwright rips tea party for damaging nation
Times Tribune: Candidates for 11th District agree on issues, civility
Times Tribune: Smith points to experience in race for re-election
Citizens' Voice: Women's issues at forefront of election
Citizens' Voice: Stilp brings warrior mentality to 11th Congressional District run
Citizens' Voice: County elections board moves on without Piazza
Citizen's Voice: PCN to offer live primary covers next week
Pittston Politics: Mundy hosts rally for Cartwright
Pocono Record: Democratic candidates to speak at rally
Lehigh Valley:
The Morning Call: Debate between two Democrats hoping to unseat Congressman Lou Barletta
North by Northwest:
Courier Express: Candidates for 66th state House seat in Punxsutawney Wednesday
Opinions:
Daily News: Opinion: Will you be allowed to vote?
Post-Gazette: Op/Ed: Murphy in the 18th: The incumbent deserves re-nomination
Post-Gazette: Op/Ed: Doyle is there for us
Post-Gazette: Op/Letter: Rep. Doyle has indeed helped the Mon Valley
Morning Call: Opinion: Rick Daugherty will protect elderly, union rights
Philadelphia Inquirer: The Paths for Kane and Murphy
Philadelphia Inquirer: Buffett Rule: Grrrr
The Intelligencer: A smaller Legislature…maybe in a decade
The Intelligencer: McIlhinney promises legislature will fix drilling law
Delco Daily Times: Letter to the editor: Candidate slurs all CPAs
Erie Times-News: Rare truism actually said aloud: it wouldn't matter if Obama were Muslim
Tribune Review: School spending: The exemption ruse
The Times Leader: Questioning Tim Holden's motives and commercials…
The Daily Review: Keeping the voters from voting
Blogs:
Keystone Politics: Joe Sestak endorses Jason Altmire
Keystone Politics: Democrat Jason Altmire using GOP lobbying firm for phonebanks, campaign donations
NEPArtisan: Battle for NEPA comes down to 1 race
North Pittsburgh Politics: New anti-Critz mail pieces
Lehigh Valley Independent: Mitt Romney thinks Stay-at-Home moms don't know the "dignity of work"
NEPartisan: PA-17: A sit-down with Matt Cartwright
PA Water Cooler: Corbett's US Senate candidate is an albatross around his neck
Pennsylvania Progressive: State House Endorsement: Babette Josephs
Penn Patriot: Sam Rohrer for U.S. Senate