Auditor General Race Raises Questions About Running For Two Offices Simultaneously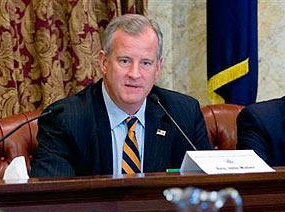 Three men are seeking the Auditor General seat currently occupied by Jack Wagner, who cannot seek re-election due to term limits: State Representatives Eugene DePasquale (D-York) and John Maher (R-Alleghney) and Republican Frank Pinto.
DePasquale and Maher are also running unopposed in re-election bids for their current House seats.  According to a Patriot News report, both say that their constituents demanded that they seek both offices simultaneously.
While the role of the PA Auditor General is to "protect how tax dollars are spent and ensure that the government operates efficiently and effectively" according to the Department's website, Pinto has said that DePasquale and Maher's refusal to commit to a single race is undermining that concept.
"The auditor general is supposed to be the watchdog over the taxpayer's dollars," he said.  "These guys have already wasted taxpayers' money.  Its a reflection of the culture of arrogance that exists in some places of the Legislature and its got to stop."
"They are playing it safe and it's nuts, absolutely nuts.  It's just egregious running for two offiices while you are being paid full time and collecting per diems and everything else."
If DePasquale or Maher were elected Auditor General, the winner would be obligated to vacate his House seat, giving way to a special election that would in turn be funded by taxpayer dollars.
However, both have insisted that voters aren't concerned with the fact that they are seeking election to multiple posts simultaneously.
"I think the people of Pennsylvania are more concerned about finding the candidate who is going to be a tough fiscal watchdog," DePasquale said.
Representatives Maher and DePasquale have also said that their campaigns have registered few complaints from constituents regarding their decisions to run for both Auditor General and re-election to their seats in the PA General Assembly.
DePasquale has been endorsed by two Pennsylvania Congressmen (Jason Altmire and Mark Critz) over 70 members of the state legislature, the Laborers' District Council of Western PA and 22 Democratic Party county chairs.  Maher has been endorsed by the Pennsylvania Republican State Committee, Governor Tom Corbett, Humane PA and the Pittsburgh Post-Gazette, while Pinto has been endorsed by PA Senator Mike Folmer, a small list of GOP Conservative leaders.
Correction: an earlier version of this story indicated that Chester County Treasurer and former AG candidate Ann Duke endorsed Pinto. She has endorsed John Maher for the position.