F&M Poll: Obama Loses to Nobody
By Natalka Karaman, Contributing WriterWe mean that headline literally. According to a Franklin & Marshall
poll (PDF)
released today, President Obama holds a significant lead over each of his Republican opponents but by himself has upside-down re-election numbers.
Ratings for most Pennsylvania politicians has slightly improved since August but on the whole, most are still displeased with their job performance. And out of all the new legislation facing the state legislature, only transportation funding seems to be a priority for most Pennsylvanians.
Presidential Politics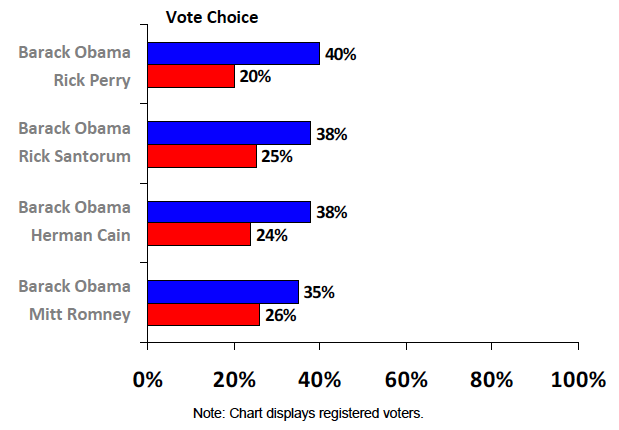 By a 52 to 42 percent margin, Pennsylvania voters do not believe President Obama deserves re-election.
However, because Pennsylvania has more registered Democratic voters than Republican, Obama still wins when matched up with any of the current Republican front runners. There were also a significant percentage of respondents who answered "don't know," at times up to 30 percent.
President Obama beats Texas Governor Rick Perry by the largest margin (20 percent) and former Massachusetts Governor Mitt Romney by the smallest (9 percent). Obama defeats former Pa. Senator Rick Santorum and former Godfathers Pizza CEO Herman Cain by 13 and 14 points, respectively. A majority of Pennsylvanians (51 percent) also responded that religious conviction of a candidate makes no difference in how they would vote.
Direction of the State  
49 percent of Pennsylvanians believe that the state is headed in the wrong direction as opposed to 38 percent who think it is headed in the right direction. This negative sentiment has remained consistent for the past few years. In fact, September 2006 was the last time a majority believed the state was heading in the right direction.
All the major political figures showed slight increases in job performance ratings. President Obama's job performance rating increased to 37 percent from August's 34 percent. An increase was seen across the board in Republicans, Democrats, and Independents.
Gov. Tom Corbett and Sen. Bob Casey are tied at 38 percent, an increase from 32 percent apiece in August. Sen. Pat Toomey is at 32 percent, up from 29.
Governor Corbett's job performance rating is below the ratings Ed Rendell and Tom Ridge received at this point in their gubernatorial tenures. In 30 surveys conducted between 1991 and 2011, the average positive job performance rating for a Pa. Governor has been 46 percent.
50 percent of voters said that the state legislature is doing only a fair job.
State Government's Fall Agenda
The state legislature faces proposals on the tax on natural gas extraction, the sale of the state's liquor stores, Electoral College reform, education reform, and transportation funding. A majority of voters in Pa. (54 percent) consider transportation funding the top issue or one of the top issues facing the state. The next most important issue was a tax on natural gas extraction at 43 percent, followed by the tuition voucher plan at 39 percent. Surprisingly, there are no significant differences by party affiliation in terms of the importance of these issues.
Methodology
The survey is based on phone interviews conducted October 24-30, 2011. The data included the responses of 525 adult residents of Pennsylvania, including 419 registered adults (201 Democrats, 154 Republicans, 51 registered as Independent/Other, and 13 who refused to identify party). The sample error for this survey is +/- 4.3 percentage points. The sample error for registered adults is +/- 4.8 percentage points.