Former Governor Tom Corbett Collects Pension Despite Reform Efforts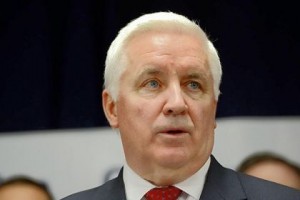 State retirement system records show that former Republican Gov. Tom Corbett, a vocal advocate for pension reform, is collecting a $38,765 state pension.
According to Brad Bumsted of the Pittsburgh Tribune-Review, the ex-Governor withdrew a $118,378 lump-sum payment based on his contributions with four percent interest earned.
The pension is based on a final average salary of $186,204, an amount that reflects annual cost-of-living raises which Corbett declined during his tenure, keeping his salary at $174,914 for four years.
While Corbett declined raises, "but he will more than make up for it through a lifetime pension bounce," said Eric Epstein, co-founder of Rock the Capital, a government watchdog group.
Current Gov. Tom Wolf, who defeated Corbett in November, has declined a state salary and it is unclear whether Wolf would collect a pension after his service.
Corbett could not be reached by the Tribune-Review for comment.
"He's living by the rules. He didn't make them," said Charlie Gerow, a Harrisburg political consultant who worked on Corbett's campaign.
The Pennsylvania State Employees Retirement System provided the Tribune-Review with records showing Corbett's pension is based on 11.3 years of service – four years as governor, six years as elected attorney general and more than a year as appointed attorney general in 1995.
Corbett's predecessor, Democratic Gov. Ed Rendell, in office from 2003 to 2011, receives an annual pension of $22,358 and withdrew a lump-sum payment of $96,420, according to records the retirement system provided Epstein, who sought them under the open records law.
Former Gov. Tom Ridge, a Republican who served from 1995 through January 2003, receives an annual state pension of $11,961 and withdrew a lump sum of $45,023, the records show.