Meet John Maher, Republican for Auditor General
By Keegan Gibson, Managing Editor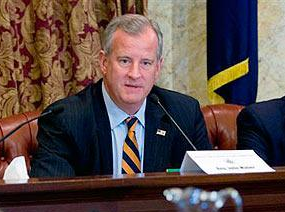 With only a day before the first regional caucus straw poll and just a few weeks before the GOP state committee endorsement meeting, the Republican race for Auditor General has mostly gone under the radar.
Pa. Rep. John Maher (R-Allegheny) is officially in the running. The lawmaker says he wrote the book on government auditing.
Well, co-wrote it. "Applying Government Accounting Principles," on which Maher has a co-author credit, was published in 1995. He's also the author of Pa.'s open records law.
"Auditing is my first love," he told PoliticsPA in a recent interview.
"Many people agree that with the fiscal crises the state is facing, it would be useful to have an Auditor General who actually knows how to audit," he said. He argued that his extensive background best equips him for the job.
Maher, 53, is a native of beautiful Carlisle. He settled in the Pittsburgh area after college where he became a Certified Public Accountant in 1983 and founded a successful CPA firm in 1989. Now he resides in Upper St. Clair, a Republican stronghold in southern Allegheny County. He currently chairs the Agriculture and Rural Affairs Committee, and has served in the Pa. House since 1997.
He's been thinking about a bid for Auditor for years. He sought the office briefly in 2004, but dropped out before petitions were due. In 2008 he deferred to Chet Beiler who won the GOP nomination. Both men lost to current Auditor Jack Wagner, who is finishing his final term.
He's working the phones for a state committee endorsement.
"If there's an endorsement, I hope to have it," said Maher. He has been calling and visiting state committee members for weeks and said that this week he expects to put 1,200 miles on his car. He handily won a straw poll of Bedford, Blair, Centre and Huntingdon county Republicans who saw all three candidates at a forum Thursday night.
He faces two opponents: Ann Duke, Chester County Treasurer; and Frank Pinto, formerly of the Pa. Community Bankers. MSNBC pundit and former Senate hopeful Joe Watkins has not been reaching out to state committee members, several sources tell PoliticsPA.
On the Democratic side, candidates are Pa. Rep. Eugene DePasquale of York and possibly Jack Stollsteimer, the former Philadelphia Safe Schools Advocate from Delaware County.
Washington County Commissioner Diana Irey Vaughn, once rumored to be considering a run for Auditor, now appears more likely to seek a bid for Pa. Treasurer.