@MileyCyrus Calls Out Rick Santorum
By Keegan Gibson and Caroline Johnston
Even Miley Cyrus is getting in on the 2012 action. In a reaction to a recent controversy over retailer Urban Outfitters allegedly copying jewelry designs, Cryus last night aired her criticism of UO President Richard Hayne's campaign contributions to former Senator Rick Santorum.
"IF WE ALLOW GAY MARRIAGE NEXT THING U KNOW PEOPLE WILL BE MARRYING GOLD FISH' – Rick Santorum UO contributed $13,000 to this mans campaign" the singer and Hannah Montana star tweeted, in an apparent reference to the former Senator's famous "man on dog" remark. Santorum is known for his conservative and often controversial opinions on same-sex marriage.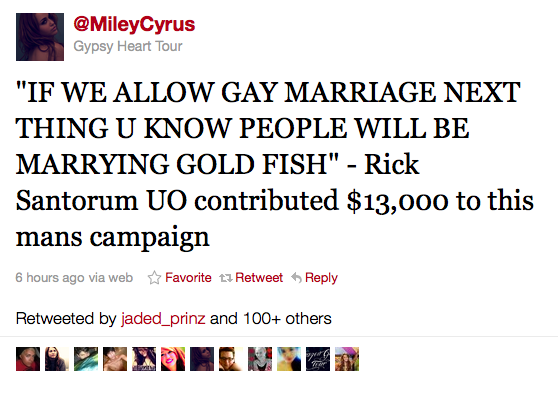 Cyrus has over a million followers on the social networking site, and this particular remark was re-tweeted by hundreds if not thousands of people.
"Love that everybody is hating on Urban Outfitters," Cyrus tweeted immediately beforehand, "Not only do they steal from artists but every time you give them money you help finance a campaign against gay equality."
Hayne and his wife contributed $17,350 to Santorum and his Fight-PAC over the course of his career in the U.S. Senate, according to OpenSecrets.org.
The Haynes are active political donors, having given thousands of dollars over the years to the Republican Federal Committee of Pennsylvania, Sen. Arlen Specter, Rep. Pat Meehan and others. In 2009 they maxed out to the abortive Senate campaign of Joseph Torsella.
This is the second time in recent weeks that Santorum has popped up in an unlikely quarter of pop culture. Actress Keira Knightley talked about "googling" Santorum during a May 9th appearance on "The Daily Show."
We would follow up with Santorum for comment, but online publications have a hard time being taken seriously as it is.