Obama in Pittsburgh: I Need Your Help on Jobs Bill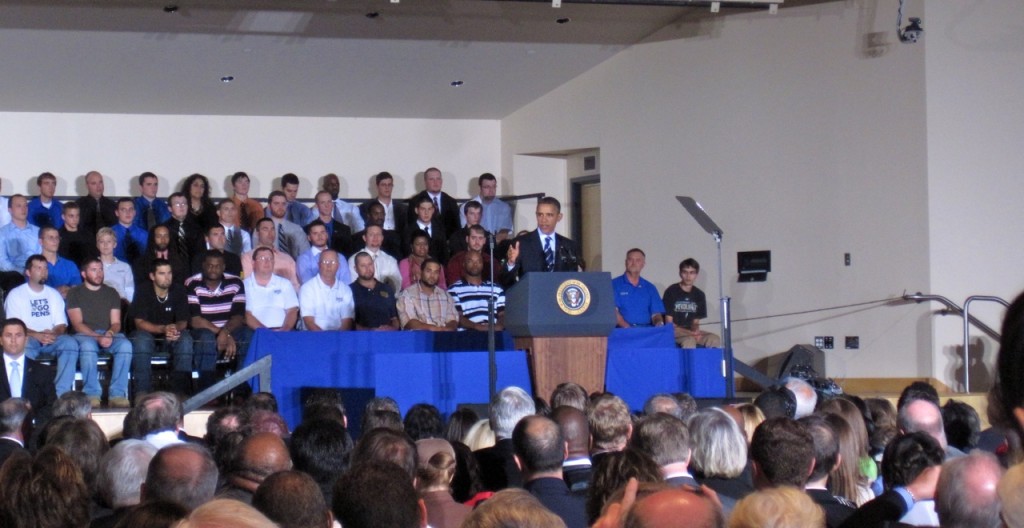 By David Gerber and Natalka Karaman
Standing in front of a medium-sized audience at International Brotherhood of Electrical Workers (IBEW) Local No. 5 Training Center this afternoon, President Barack Obama asked the audience to keep up the pressure in favor of his American Jobs Act.
"Pittsburgh, I need your help," he said.
Obama thanked a newly created White House Jobs Council, designed to help job creation in both the private and public job sectors.The Council issued a report today that consisted of suggestions on how to initiate economic revival, and met with Pittsburgh-area business leaders.
To an enthusiastic applause, the President discussed goals for long-term sustainable growth as well as an urgent need for economic innovation right now in order to help the American middle class who are struggling to put food on the table and send their children to college.
He said that America used to be the premier in industrial production and innovation, pointing out structures like the Golden Gate Bridge and the Hoover Dam –  now people are in awe at the structures in Beijing.
Specifically pointing out the eroding infrastructure, he explained that more than one quarter of the bridges in the state are rated structurally deficient, a fancy way of saying these structures need repaired.
Obama looks for another "American century."
"We can't be number two or eight or fifteen," he said, we must have the best educated workers, the best transportation, and the best communication networks in the world.
"There's no reason we can't have the best trained workers in the world" said Obama, "and this Jobs Act aims at doing exactly that."
Acknowledged by Obama at the start of the speech were a number of local officials including County Executive Dan Onorato, Mayor Luke Ravenstahl, and Ambassador to Ireland Dan Rooney.
PA Democratic Party Chairman Jim Burn, County Executive candidate Rich Fitzgerald, PA Sen. Tim Solobay and PA Reps. Jay Costa and Jake Wheatley were also in attendance.
Rep. Jason Altmire and Rep. Mike Doyle met the President as he disembarked from Air Force One, before they boarded their own flights to Washington, DC. Altmire in particular had provided fodder for Republican attacks when it was initially reported that he would not attend the speech.
Local and national Republicans rolled out a barrage of criticism in advance of and during the President's visit, suggesting that it would be better characterized a campaign stop rather than an official event.
Obama's campaign countered by citing national polls that indicate Americans support the President when it comes to job creation efforts. A memo from Senior White House Strategist David Axelrod pointed to a Washington Post ABC News poll which found that, "trust in creating jobs has gone from a tie in early September to a 15% advantage for the President."
Supporters argue that Obama's numbers in PA – the latest Quinnipiac poll shows him leading all Republican candidates in head-to-head matchups in the state – show the President's agenda has a mandate in the state.
The second half of Obama's speech focused on the U.S. Senate and Republican lawmakers, saying if the bill fails, they will be the ones who must look their jobless constituents in the eyes and tell them why they still continue to struggle on a day to day basis.
"Its gut check time," said the President.
He boasted that economists who have evaluated the legislation say that it will help grow the economy and put Americans back to work – something he said was unique to his proposal.
"They would have a hard time explaining why they voted no for this bill other than for the fact that I proposed it," he told a chuckling audience.
"Today the Senate has a chance to change our economic situation by voting for the American Jobs Act, it is the moment of truth."
Local officials voiced their support for the proposal.
"This bill is extremely bipartisan. This country has been lingering in recession for far too long and with this bill I feel it will lead us in the direction we need to go," said Fitzgerald.
In hours since the President's remarks, observers have predicted that the bill will not clear the 60-vote cloture threshold in the U.S. Senate this afternoon. Rather, they anticipate that the bill will be split into smaller parts and addressed piecemeal.
Here's the Tribune Review story on the speech, here is the article by the Post-Gazette, and this is the preview by KDKA.