PA-Gov: Tom Wolf Responds to SRC Contract Cancellation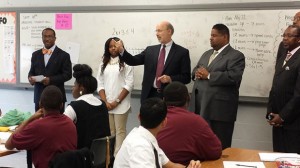 In a surprising move earlier today, the Philadelphia School Reform Commission announced it had cancelled the city's contract with the Philadelphia Federation of Teachers.
The move caused anger among the PFT, with spokesman George Jackson saying, "This is outrageous."
In summary, the cancellation of contracts allows for the phasing out of the PFT's Health and Welfare Fund, with all district employees covered under a district-managed health plan by the end of the year. Employees who opt for the district medical coverage will pay a contributing cost to their benefits. It is believed the plan can save the district $54 million this school year, and up to $70 million in subsequent years. The plan will not cut teachers' wages but the educators will have to pay 10% or 13% of their medical plan.
Democratic candidate for Governor, Tom Wolf, released a statement in response to the Philadelphia School Reform Commission's action:
"This is just one more situation that has been forced by Gov. Corbett's $1 billion cut to education in Pennsylvania and his chronic neglect of the Philadelphia public schools and schools throughout Pennsylvania."
"All stakeholders have to work together to ensure the best results for students in Philadelphia. Unilateral action undermines the collaboration that we need in order to develop a long term solution for schools in Philadelphia and throughout Pennsylvania."
"Under Governor Corbett, 27,000 educators have been laid off, property taxes have skyrocketed, class sizes have increased, and valuable programs have been eliminated across the state. It's just simply unacceptable."
"As governor, I will work to fund our schools by implementing a 5 percent severance tax, implementing charter school reform, and creating a fair funding formula that takes each district's unique needs into account."
In contrast to Wolf's opposition of the decision to cancel teach contracts, Governor Corbett voiced his support earlier today.
"Today's action by the SRC will effectively close the funding gap and provide the district with the ability to hire new teachers, counselors and nurses, and secure educational resources that will benefit the students of Philadelphia," he said.