PA-Sen: Sestak Prepares for Battle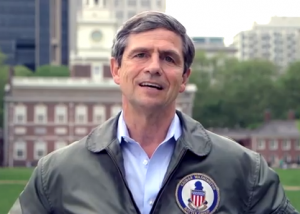 In case you weren't aware, Joe Sestak is serious about his 2016 rematch with Senator Pat Toomey.
In his first campaign email since the end of the 2014 midterms, the former Congressman and 2010 Senate nominee raised the stakes.
"We are in a fight for the soul of America — 'we the people.' The U.S. Senate is now controlled by a reactionary Republican leadership – and has complete control over the legislative branch – with the battle cry, 'each American is on their own.'," he writes.
"I intend to sail in harm's way."
Sestak goes on to lay out the ways Sen. Toomey has been harmful to his constituents and brings up the fact that several prognosticators rank the state's junior senator as among the most vulnerable incumbents in 2016.
"This will take 'all hands on deck'," the former Navy Admiral concludes. "Join me — in the fight for America's soul."
Suffice to say, of all the potential 2016 contenders, Sestak is the only one already all in. He wouldn't have it any other way. The only question now is whether he can rally enough troops behind him. In the coming months we'll find out if voters view him as a George Washington or  a Don Quixote.