PHL-15: Abraham Endorses Moratorium on Charter Schools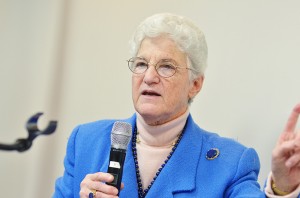 Philadelphia Mayoral Candidate Lynne Abraham announced yesterday that she wants a moratorium on charter schools.
The issue is coming to a head because the city's School Reform Commission (SRC) is deciding the fate of 39 charter school applications today. In addition to Abraham, mayoral hopefuls Jim Kenney, Nelson Diaz and Doug Oliver all support a moratorium.
"I urge the SRC to delay and defer the approval of any new charter schools," Abraham said. "The SRC should not bow to pressure from outside interests to approve new charter schools. The apparent haste to approve new charter schools is unwarranted, and will virtually break the back of the school budget already under considerable stress. The rapid growth of charter schools has imperiled our children by removing huge amounts of money from the public school system. The proposed move by the SRC tomorrow will irreparably harm our children."
Her position now leaves State Sen. Anthony Williams as the only candidate actively supporting charter schools.
"A blanket moratorium on charter expansion makes a nice headline, but it's really just a political solution to an education problem," Williams said. "We need solutions that make sense for our children, first and foremost."
Philadelphia currently has 84 charter schools operating within the city.