Poll: Obama Continues to Lag in Pa.
By Keegan Gibson, Managing Editor
No one has to guess what the PA GOP is thankful for this holiday. Another poll, released Tuesday, shows President Barack Obama with upside down job approval ratings in Pennsylvania.
A survey by the firm Public Policy Polling (PPP), which has a decent track record but has been associated with left-leaning causes, shows that 53 percent of Pennsylvania voters disapprove of the President's job performance, compared to 42 percent who approve.
The numbers are in line with other recent polling this year. Obama has suffered approval deficits in the state for several months: minus 13 points in an October survey by Susquehanna Research and Polling and minus 2 points in July's PPP. His re-election numbers were minus 10 in an October Franklin & Marshall poll.
"Pennsylvania is Barack Obama's most worrisome state for 2012," said Dean Debnam,  President of Public Policy Polling.  "He's slipped there more than in any other large state and the electoral college picture changes fundamentally if it goes into the GOP column."
Tied with former Massachusetts Governor Mitt Romney 45 to 45, Obama maintains his lead in the head-to-head figures against the other candidates. Especially notable is the apparent collapse of Texas Governor Rick Perry and businessman Herman Cain, whose numbers v. the President have regressed.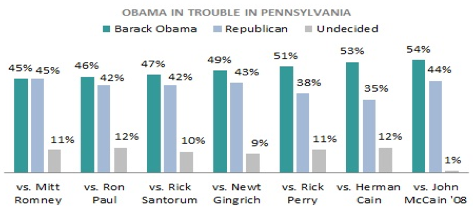 But the pollster thinks Romney would win the state today.
"…if you dig in on the undecided voters only 24% of them approve of Obama's job performance to 70% who disapprove," PPP wrote in its survey summary. "If those folks really had to make a decision today it's likely they'd move in Romney's direction and hand him the state."
Further, PPP makes the case that Obama's approval rating among white voters – a 36/59 spread – is more typical of the South than the Northeast. "He's also at a much lower than normal 69% approval rating with Democrats while independents split against him 45/53."
Republicans are crowing.
"Do we have to say 'we told you so?'" PA GOP Chairman Rob Gleason said in a press release. "…poll after poll proves that Republicans can win in 2012, too. One thing is clear: when President Obama loses in our Keystone State, he will also lose the White House."
It's certainly not good news for the Obama team, but they have some silver lining. Romney has gotten marginally closer to the President in their matchup, but that also hasn't changed much from other polling. He, as the most competitive Republican candidate here, hasn't gained in the head-to-head at the same rate of Obama's approval decline.
No one is airing attack ads against Romney here in Pa, so it's to be determined how he will weather a tough campaign here. Obama's Pa. campaign spokeswoman Jennifer Austin laid the framework for such a contrast.
"Come November 2012, the voters of Pennsylvania will face a very clear choice between President Obama, whose economic solutions focus on supporting hard working middle class Americans and restoring a fair economy that rewards hard work and responsibility, and a Republican candidate who thinks we can cut our way to prosperity and whose economic plan relies on the same failed proposals that got us into this mess to begin with," she said.
PPP surveyed 500 Pennsylvania voters from November 17th to 20th via automated telephone interviews. The margin of error for the survey is +/-4.4%.
PPP also polled the primary field for U.S. Senate and determined that former State Rep. Sam Rohrer leads the pack at 25 percent.