Poll: Rohrer Leads Senate Field
By Brittany Foster and Keegan Gibson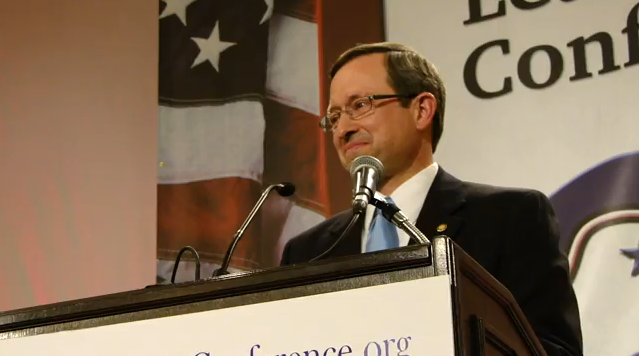 He's been in the race for all of a day, but a poll released Tuesday morning shows former State Rep. Sam Rohrer atop a crowded primary field for U.S. Senate.
The survey from Public Policy Polling gives Rohrer 25 percent of the vote, compared to 15 percent for former congressional candidate Tim Burns, 3 percent for coal industry veteran Tom Smith, 2 percent for Scranton Tea Party co-founder Laureen Cummings, and 1 percent each for retired Colonel John Vernon and former congressional candidate Steve Welch. Marc Scaringi, a Harrisburg attorney and former staffer to Rick Santorum, takes 0.
Rohrer is certainly helped by the residual name ID from his 2010 primary bid for Governor, in which he pulled in 31 percent against Tom Corbett and built a network of grassroots conservative supporters.
Perhaps the biggest takeaway is just how unknown the prospective primary opponents to Senator Bob Casey really are. Rohrer polled at 24 percent, Burns at 18, and everyone else is sitting in the low teens. 51 percent of Republican primary voters are still undecided or are supporting someone else.
Voters who consider themselves part of the tea party are similarly up in the air, though also favorably inclined toward Rohrer, who recent served as Pa. state director of Americans for Prosperity.
"Rohrer is looking particularly strong at this point with Tea Party voters, where he gets 33% compared to only 20% with Republicans who don't identify with that movement," PPP wrote in its polling memo. "It's nice to start out in the lead but in this race there's a long way to go."
On the presidential front, Newt Gingrich has pulled ahead in Pennsylvania. Gingrich leads Romney 26 percent to 21 percent. Poll analysis suggests that as the support of Herman Cain dwindles, support for Gingrich increases. Cain now ties with former Pennsylvania Senator Rick Santorum 11 percent and no other candidate has double digit support in the Commonwealth. Formerly popular Rick Perry has fallen to 3 percent, the same support as Jon Huntsman.
PPP surveyed 400 Republican primary voters from November 17th to 20th via automated telephone interviews. The margin of error for both surveys is +/-4.9%