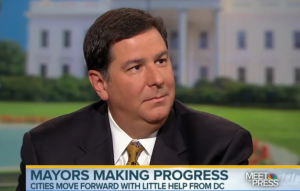 In moderator Chuck Todd's inaugural broadcast of Meet the Press, Pittsburgh Mayor Bill Peduto was joined by two other mayors who are "getting things done," Mick Cornett of Oklahoma City and Marilyn Strickland of Tacoma, Washington.
In an attempt by Todd to contrast from his interview with President Obama, he asked the group how they were able to succeed despite the backdrop of the inefficiencies of Congress.
"The ultimate goal is 'what is the vision,' and it has to be a shared vision. Just as we have to work with our councils, the president needs to work with the Congress, but at the end of the day, you have to move forward" said Peduto.
As an example, the Democrat outlined his campaign to provide universal preschool for the city's four year olds by competing for recently announced federal Preschool Development Grants.
Peduto described his particular vision as one of making Pittsburgh a "city of learning," reminding viewers that "Pittsburgh's overnight success story was thirty years in the making."