Sen. Toomey Pushes For Religious Exemptions on Coverage of Contraceptives, Sterilization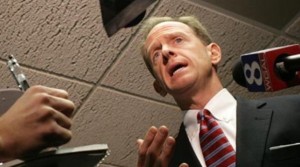 By: Brittany Hundzynski and Keegan Gibson
Sen. Pat Toomey this week co-sponsored a bill that grants religious exemptions to 'Obamacare.'
He says that the Patient Protection and Affordable Care Act forces members of religious entities to violate their strongly-held beliefs or potential pay a heavy lump some.
The rule requires all health plans to provide coverage for prescription contraceptives and female sterilization. This bill would exempt religious groups, and allows individuals to ignore the mandate if it conflicts with their personal beliefs.
"I am extremely concerned that this new regulation would force religious employers to violate their religious beliefs in order to keep their doors open," said Toomey, who is Catholic. "Many Pennsylvania hospitals, charities and schools have expressed concerns about the effect this new regulation would have on their ability to operate and provide important community services."
Bishop of the Roman Catholic Diocese of Pittsburgh, Bishop David Zubick applauded the Senator's efforts.
"This mandate effectively had the government telling us how we must practice or not practice our faith," the Bishop said in Toomey's press release.  "Sen. Toomey recognized this threat to religious liberty and has worked so hard to address it."