UPDATED: Wilkes-Barre Attorney Bill Vinsko to Seek Democratic Nomination in PA-11
Vowing to "lead the fight against the right-wing extremists we currently have in Congress," Wilkes-Barre attorney Bill Vinsko announced on Wednesday that he would seek the Democratic nomination in Pennsylvania's 11th Congressional district.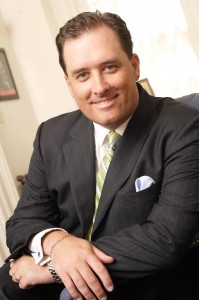 The district, whose boundaries may yet be altered by the once-a-decade redistricting process still being considered by state Republicans, is currently represented by freshman Republican Rep. Lou Barletta.
Vinsko's release touts his job creation bonafides.  Brothers Bill and Brian formed Vinsko and Associates, a law firm focusing on real estate, corporate and municipal law, in 2004.  Bill Vinsko also serves as president and chairman of the board for VPharm Inc., a wholesale pharmacy based in Wilkes-Barre which aims to supply seniors with lower-cost prescription drugs.
The Democratic hopeful also lamented Republicans' proposed entitlement reforms, pledging to oppose right-wing members "supporting radical cuts to Medicare, Social Security and Education."
"It is time to renew our passion and band together to create jobs for our future, to give paychecks to our people, and preserve our word to seniors and veterans by keeping Medicare and Social Security strong," he said.
Lance Stange, Barletta's campaign manager, insisted that his boss is "working to resolve the debt ceiling crisis, so he's focused on the future of our country, not politics" in a statement emailed to PoliticsPA.  "Representative  Barletta has been dealing with reports of challengers and ridiculous attacks from the radical left since before last year's Thanksgiving turkey was cold – before he voted to reduce billions of dollars in federal spending and before he voted to repeal Obamacare," Stange said.
Kyle Donahue, who worked as a staffer on Joe Biden's Senate reelection campaign in 2008, will serve as Vinsko's campaign manager.  Vinsko has also retained The Strategy Group, whose previous clients include former Congressmen Patrick Murphy, and Snyder Pickerill Media Group as campaign advisors.