By Keegan Gibson, Managing Editor
Ongoing investigations into corruption in the Bucks County courthouse could have a significant impact in the 2011 elections in one of Pennsylvania's biggest swing counties – and threaten the current GOP majority on the Board of Commissioners.
It started in March, when the county's Register of Wills, Barbara Reilly, turned herself over to police – accused of Bonusgate-style allocation of taxpayer resources for campaign activity. Several other employees of Reilly's office find themselves similarly charged, including Candace Quinn.
On Wednesday it came to light that the County signed a separation agreement with Quinn stating that the County of Bucks does not believe that Quinn engaged in any "willful misconduct" – several days after she was indicted. Quinn also received all of her sick and vacation time and an agreement that the County would not oppose any unemployment claims.
The agreement was apparently arranged with the knowledge of Charley Martin, Chairman of the Board of Commissioners, but without being brought before the full board. Martin said Wednesday that the arrangement was standard practice the county.
The portion of Wednesday's meeting wherein the commissioners debated the Quinn agreement (audio of which is available here) – about 10 minutes of a 50 minute meeting – was not included in the press release of the county Office of Information. The office is under the purview of the majority commissioners.
The Bucks County Intelligencer slammed the deal – and lack of transparency – in a Friday editorial.
We thought political corruption charges against four people in the Bucks County Register of Wills Office, including the department's longtime elected leader, would cause county officials to pay a little more attention to openness and transparency – at least for a little while.
But power breeds contempt for intrusion and a sense of invulnerability. And so this week, a "secretive" separation agreement with one of the indicted employees was outed and criticized by county Commissioner Diane Ellis-Marseglia, the board's lone Democrat.
Is it a case of Republicans with power smoothing the way for a loyal party worker in need of a payback?" the paper asked.
Campaign 2011
What does this mean for campaign season? By any definition, Bucks is a swing county in PA. It came out for Ed Rendell and Bob Casey in 2006. But unlike neighboring Montgomery County, and despite a 191,778 to 178,057 voter registration in favor of Democrats, Bucks went red in 2010 for Tom Corbett, Pat Toomey, and Mike Fitzpatrick.
The Republican ticket also won't be as well known as last election. The biggest vote-getter in 2007, Jim Cawley, isn't on the ballot this year. Charley Martin is the senior Republican along with recent appointee Robert Lougherty. Martin cleared his Democratic opponent in 2007 by 1,479 votes, less than one percent of votes cast in that race.
Democratic Commissioner Marseglia and running mate Det Ansinn are working hard to publicize the scandal. The editorial mentioned above currently headlines their website.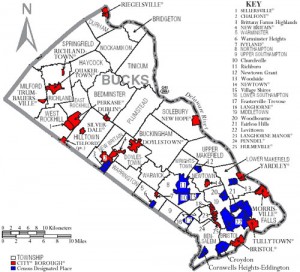 And while many observers are watching this year's elections in Montco, many political insiders are watching Bucks in 2011 to see where the rest of the state may be heading in 2012.
"If it looks like the party is losing ground in Bucks, it bodes poorly for statewide efforts next year," one statewide Republican consultant told PoliticsPA. "Even the impression of corruption weakens the party there. It becomes harder to raise money."
"If you want to see the potential impact, keep an eye on statewide candidates in 2012, as well as [Rep. Mike] Fitzpatrick. See how cozy they're willing to get with the Republicans in the county courthouse."