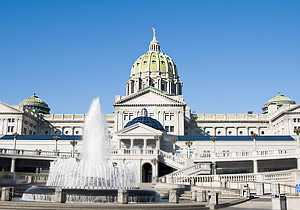 Good morning politicos, and welcome to the Buzz. Remember when we wished you a happy petition day on Tuesday? Well, we've remanded that message back to the Legislative Reapportionment Commission. In a shocking decision, the Pa. Supreme Court sent back the Pa. House and Senate redistricted maps.
Redistricting Ruling: What's Next: Legislators, candidates, consultants and reporters are trying to get a handle on what the Pa. Supreme Court's ruling means for the myriad campaigns in the state. And here's the report from when the news broke Wednesday afternoon.
Burns for Congress Instead of Senate? Burns says no. But some folks – including the Governor's team – have pushed the idea to avoid a state committee showdown over U.S. Senate.
Specter of Sestak Haunts Welch: Steve Welch's critics have hammered him for hosting a fundraiser for Joe Sestak in 2006. But did he? And does it matter? PoliticsPA checks in with the Admiral Congressman.
McCaffery Exits AG Race: Dan McCaffery has ended his bid for Pennsylvania Attorney General, his campaign announced Wednesday morning. He cited limited resources and a desire for party unity.
Legislative Election Updates (most of these come prior to the Court's decision, so they like all others are up in the air):
HD-3: Edinboro Mayor Greg Lucas will challenge Rep. John Hornaman (D) for the NWPA seat.
HD-82: State Rep. Adam Harris has drawn a primary challenger from Jim Knepp, 41, an independent salesman for a company (www.lightingnewyork.com) that sells lighting fixtures over the Internet. He's an eight-year veteran of the U.S. Navy reserves.
HD-92: As Scott Perry embarks on a bid to replace Rep. Todd Platts, PolitcsPA has learned that Anthony Pugliese, who is currently the legislative director of the Department of Community and Economic Development, is exploring a bid. the former leader of the PA College Republicans, Pugliese also worked on the Corbett/Cawley campaign.
HD-134: A second Republican has announced for the seat vacated by Doug Reichley. Ryan Mackenzie, a 29-year-old from South Whitehall Township, is a former policy director at the state Department of Labor and Industry. He joins Jim Smith, of Berks County, in the race.
HD-195: Milton Street, the man who challenged Mayor Nutter in the 2011 primary, will challenge freshman Rep. Michelle Brownlee for state House.
National:
WFMZ, Business Matters: One on one with Sen. Bob Casey
AP: Obama: American dream in peril, fast action needed
AP: Gingrich: Romney self-deportation plan a fantasy
AP: Gingrich says $1.65M contract wasn't for lobbying
AP: Romney talks housing, ends up defending banks
StateImpact PA: Truth Squad: "Are there really 100 years worth of natural gas beneath the US?"
Early Returns: Daily Santorum: Blue collar pitch
AP: Pelosi hints, then denies she has Gingrich secrets
AP: Obama and GOP candidates offer a campaign preview
ABC News: Rick Santorum to release tax returns
CBS News: Rick Santorum:  Left uses college for "indoctrination"
Statewide:
Capitolwire (Paywall): Castille stuns state by leading court majority to bounce redistricting plan
Capitolwire (Paywall): Senate Democrats Ask Supreme Court To Move State Sen. Pippy Seat, Not State Sen. Brewster's Seat
Capitolwire (Paywall): Gov. Rendell Weighs In On Ongoing Food Stamps Asset Test Debate
PA Independent: PA lawmakers grill education secretary over failing schools
PA Independent: PA bill eliminates biz tax shelters, lower biz income taxes
PA Independent: Chester Upland financial crisis affects local PA charter school, too
StateImpact PA: Nine Republican senators speak out against impact fee
StateImpact PA: Pipeline gives Obama's State of the Union the word cloud treatment
StateImpact PA: Drilling resumes in Allegheny National Forest
StateImpact PA: Drill Bits: New York fines a PA driller; PA considers using acid mind drainage for fracking
StateImpact PA: Toomey reacts to Obama's energy agenda
Early Returns: Report: McCaffrey out of Dem AG race
The Mercury: Candidates call on PA GOP not to endorse for US Senate race
Centre Daily Times: PA primary nominations open today
Inquirer: On eve of Bonusgate trial, DeWeese brims with confidence
Wall Street Journal-Market Watch: Pennsylvania Governor Tom Corbett nominates Gary Tennis to lead Department of Drug and Alcohol programs
York Dispatch: Grove, DePasquale vote for bill to cut size of legislature
Early Returns: Rendell slams food-stamp asset test
Tribune Review: Pa. Supreme Court invalidates redistricting plan
Post-Gazette: Court orders more work on new state House, Senate districts
Post-Gazette: 9 GOP state senators oppose Marcellus provision on local control
AP: Fundraising aide testifies at DeWeese corruption trial
Capitolwire (Paywall): State Sen. Piccola Asks Gov. Corbett, "What Do You Want?" For School Fiscal Reform?
Capitolwire (Paywall): State Rep. Turzai Says Reed Bill To Close Delaware Loophole Has Chance To Be In Next Budget
Capitolwire (Paywall): Gaming Bill That Benefits Charitable Groups Sent To Governor's Desk
Capitolwire (Paywall): Disability Advocates Protest DPW's Financial Management Services Consolidation Plan
Philadelphia:
Philadelphia Inquirer: Commissioners end patronage process for election workers
Philadelphia Inquirer: Nutter to call for more reward money in crimes
Philadelphia Inquirer: Top court nixes redistricting plan
Philadelphia Inquirer: Supreme Court may be effected by the Orie scandal
Philadelphia Inquirer: Controller: District must cut 400,000 a day
PhillyClout: Milton to seek 195th district seat
KYW Newsradio: Bill to reduce House clears committee
WHYY Newsworks: Department and drugs and alcohol programs take shape
SEPA:
Daily Local: Bill limiting gas drilling generates GOP opponents
Delco Daily Times: Rendell opposes Corbett's food stamp asset test
Delco Daily Times: In Yeadon, supporters are encouraged by State of the Union
News Eagle: Wayne Democrats to hold petition signing pizza party
Pittsburgh:
Tribune Review: Appeals court upholds dismissal of ambulance industry lawsuit
Tribune Review: Economy remains among chief concerns
Tribune Review: Turzai opts against Congress run
Tribune Review: Pippy to bow out after 16 years
Tribune Review: Federal suit settled over wastewater in McKeesport
Tribune Review: Drilling resumes in Allegheny National Forest
Tribune Review: Federal judge orders Allegheny County to pay $324,500 in sex offender case
Tribune Review: Bills limiting local drilling rules draw GOP foes
Post-Gazette: Oversight board reapproves Pittsburgh's 2012 budget
Post-Gazette: Allegheny County assessment website criticized as convoluted
Post-Gazette: Penn State faculty senate votes down no confidence against Board of Trustees
Post-Gazette: Corbett asked to aid poor schools
Post-Gazette: Duquesne school board presses for answers
Post-Gazette: Gastgeb plans to run for Pippy's state Senate seat
Post-Gazette: Rendell chides Corbett over food stamp eligibility
Post-Gazette: $703,525 grant for Millvale to pay for stormwater efforts
Early Returns: Western Pa. reaction to the State of the Union
Early Returns: Rothfus gets Toomey nod
Early Returns: Murphy launches reelect Thursday
Southwest:
KDKA: Jon Delano interviews Larry Maggi, candidate for Congress v. Tim Murphy
Post-Gazette: Range Resources could acquire South Fayette school drilling lease
Beaver County Times: Moon Area rejects preliminary budget with tax hike
Beaver County Times: Chesapeake drills new well in South Beaver
Observer-Reporter: Snyder attends State of the Union speech
Indiana Gazette: School directors try to close budget gap
Altoona Mirror: Blair commissioners say influence over BCB naming rights minimal
Daily Courier (Fayette County): Southmoreland shows support for bill that could provide special aid to districts
Daily Courier (Fayette County): Connellsville property owners face trials for violating city codes
Daily Courier (Fayette County): Second phase of Dunbar township sewage expansion project moves ahead
Daily Courier (Fayette County): Free job training offered at WCCC
NEPA:
The Times Tribune: Cordaro; "These are difficult times"
The Times Tribune: Commissioners tell top Lackawanna County employees to reapply
The Times Tribune: Lackawanna County won't reopen budget
Wayne Independent: Budget now available online
Go Lackawanna: Speaker's bill to shrink the size of legislature passes out of committee
Lehigh Valley:
Express-Times: U.S. Rep. Tim Holden gets challenger in Democratic primary
Morning Call: DEP approves Chrin expansion
Morning Call: South Whitehall Republican Ryan Mackenzie seeking Reichley's seat
Morning Call: Lehigh Township supervisors try to end dispute between neighbors
Morning Call: Springfield Township to continue its fight against PPL power line
Reading Eagle: Pa. high court throws out assembly redistricting
Reading Eagle: Local reaction to State of the Union speech
Reading Eagle: Preliminary budget would raise taxes
WFMZ: State awards $5M loan for construction of downtown hotel
WFMZ: Pa. high court throws out state House, Senate redistricting plan
Express Times: U.S. Rep. Tim Holden gets challenger in Democratic primary
North by Northwest:
Erie Times-News: Edinboro Mayor running for 3rd district state House seat
Erie Times-News: Janet Anderson getting signatures for state Senate race
Courier Express: Clarion Borough appoints new council member
Opinions:
Evan Feinberg, Tribune Review: Note to Tim Murphy: We're Broke
Tribune Review: Opinion: The gloves come off
Tribune Review: Opinion: Politicians spending other people's money
Tribune Review: ACORN's strings
Post-Gazette: Opinion: Testing needed: EPA 's intervention may answer Dimock questions
Observer Reporter: Editorial: Keystone pipeline wrong fight to pick
Blogs:
PA Water Cooler: PA Supreme Court places turd in punch bowl
PA Water Cooler: Voting to endorse
Capitol Ideas: Wednesday Morning Coffee: A buffet of links
Keystone State Education Coalition: Corbett asked to aid poor schools
PA Budget and Policy Center: Loophole bill a first step, more needs to be done
Lehigh Valley Ramblings: Township, Borough officials angry at Allentown's tax grab
Lehigh Valley Ramblings: Allentown's tax grab will yield at least $4.5 million annually
Lehigh Valley Independent: Bernanke gets off his duff
Lehigh Valley Independent: PA-17 Matt Cartwright challenging Tim Holden in Democratic Primary
Lehigh Valley Independent: Allentown NIZ's income tax changes are progressive, not regressive
Keystone Politics: PA Supreme court throws out state legislature maps
Keystone Politics: Job creating with Tom Corbett: private jet tax loophole edition
Keystone Politics: Dan McCaffrey drops out of Dem AG primary
Keystone Politics: Progressive tax district under fire in Allentown