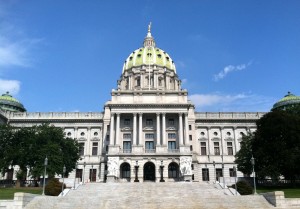 Bill Clinton is coming to Pa. twice this week, once today for Kane, once Thursday for Critz. More campaigns are on TV. See the latest polls. And find out which statewide candidates are leading the fundraising race. Good morning politicos, here's the Buzz.
Don't miss Friday's Ups & Downs, and check out our list of the Lamest Last Minute Fundraising Pleas.
Thursday: Clinton to Beaver for Critz: The most popular Democrat in Pennsylvania will appear in Beaver to boost Mark Critz in his tough re-election battle. Former President Bill Clinton will headline a rally for the Congressman on Thursday.
MCall Poll: Obama 49, Romney 42: The latest poll from the Allentown Morning Call and Muhlenberg University shows a presidential race that's 2 points closer than their survey from 2 days ago.
MCall Poll: Senate Race Narrowing: Tom Smith arrived at Republican State Committee Friday with a head of steam. Another poll has shown the U.S. Senate hopeful closing the gap with Bob Casey. Casey 44 percent, Smith 36.
MCall Poll: Kane Leads AG Race by 6: The race for Pa. Attorney General is wide open, according to a new poll from the Allentown Morning Call and Muhlenberg College. Kathleen Kane, the Democrat, leads Republican Dave Freed 33 percent to 27.
Jindal, Smith Rouse PAGOP: Republicans from around Pa. gathered Friday for a last-minute party pep talk before the sprint to the general election. With little on the agenda, activists and committee people heard familiar criticism of President Obama.
DePasquale Rides Union Contributions to Auditor Fundraising Lead: State Rep. Eugene DePasquale (D-York) is working those phones. The Democratic Auditor General hopeful raised about $244,000 over the past 5 months, including over $150,000 from labor groups. Republican hopeful John Maher (R-Allegheny) brought in about $153,000 in the same time period.
Romney Visits Valley Forge; Obama Surrogates Sound Off: Mitt Romney arrived in the Keystone State today, hoping to increase two important resources vital for his Presidential hopes: money and votes.
Politically Uncorrected: The Great Debate Show: In this column, Madonna and Young put presidential debates in perspective. Namely, rarely have they changed the game in modern U.S. political history.
Fitzpatrick Goes Negative (Watch Video): In what looks like a "Best of GOP attacks, 2010 edition" highlight reel, Rep. Mike Fitzpatrick (R-Bucks) this week unveiled his first negative television spot against challenger Kathy Boockvar. The ad centers on the Democrat's support for Obamacare.
Tim Murphy: American Hero (Watch Video): Rep. Tim Murphy is up with his first ad of the general election, an artistic piece which recounts his achievements in the state legislature and Congress against uplifting music reminiscent of a movie score.
Legislative Election Updates:
SD-15: Rob Teplitz, the Democrat running for state Senate in central Pa., isn't winning points for subtlety with his latest campaign tactic. Harrisburgers were treated Thursday to a bumper crop of "Obama Teplitz" yard signs.
SD-49: Janet Anderson, the Republican running to replace retiring Sen. Jane Earll (R-Erie), is pulling punches no longer. Her latest television ad – and accompanying website – blast Democrat Sean Wiley for his time working in Erie County government. Wiley responded further in this news report.
HD-41: Ed Rendell endorsed Dem Marcy Dubroff in her longshot bid to unseat Rep. Ryan Aument (R-Lancaster). Said the former Guv in a Dubroff press release: "We need someone who cares about education of our young people; who is a champion for a woman's right to make decisions about her body; who cares about the underprivileged; who is willing to stand up and do what is right, even if that stands in the face of the prevailing winds. We need a quarterback who can lead her team to a winning drive in Lancaster County. We need Marcy Dubroff in the 41st District."
HD-112: Friends and family have taken over the campaign of Ray Nearhood, the Republican candidate who remains in a coma following an auto accident in August. "It's difficult to campaign without a candidate. We're trying to keep the campaign (going) and hoping that he'll recover enough to start campaigning for himself and certainly to take office when the election is over," said Kenneth Anderson Sr., a friend of Mr. Nearhood and chairman of his campaign committee. His opponent is Kevin Haggarty, the man who beat Rep. Ken Smith in the Democratic primary.
National:
Associated Press: Romney admitted he would be "shocked" to hear he was winning Pennsylvania on election night
Politico: Mitt Romney's 'secret': Pa. is competitive
Statewide
State House Sound Bites: Report: Smith still gaining on Casey in latest poll
State House Sound Bites: Report: Voter ID law could be left mostly whole, judge to rule on stay of execution
StateImpactPA: Report: Philadelphia Navy Yard Looks To Energy Sector to Revive Itself
StateImpactPA: Report: What's in a Flame? Industry Says it Burns Only for Them
StateImpactPA: Report: Industry Authored Op-Ed Piece Trumpets Shale Development
StateImpactPA: Report: Drill Bits: Flares, Wary Home Buyers, and a New Poll
Philadelphia
Inquirer: Debates could be make or break
Inquirer: Christie boldly declares that Romney will win debate–and election
WHYY Newsworks: Chaka Fattah: Co-ops help bring democracy to the marketplace
WHYY Newsworks: Unlikely movie inspires push to get voters IDs in Philadelphia
SEPA
Pottstown Mercury: Romney out to gain momentum, Obama to revive '08 vibe
Pottstown Mercury: Will Wednesday's Debate Bring a Surprise
Pottstown Mercury: Sunday Shows: A Make-or-Break Debate
Pottstown Mercury: Debate is Make or Break for Romney
Pottstown Mercury: Barbour: Romney Should Focus on Issues
Pottstown Mercury:  Electoral College math: Not all state are created equal
Daily Times: Face the Facts Election Countdown: Getting check to jobless
Pittsburgh
Tribune Review: Jindal calls Obama liberal, incompetent at Camp Hill GOP dinner
Post Gazette: PACs and CEOs from region make $1.5 million in campaign contributions
Post Gazette: Gun sales up amid presidential election race fervor
Early Returns: Murphy running upbeat spot
Early Returns: Romney: Pa win would be "shock"
Early Returns: MC/Muhlenberg: Smith 8 down
Early Returns: PA12, 18 candidates spar in Greensburg
Southwest
South Central: Cambria hoping for service grants
Lehigh Valley
Morning Call: Poll-PA voters leaning Obama on crucial issues in the election
Morning Call: Former PA governor Ed Rendell calls on Representative Fitzpatrick to denounce an attack ad attempting to link opponent Kathy Boockvar with Mumia Abu-Jamal
NEPA
The Times Leader: Congressional forums scheduled
The Times Leader: Election officials readjust
The Times Leader: Election office shaken up
The Times Leader: State agriculture chief touts elimination of inheritance tax
The Times Leader: Hoggarth named to head new records unit
Times Tribune: Key driver licensing centers open day before Election Day
Times Tribune: State to help with Luzerne County elections bureau
Times Tribune: Congressional debates shaping up
Citizens Voice: Retirement leaves void at election bureau
South Central
Patriot News: Some GOP officials are tired of the characterization of PA as a non-competitive state
Patriot News: Romney devoting more time for campaigning in PA in efforts to sway more voters
York Daily Record: Colleges in York county issue Ids with expiration dates to qualify for Voter ID law
Opinions
Reading Eagle: PA should pass a provision to allow early voting
The Times Leader: Drilling concerns deserve respect
The Times Leader: Have questions for candidates?
Citizens Voice: Independent study should look at gas drilling health risks
Tribune Review: Corbett on welfare waivers: No thanks
Tribune Review: Jonah Goldberg: Can Obama learn?
Pottstown Mercury: Debating the debates
Beaver County Times: Good or bad, campaigns dance around the polls
Daily Times: Democrats Republicans debate Voter ID
Altoona Mirror: Growing turnpike debt worrisome
Philly Burbs: Liar Liar RNC's Pants on fire
Johnstown Tribune-Democrat: When politics create anger
Daily News: Rendell's advice to Mitt: Don't quit on Pa. voters
Inquirer: The Pulse: Complex science, simple goal: Votes
Inquirer: Pa. GOP senate candidate Smith making gains against incumbent Democrat Casey
Blogs
Keystone Politics: PA Working Families Endorses Boockvar
Keystone Politics: How Not to Report on Pat Toomey
The Liberty Blog: The Enemy Within – Republicans Selling Out Republicans – Dave Argall, Mike Fleck SEIU
The Liberty Blog: Senator Dave Argall – Not the Forgotten Taxpayer's Friend – Union Financed
Pittston Politics: Politics has no place in wake of tragedies
Pittston Politics: WA does good job with new Bullying policy
Pittston Politics: Sciandra: "Checkmate Mr Linskey," sorta
Pittston Politics: City rolls out Revitalization Plan for Neighborhoods
Pittston Politics: Locals host cocktail party for Atty Gen Candidate
Pittston Politics: Morris explains Obama's second term tax plan