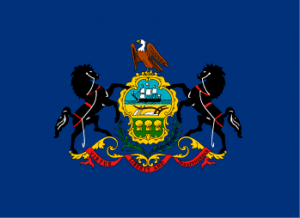 The latest CBS/YouGov results, Sabato shifts PA to "Likely Democratic" and Leach's daughter responds to conspiracy theorists. Good morning politicos, here's the Playbook!
CBS/YouGov Poll: Clinton 48% Trump 40%; McGinty 42% Toomey 42%: The latest survey has Hillary ahead in the presidential contest while the Senate race is even.
Sabato's Crystal Ball Shifts PA Rating From "Leans Democratic" to "Likely Democratic": New prognosticator rating favors Dems.
Leach's Daughter Responds to Critics on CNN (VIDEO): The State Senator and his daughter debunked conspiracy theories about her question to Hillary Clinton.
Open Thread of Newspaper Endorsements: A running tally of newspaper endorsements in all the non-presidential races.
NBC/WSJ/Marist Poll: 55% of Pennsylvanians Approve of President Obama: The President posts a healthy good approval rating.
Statewide
State House Sound Bites: 16th Congressional District candidates square off in Lancaster County debate
State House Sound Bites: Toomey, McGinty scramble to take position on Trump controversy
StateImpactPA: Energy pops up as a surprise topic in Sunday's presidential debate
Philadelphia
Inquirer: No closings, but big changes for 11 Philly schools afoot
Inquirer: Trump, and his supporters, defiant in blue-collar Pennsylvania
Inquirer: Kenney: Speak like a Philadelphian, Jimmy Fallon
Philly Mag: Schuylkill River Trail Gets $3 Million in State Money for Southward Extension
Philly Mag: Report: Penn's College Housing Director Taking Heat for Insensitive Comments
WHYY Newsworks: As some local Republicans bail on Trump, Toomey still thinking
KYW Newsradio: Some Philadelphians Say 'Enough Already' After 2nd Presidential Debate
Philadelphia Business Journal Philadelphia nuns, other religious investors demand Wells Fargo disclose more about fake accounts
Philly Voice: All Philadelphia schools get tested for lead levels in water
SEPA
Pottstown Mercury: Democratic Congressional candidate Parrish facing mortgage woes, court says
Bucks County Courier-Times: Two Bucks County natives thrilled to be part of political satire "This is the Week That Is" in Philly
Delco Times: Libertarian candidate from Delco offers another perspective in U.S. Senate race
Delco Times: Why vote? Chester native shares his story why it's important
Daily Local News: GOP candidates in Pennsylvania have mixed views about Trump
Pittsburgh
Tribune Review: Trump apologizes after debate and cases greater attacks at Clinton
Tribune Review: Kaine speaks at Carnegie Mellon University
Tribune Review: Polls show Clinton is leading in PA
Post-Gazette: U.S. support in Saudi War on Yemen has to end soon
Pittsburgh Business Times: Allegheny County's new budget does not include tax increase
WESA: Trump claimed debate on Sunday was fun during visit in Ambridge
WESA: RNC chair continues to support Trump while the Speaker of the House won't defend him
WTAE: Clinton's team prepares for an even more vicious race in the next few weeks
Southwest
Beaver County Times: Trump defends his agenda in Ambridge while claiming Clinton has a heart full of hatred
Beaver County Times: Why both Presidential nominees are awful
Observer-Reporter: Why the GOP is deteriorating
NEPA
Times Leader: Why women are not supporting Hillary in this election
Times-Tribune: During debate Trump indicates his campaign is aggressive
Citizens Voice: Why Trump owes every taxpayer a full explanation on tax returns
Standard Speaker: New gas ruling impacts environmental plan
Pocono Record: Paul Ryan focuses on saving the GOP than support Trump
South Central
Patriot-News: Sen. Pat Toomey calls Donald Trump's comments 'indefensible' but sidesteps a full rebuke
Patriot-News: Where does your GOP congressman stand on Donald Trump?
Patriot-News: They said what? Fact-checking the second presidential debate
Carlisle Sentinel: Volunteers build home for veteran in need in York County  
Carlisle Sentinel: Kindergarten: Mechanicsburg's Kindergarten Academy houses full-day program
Carlisle Sentinel: Candidates go on the attack in second presidential debate (AP)
Carlisle Sentinel: McGinty, Toomey joust over Trump and Clinton in Senate race (AP)
Lancaster Intelligencer/ Era: Lancaster City Council to hold hearing on Marriott expansion
Lancaster Intelligencer/ Era: 200 hats and scarves for needy, draped on Ephrata Veteran's Plaza, prompt complaints
Lehigh Valley
Reading Eagle: Clinton and Trump's most popular falsehoods
Reading Eagle: Second presidential debate brims with tension (AP)
Morning Call: Bethlehem schools could start teaching Spanish in kindergarten
Morning Call: County warns locals to hedge bets on gaming grants
WFMZ: Dent calls for Trump to step aside from presidential race
North by Northwest
Erie Times-News: Erie County councilman suggests new EMTA compromise
Erie Times-News: Wiley-Laughlin debate scheduled for Wednesday in Erie
Williamsport Sun-Gazette: Trio of women rally community against Muncy waste plant
Centre Daily Times: Borough Council calls on Pa. Senate to make discrimination against LGBTQ people illegal
Opinion
Inquirer: Philadelphia schools need more than what toothless SRC can provide
Daily News: Few in GOP took Trump to task
Carlisle Sentinel: Thomas: At stake – The Constitution
Reading Eagle: Preserving Reading Country Club comes at a high cost
Post-Gazette: Detecting shots: Expanding ShotSpotter is good move for city
Post-Gazette: The soul of the Strip: It's a testament to slow and steady growth
Post-Gazette: Ceremony solidarity: ITT students get the pomp, despite circumstances
Patriot-News: If you do nothing else today, register to vote
Blogs
Keystone Crossroads: At Allentown's Turner Street program, insight into what homeless families need
Commonwealth Foundation: How does Pennsylvania stack up in school revenue?
Lu-Lac Political Letter: Inquirer endorses Josh Shapiro for Attorney General
Lehigh Valley Ramblings: Judges warn that sexual violence on college campuses is very real