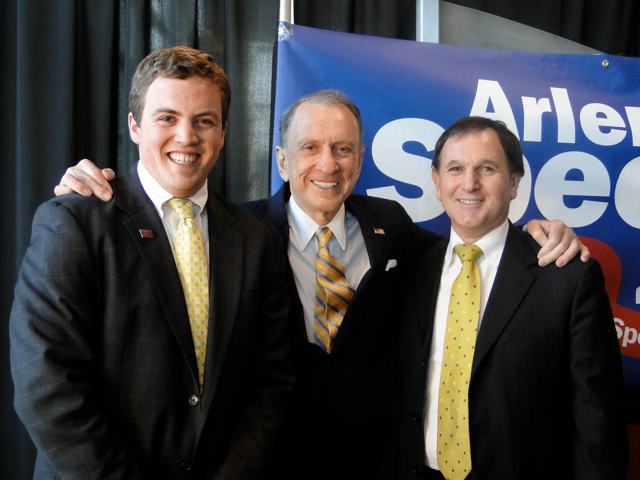 Sen. Arlen Specter was laid to rest Tuesday as Pennsylvanians of all stripes celebrated his legacy. New polls suggest PA races are more competitive, we have a bunch of new ads, and more. Good morning politicos, here's the Buzz.
Polls
Quinnipiac Poll: Smith Surge is for Real: The latest Quinnipiac survey shows Republican Tom Smith 3 points behind Sen. Bob Casey, 48 percent to 45. It's the latest of several weeks of polling that shows the race narrowing.
Quinnipiac: Obama 50, Romney 46: The Presidential race has gotten closer in recent weeks, but President Obama still cracks 50 percent in the latest poll from Quinnipiac.
MCall Poll: "Huh?" Leads Attorney General Race: 37 percent of likely voters are still undecided in the Pa. Attorney General race according to the latest poll from the Allentown Morning Call and Muhlenberg College. Democrat Kathleen Kane leads Republican Dave Freed 33 percent to 28.
Corbett Bump: Approval up Net 10, Still in Negative Territory: Tom Corbett's approval rating has jumped by 10 points since September, according to the latest poll from the Morning Call. His numbers are still net negative, 39 percent to 36.
New Ads
Casey Ad Doubles Down on Tea Party, Medicare Attacks (Watch Video): Sen. Bob Casey is taking off the gloves and doubling down on GOP challenger Tom Smith's ties to the Tea Party – and some of its controversial proposed legislation.
NRCC and ATR Ads Hit Critz on Obamacare (Watch Videos): Two national GOP groups, the National Republican Congressional Committee and Americans for Tax Reform, each unloaded a new ad against Rep. Mark Critz (D-Cambria) on Tuesday. Both center on his votes against repealing Obamacare.
Critz Ad: Back to the Basics on Ryan Plan & Medicare (Watch Video): A new ad from Rep. Mark Critz lays out a basic case against Republican Keith Rothfus and the House GOP budget which he supports. Critz accuses Rothfus of wanting to end the current Medicare system.
Congressional Fundraising
Republicans Outraise Dems in 4 of 5 Competitive Congressionals: The numbers are in. Of the 5 congressional seats even nominally in play, Republicans enjoyed a fundraising advantage in the 3rd quarters. Only Manan Trivedi managed to raise more than his opponent, Rep. Jim Gerlach.
Q3: Rothfus $543K, Critz $500K: In Pa.'s most competitive congressional election, Republican challenger Keith Rothfus outpaced incumbent Rep. Mark Critz by $43,000. Rothfus raised $543K to Critz's $500K.
Presidential
Romney PA Spox Moved to Virginia: In yet another sign that Pa. is out of play, Mitt Romney's Pennsylvania spokeswoman is no longer in the state. Kate Meriwether has been moved to Virginia.
Legislative Election Updates
SD-15: Here are two more accounts of the heated debate between Dem Rob Teplitz and Republican John McNally.
SD-47: Republican State Senate candidate Charles Gehret today announced his Education Coalition leaders, Karen Ash and Donna Parisi. "Our community is lucky: for the most part, we have strong public schools in the 17th Senate District and we are blessed with a wide variety of private schools," said Ash, a Bala Cynwood mother and community leader who sends her children to Catholic schools. "But several schools in our area are on the brink of failing. We must do more to turn it around for students in those schools, including giving their parents the education choices they deserve."
SD-49: Former Erie County Councilwoman Joy Greco wrote a letter to the editor defending Dem Sean Wiley against criticism from Republican Janet Anderson about his time in County government.
SD-49 & HD-3: The Erie Times-News has the latest on endorsements in these two races.
HD-71: The Johnstown Tribune-Democrat has a rundown on the latest on the race between Republican Sherry Stalley and Rep. Bryan Barbin (D-Cambria).
HD-120: Gort takes at the race between Rep. Phyllis Mundy (D-Luzerne) and GOP challenger Aaron Kaufer, specifically about a mail piece. Mundy wrote a letter to the editor on the subject.
HD-148: In a shocker, the Women's Campaign Fund, a group dedicated to electing pro-choice female candidates, backed Mary Jo Daley over her GOP opponent Mike Ludwig in the race to replace outgoing Rep. Mike Gerber.
Remembering Arlen Specter
Capitol Ideas:  Arlen Specter laid to rest, remembered as fighter.
Pennsylvania Ave: Remembering Arlen Specter
Reading Eagle: In the end, Specter was a man without a political party
Patriot News: Arlen Specter's funeral service leaves 'em laughing through tears
Patriot News: Arlen Specter was a fighter: Former senator didn't shy away from controversy
Daily Times: Arlen Specter was a true American original
Inquirer: Joe Biden and Tom Corbett among Specter mourners
Statewide
Capitolwire: Corbett announces shale impact fee revenue, says 'no' on state land drilling
Capitolwire: Senate panel drops statewide authorizing board from charter school reforms
Capitolwire: Bill to strengthen state law regarding gun straw purchasers moves closer to governor's desk
Capitolwire: Obama leads by 4 point, Casey by 3 in new Quinnipiac University Poll
Capitolwire: Bill to prevent spot property reassessments nears governor's desk
Capitolwire: Lawmakers move quickly on proposed PA tax credit program for new job creators
Capitolwire: Senate OKs charter reform bill, setting up House vote
State Impact PA: Which Candidates are Energy Companies Giving Money To?
State House Sound Bites: Al Sharpton to talk voter ID in Harrisburg Friday
State House Sound Bites: Pre-Obama gas prices in Mont. Co.
State House Sound Bites: Links: Gov says state forests still closed to additional drilling
Capitol Idea: Senate panel drops statewide board from charter bill
Philadelphia
Daily News: Boockvar gaining financial ground in the eighth district
Daily News: More misinformation on voter ID
Daily News: Obama and Romney meet undecided voters
Daily News: New poll says Casey-Smith race is "too close to call"
WHYY Newsworks: Casey and Smith will meet next week for a debate
SEPA
Daily Times: Pat Meehan receives new endorsements
Daily Times: Obama out to seize momentum in debate
Pottstown Mercury: Memorable moments from other 2012 debates
Pottstown Mercury: Atheist group grades presidential candidates
Pottstown Mercury: Romney aide says Obama will be asked to "man up" on Libya in debate
Pittsburgh
Post-Gazette: Allegheny County executive Fitzgerald proposes 2013 operating budget
Post-Gazette: Pa. Senate approves charter schools reform bill
Post-Gazette: State House committee begins report on eliminating property taxes
Post-Gazette: Pittsburgh's budget approved — provided Ravenstahl opens dealings with nonprofits
KDKA: Mayor Ravenstahl Discusses ICA Decision
Southwest
Beaver County Times: Coder paying off $42,500 in back taxes, tax lien on home
Altoona Mirror: Mitt's wife meets supporters  
Altoona Mirror: Toomey hits Obama tax plan  
Altoona Mirror: Commissioners hear from Valley View supporters  
Johnstown Tribune-Democrat: House Contest Heats Up
NEPA
Times Leader: Dems' Cartwright raking in bucks, but Casey lagging
The Times-Tribune: Local U.S. Senate candidates debate health care overhaul
The Times-Tribune: Five banks show interest in providing Scranton $14M short-term loan
The Times-Tribune: Greater Scranton Chamber of Commerce opposes commuter tax; poll finds 84 percent of respondents against it
South Central
Patriot News: Pa. Senate passes charter school reform bill, sending it to state House for consideration
Lehigh Valley
WFMZ: Northampton Co. DA backs Kane
Pennsylvania Ave: Quinnipiac poll also shows close races in Pennsylvania
Pennsylvania Ave: Obama team: Tighter race in Pa. no threat
Pennsylvania Ave: 'Many faces of Mitt' a myth, Ann Romney says during visit to Pa.
Pennsylvania Ave: Poll shows Obama, Casey leads narrowing in Pennsylvania
Morning Call: Obama, Romney face off in pivotal presidential debate rematch
Reading Eagle: New polls show Pennsylvania a battleground state
North by Northwest
Erie Times News: Anderson, Wiley get endorsements
Centre Daily Times: High court won't block early voting in Ohio
Centre Daily Times: Obama-Romney debate round II: Another pivotal encounter?
Opinions
Daily News: Obama will lose tonight's debate
The Times-Tribune: Peace prize for EU, really?
Blogs
Keystone Politics: Manufacturing Employment in Pa Under Democratic vs. Republican Administrations
Keystone Politics: Tax Reform Is Not a Jobs Plan
Keystone Politics: Romney campaign counting jobs that will be created anyway as Romney jobs
Keystone Politics: The problem with the fiscal cliff is that we need a bigger deficit
Jon Geeting: One Thing Laureen Cummings is right about
Jon Geeting: Against Moderation for Moderation's sake
Jon Geeting: Use "Impact Fee" Money to buy up development rights for farmland
The Liberty Blog: The GOP and the Muslim Brotherhood Islam in America~Dinesh D'Souza 2016
The Liberty Blog: USPS Steps forward – Money losing rural post office hours shortened
Lehigh Valley Ramblings: Morganelli endorses Kathleen Kane for AG