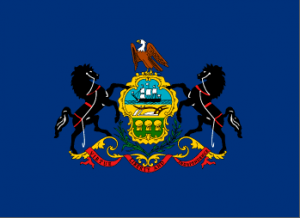 Kane wants to avoid jail, Biden cuts an ad for McGinty while Jimmy Kimmel pokes fun at Toomey. Plus, last week's Ups & Downs! Good morning politicos, here's the Playbook!
10/14 Ups & Downs: Joe Biden, Tom Wolf and Billy Bush. See who made this week's list!
Kane Asks for House Arrest: The ex-Attorney General is requesting house arrest instead of a prison sentence.
PA-Sen: Biden Stars in Ad for McGinty (VIDEO): The Vice President testifies for Katie McGinty.
PA-8: Fitzpatrick, Santarsiero Battle in Bristol: The candidates' spar on policy in a televised debate.
PA-Sen: Toomey Still Seeking to Distance Himself From Trump (VIDEOS): The Senator's conundrum even drew the attention of Jimmy Kimmel.
Sunday Show Preview: October 16, 2016: We take a look at the Sunday morning political talk shows that will air throughout the state.
Statewide
StateImpactPA: PA Senate race: A proxy war for national interests
StateImpactPA: What Obama's climate plan means for Pennsylvania
StateImpactPA: Gas industry sues over new drilling rules
City and State: Civil forfeiture reform bill stripped of key provisions
City and State: Casey's latest effort to propel gun control legislation forward
State House Sound Bites: AG's office gearing up for another leadership transition
State House Sound Bites: Court orders Wolf administration to release more McGinty emails
State House Sound Bites: Advocates seek audience with Wolf, implore him to close immigration facility
Philadelphia
Politico: The county that's ground zero for Trump's suburban woes
Inquirer: Some people of color in Philadelphia turn out for Trump
Inquirer: SEPTA workers authorize possible strike in November
Inquirer: State university system on the brink of its first faculty strike
Philly Voice: Bill Clinton to campaign in Montgomery County this week
SEPA
Bucks County Courier-Times: Newt, Callista Gingrich visit Doylestown bookshop
Bucks County Courier-Times: Pennsylvania Senate candidates Pat Toomey, Katie McGinty on the issues
Delco Daily Times: Attorney general candidates take different tacks on pervasive issues
Montgomery Media: Ivanka Trump makes case to Bucks County Republicans in Ivyland
Montgomery Media: Colin Powell speaks at Pearl S. Buck International in Hilltown
Daily Local News: Kennett Township officials urged to think green
Pittsburgh
Post-Gazette: Harrisburg has a lot on its plate as current session closes
Pittsburgh Business Times: Milhaus kicks off 243-unit first phase of Arsenal 201 in Lawrenceville
WESA: Pittsburgh Parking Program Needs Online Registration According to Audit
Southwest
Beaver County Times: Police called to standoff in Aliquippa
Observer Reporter: Diocese lays out short and long term parish plans
Altoona Mirror: Court upholds plans for Presbyterian center
Tribune-Democrat: Cernic, Langerholc face off for the district senate seat
NEPA
Times Leader: Lake Township resident says company responded to issue in pipeline
Times-Tribune: Heating oil customers continue to enjoy low prices
Citizens Voice: Director of Hazleton group translates ballot questions for Spanish speakers
South Central
Patriot-News: Harrisburg expected to get four million dollars more in state redevelopment grants
Patriot-News: Why Katie McGinty's emails need to be released to PA GOP court
Patriot-News: Why house arrest is inappropriate for Kathleen Kane according to DA
Patriot-News: Why PA legislators need to stop harassing safe drivers
Carlisle Sentinel: Republicans still continue to be hopeful despite Trump's recent issues
Lancaster Intelligencer/Era: Why time is critical in regards to dispute over organ donor law
York Dispatch: Why Trump does not understand the working people of PA
Lehigh Valley
Reading Eagle: Cyber charter schools negatively impacting Berks public schools
Reading Eagle: Why legislation may not be the best way to handle organ donor issue
Morning Call: Group accuses Pence over voter suppression
North by Northwest
Centre Daily Times: Trump continues to struggle while Clinton seeks to expand map
Centre Daily Times: Trump will honor the election results if Clinton wins
Erie Times-News: Wiley and Laughlin offer a bipartisan vision in each of their campaigns
Opinion
Inquirer: Katie McGinty for the U.S. Senate
Inquirer: Cosmetic changes at the top won't change the Parking Authority
Post-Gazette: Sick hospitals: Struggling community facilities need attention
Post-Gazette: Pack naloxone: Police everywhere should carry the opiate antidote
Patriot-News: These are the two things the state Legislature needs to do next week
Patriot-News: Will the GOP survive Donald Trump?: Red/Blue America
Blogs
Keystone Crossroads: Sign of the times: Allentown debates Spanish-language street signs
Keystone Crossroads: How would your school district fare if lawmakers ramped up the new Pa. funding formula?
Commonwealth Foundation: Abysmal Investment Returns for Pension Fund, Taxpayers on the Hook
2 Political Junkies: Yeppers, The Tribune-Review News Division Dresses Right. (With Some Questions For The Trib's Tom Fontaine)
2 Political Junkies: Two Speeches. Two Americas. One Is Sane And The Other Is Trump's
Lehigh Valley Ramblings: Judge Sanchez: Seizure of Fed Ed Campaign Funds Proper