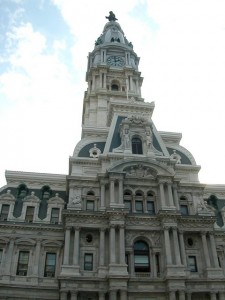 It's debate day! PoliticsPA will be on the ground for the Smith v. Casey debate and the concurrent tangle in PA-8. We've got the latest presidential poll, the Boss, and LOTS of PA house & Senate news and more. Good morning politicos, here's the buzz
Don't forget to check back later for the Ups & Downs.
Rasmussen Poll: Obama 51, Romney 46: President Obama cracks 50 percent in the latest survey from Rasmussen. He leads Mitt Romney by 5 points, 51 percent to 46.
Smerconish to Interview Obama Friday: Philly's own Michael Smerconish will interview President Obama this morning and broadcast this afternoon. This will be the prominent radio host's 7th interview with Obama (3 as a candidate, now 4 as President).
UPDATE: Springsteen Coming to Pittsburgh for Obama: 'The Boss' is making a stop in Steel City Saturday to rally for President Obama.
GOP Super PAC Lines Up Ad Against Casey (Watch Video): A GOP super PAC is on the air slamming Sen. Bob Casey over his vote for the Wall Street bailout. Fight for the Dream PAC, a Pa. based group, unveiled the ad Thursday.
PA-8
Women's Health, Budget at Forefront of Fitzpatrick-Boockvar Debate: In their second debate, Rep. Mike Fitzpatrick and Dem challenger Kathy Boockvar sparred over the budget, women's issues, and health care. The candidates sought to excite their bases at the same time they worked to appeal to moderates. They debate again Friday morning.
Boockvar Ad Takes Fitz 'Speed Candidate Meeting' (Watch Video): Kathy Boockvar takes constituents "speed candidate meeting" with Congressman Mike Fitzpatrick, and they don't like what they hear.
PA-12
More Obama-Critz in Rothfus Ad (Watch Video): Republican Keith Rothfus's latest television ad continues his effort to tie Congressman Barack Critz to President Mark Obama. Er, Mark Critz to Barack Obama.
GOP Group Knocks Critz for… Opposing Social Security Privatization? It's not every day that a candidate tries to draw more attention to attack ads against him. But that's exactly what Mark Critz is doing after a conservative group criticized him for opposing plans to privatize Social Security.
Other Congressionals
New Trivedi Ads Tout Gerlach's Hair, Bash His Ideas (Watch Videos): More hair, Don't care. Trivedi blasts Gerlach in a pair of ads.
Barletta Ad Talks Illegal Immigrants, Gene Stilp (Watch Video): Rep. Lou Barletta is yp with his first ad of the 2012 campaign season. It's split positive and negative, with a hit against Democratic challenger Gene Stilp.
Perry Polishes Primary Ad to Close the Cycle (Watch Video): If it ain't broke, don't fix it. State Rep. Scott Perry, the Republican running to replace outgoing U.S. Rep. Todd Platts (R-York), is finishing the campaign with a remix of his television ad from the primary.
Legislative election updates
The Philadelphia Inquirer made its endorsements in southeast Pa. state Senate races, and backed all incumbents. Here they are: SD-1: Sen. Larry Farnese (D-Phila); SD-5: Sen. Mike Stack (D-Phila); SD-9: Sen. Dominic Pilleggi (R-Delaware); SD-17: Sen. Daylin Leach (D-Montco); and SD-19: Sen. Andy Dinniman (D-Chester).
The Allentown Morning Call talked to state House candidates in the Lehigh Valley to get their take on education funding.
Interested in watching debates between candidates in the Harrisburg/south-central Pa. region? WGAL8 has you covered.They have videos posted here of HD-104 and other noteworthy races.
SD-15: Law enforcement has a friend in Republican John McNally. He picked up the endorsements of FOP Lodges 12 and 78. Said Jason Brinker, President of FOP Lodge 12, "John displays a good grasp of the issues and gave thoughtful answers to every question we asked. We are confident that he will be a strong, respected voice for law enforcement and increased crime prevention and enforcement efforts."
SD-17: GOP hopeful Charles Gehret, challenging Sen. Daylin Leach (D-Montco), has taen the helpful and unusual step of posting his 7 campaign mailers online. View them here.
SD-19: Moderate Sen. Andy Dinniman (D-Chester) is pretty popular among both parties in Chester County. The Daily Local News takes a look at his race against GOP challenger Chris Amentas.
SD-29: Former state Rep. Tim Deip (D-Schuylkill) has his first ad up against Sen. Dave Argall (R-Schuylkill). It's on cable in the district, and a greatest hits of all the political attack ads that have been run against Argall since 2010. "He voted himself a 50 percent pension increase. And co-wrote and lead the midnight pay raise, ballooning his salary to over $106,000 a year."
HD-26: The Daily Local News has the rundown on Democrat Mike Hays' race against 10-term Rep. Tim Hennessey (R-Chester).
HD-39: Rick Saccone, come on down! The Allegheny County Republican made the national "Dirty Dozen" list of state lawmakers by the League of Conservation Voters. He joins WI Gov. Scott Walker and others. Why Saccone when so many other GOPers made the same votes? Because Saccone is the most vulnerable GOP incumbent this cycle. Saccone is in a Dem-favoring district and faces a rematch from Dave Levdansky, the eco-friendly state Rep. he beat in 2010.
HD-47: The York Daily Record ed board posted this debate video of Rep. Keith Gillespie (R-York) and Dem hopeful Sarah Speed.
HD-51: The Pittsburgh Post-Gazette takes a look at the race between Rep. Tim Mahoney (D-Fayette) and long shot "Republican" challenger Gary Gearing.
HD-55: The Pittsburgh Post-Gazette takes a look at the challenge that Republican John Hauser poses to Rep. Joe Petrarca (D-Westmoreland). This is a race that Republicans are seriously contesting.
HD-56: The Pittsburgh Post-Gazette takes a look at the race between freshman Rep. George Dunbar (R-Westmoreland) and Dem challenger Bud Geissler. This is a race that could be fairly competitive.
HD-96: Republicans are showing a blitz against Rep. Mike Sturla (D-Lanc) but it remains to be seen how serious are their attempts to oust him. He could get a hand from independent candidate Paul Culberth, who is also running in the district and profile by the Lancaster papers.
HD-116: Remember this Tarah Toohil video? Her Dem challenger Ransom Young said it was out of bounds for campaigns. But he says State Rep. Toohil's response video – filmed in the Capitol – was out of line, too. "Republican House leadership admitted to using taxpayer money to create what could only be described as a campaign video," Young said.
HD-131: Rep. Justin Simmons has a new, Halloween-themed TV ad accusing his opponent, Dem Kevin Deely, of trying to scare voters. It's worth a watch.
HD-148, 161: The Conservation Voters of Pa. backed Dems Mary Jo Daly (running to replace outgoing Rep. Mike Gerber, D-Montco) and Larry DeMarco (running against Rep. Joe Hackett, R-Delaware).
HD-150: Rep. Mike Vereb (R-Montco) could be eying a move to PA House leadership, speculates PA House Dems staffer Ben Turner on Keystone Politics. He put on the record the private gossip of many in Harrisburg, with a perfunctory shoutout to Vereb's Dem challenger Kelly Devine.
HD-177: William Dunbar, the Dem running against Rep. John Taylor (R-Phila), picked up the endorsement of the Black Clergy of Philadelphia and Vicinity, Inc. "We strongly believe in the message that William Dunbar is presenting in his candidacy and his vision for Philadelphia and its citizens," says President of the Black Clergy of Philadelphia, Reverend Terrence D. Griffith. "We are happy to endorse a political candidate who encompasses everything that we stand for and who plans to advance this city and this great state in a manner that coincides our mission."
Statewide
Captiol Ideas: PA Rep. Rick Saccone makes League of Conservation Voters' national "Dirty Dozen" list.
State House Sound Bites: Corbett challenges political critics of Sandusky case
State House Sound Bites: Four candidates in fight for 4th District Congressional seat
PA Independent: Fitzpatrick vs. Boockvar battle over taxes, House Republican budget plan
Philly
WHYY Newsworks: Casey accused of abetting Catholic persecution, and other outside attack ads
WHYY Newsworks: Talk of rape on the campaign trail adds poison to politics
Naked City: Can Philly clean up 28,000-voter registration backlog by election day?
Commonwealth Confidential: It's a cat fight! Attorney General candidates scrap over endorsement
Inquirer: Bucks congressional foes tangle on taxes
Inquirer: Profile of Tom Smith
Inquirer: Bucks official faces probe for serving an invalid subpoena
Philadelphia Daily News: Unions protest work rule changes Nutter is applying to some
Heard in the Hall: Sophie Bryan to leave City Council for School District
SEPA
Daily Local News: What we know about Obama and Romney's ground games
Pottstown Mercury: Gov. Corbett signs 'Brad Fox Law' on straw gun purchases
Pottstown Mercury: Corbett signs juvenile murder sentence legislation
Pottstown Mercury: Pa. Gov. Corbett sign animal euthanasia bill
Daily Times: Democrats close gap with GOP among registered voters in Delaware County
Philly Burbs: Murt's child labor bill comes of age
Philly Burbs: 8th candidates fight over Medicare
Pittsburgh
Tribune Review: Why Obama is losing Ohio Democrats
Post-Gazette: Civil Liberties union pushes for Voter Id clarification
Post-Gazette: Casey and Smith differ on free trade issues
Post-Gazette: Set of Pa welfare changes fought in commonwealth court
Post-Gazette: Campaign 2012/South: Gearing in fourth run for seat in 51st House District
Post-Gazette: Candidates with differing views waging grass-roots efforts in 56th District
Post-Gazette: Campaign 2012/East: In 55th District, longevity may be factor in race
Early Returns: Critz hits Rothfus on Social Security and tea party associations
Early Returns: Ras: Obama up 5 in Pa
Early Returns: Butler firm gives big to Rove Pac
Early Returns: Rothfus ad again hits Critz on Obama
Early Returns: Report: new group hits Casey
NEPA
The Times Leader: Musto pleads not guilty to new charges
The Times Leader: Shopping around can save, Urban says
Citizens Voice: Barletta's absence at election event upsets Stilp
South Central
Patriot-News: Corbett blames Democrats, media for criticism of his handling of Sandusky case
The Patriot News:  GOP hasn't ruled out Romney win in Pa., even if he has
The Patriot News: Pennsylvania's attempt at Justice Reinvestment prison reform becomes law; savings may take awhile to meet estimates.
York Daily Record: What we know about Obama and Romney's ground games
Lancaster Online: Paul Culbreth campaigns for Pa. House of Representatives 96th district seat
Lancaster Online: Lancaster County Republicans and Democrats gear up to get out the vote for their respective candidates on Election Day
Lancaster Online: Rick Santorum will headline Lancaster County rally for Mitt Romney
Lehigh Valley
Pennsylvania Ave.: Lehigh GOP chair's super PAC attacks Casey
The Morning Call: State House candidates weigh-in education
The Morning Call: Local super PAC hits Casey in TV ads
Blogs
Keystone Politics: State Reps to Poor Women: Prove You Were Raped or Lose TANF Assistance
Keystone Politics: Building on the AFL-CIO's 500K Doors, 500K Calls, & 1.5MIL Worksite Fliers
Keystone Politics: Is Montco's Vereb Plotting a PA House GOP Leadership Challenge?
Keystone Politics: New Workers' Voice Ad: Mitt Romney is an "Economic Traitor"
The Liberty Blog: To save Obama leftist Democrat blames Intelligence Community
The Liberty Blog: Pennsylvania Turnpike Debt Part 2
The Liberty Blog: Gas Prices Then Obama January 2008