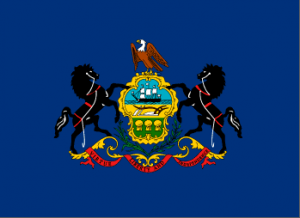 Clinton leads by seven while McGinty is up three according to the New York Times, Shapiro is sitting on $1.1 million and Toomey accuses McGinty of being a "blank check" for Clinton. Good morning politicos, here's the Playbook!
RealClearPolitics Moves PA to "Toss-Up" Status: The polling aggregator is putting the commonwealth's twenty electoral votes up for grabs.
Shapiro Sitting on $1.17 Million Two Weeks Out: The Democratic nominee for Attorney General has plenty of cash as Election Day nears.
NYT/Siena Poll: Clinton 49% Trump 42%: The New York Times has the Democratic nominee seven points ahead in PA.
PA-Sen: NYT/Siena Poll: McGinty 47% Toomey 44%: The Democratic challenger holds a small lead in the latest survey.
PA-Sen: Toomey Says McGinty Would Be "Blank Check" for Hillary: The GOP Senator tries to use Clinton against the Democratic nominee.
PA-16: Hartman Doubles Down on Trump Attack (VIDEO): The Democratic hopeful is betting Trump is her ticket to victory.
LIUNA Local 413 Endorses Voit for Treasurer: The labor group chooses the GOP nominee for State Treasurer.
Statewide
Capitolwire: House sends police protection bill to Wolf, but sanctuary cities bill stalls
Capitolwire: House, Senate gaming disagreement leads to demise of quick fix on local share assessment
Capitolwire: Several opioid-related bills head to Gov. Wolf's desk
Capitolwire: Legislature passes one unemployment compensation fix, but stalls on another
Capitolwire: New pension bill falls short of even getting a vote by the Legislature
Capitolwire: Bill giving beer distributors more sales options heads to Wolf
State House Sound Bites: Some good and bad aspects on legislature's final voting days
State House Sound BItes: Lawmakers still unable to make a deal about pensions
WITF: What Clinton and Trump want to accomplish in their first 100 days in office
WITF: Opioid limits are made for ER patients
StateImpactPA: Issue on PA's drilling rules continues
Philadelphia
Inquirer: Jury orders Penn State to pay McQueary $7.3 million
Inquirer: Veteran principal sent to N. Philly elementary to restore order
Inquirer: Lawyer who sued AG Kane over firing reinstated, settling
Philadelphia Magazine: State Legislators Approve Bill Limiting Police Transparency in Pennsylvania
Philadelphia Magazine: Did Tarnished Philly Judge Violate Code of Conduct by Donating to Trump?
BillyPenn: Philly's Malcolm Kenyatta featured prominently in new Hillary Clinton ad
BillyPenn: Looks like the Clinton campaign won't give Philly street money for Election Day
WHYY NewsWorks: Amtrak settles deadly Philadelphia derailment for $265 million
SEPA
Montgomery Media: Montgomery County extends hours for absentee ballot applications
Montgomery Media: Hilltown man sentenced for intimidating Muslim women in Limerick
Pottstown Mercury: John Middleton Limerick facility, which employs 280, to move operations to Virginia by 2018
Bucks Local News: Newtown Fire Association says recommendation to end township's 12-year-partnership would 'jeopardize safety of the community'
Bucks County Courier-Times: FEC complaint filed against Steve Santarsiero and Democrats over so-called hybrid political ads
Pittsburgh
Tribune Review: Bill Clinton makes appearance at Bon Jovi concert in Pittsburgh
Post-Gazette: Syphilis cases in Allegheny County up 90 percent in single year
Post-Gazette: Doctors group calls for moratorium on fracking in Pennsylvania
Post-Gazette: Pa. lawmakers approve ban on identifying officers in shootings
Post-Gazette: Pa. House changes to casino tax revenue bill make it unlikely for passage
WESA: Pennsylvania's ex-cons can vote, but many don't realize it
KDKA: Beer drinkers lash out against Yuengling after owner backs Trump
Southwest
Beaver County Times: Bill allowing state prison guards to have pepper spray goes to governor's desk
Beaver County Times: Commissioners announces Beaver County budget timeline; no word yet on taxes
Beaver County Times: White House grants $2 million to communities affected by coal
Altoona Mirror: Bill Clinton to speak locally
Tribune-Democrat: Johnstown City COuncil shrinking? Two members propose eliminating seats
NEPA
News Item: Strike, new curriculum cited on test results
Standard Speaker: Marsicano not taking sides in prez race
Pocono Record: Tenant estate bill awaits Wolf's signature
South Central
Patriot-News: When should police officers be identified after shootings? The Pa. Legislature weighs in
Patriot-News: Just when it looked like the pension plan was dead, the House may have revived it
Patriot-News: Error corrected in school report cards, changing scores of 625 schools
Patriot-News: State university coaches reach tentative contract agreement, ensuring no disruption of fall season
Carlisle Sentinel: House holds one more sessions; no vote on pensions
Lebanon Daily News: No new taxes? County balances budget
Lehigh Valley
Morning Call: Allentown School Board president: District needs to review security in light of Tuesday's melee
Morning Call: Lower Saucon man sentenced for 600 pot plants
Reading Eagle: Republican National Committee Chairman Reince Priebus visits Berks County (VIDEO)
Reading Eagle: Residents raise questions about Wernersville Community Corrections Center
Reading Eagle: Berks commissioners OK $5 annual fee to aid bridge repair
North by Northwest
Erie Times-News: Bill Clinton stops in Erie to speak at Democratic headquarters
Erie Times-News: Bill Clinton makes surprise stop in Erie
Centre Daily Times: Jury awards Mike McQueary millions in case against Penn State
Opinion
Inquirer: Daily News endorsements for attorney general, auditor general, state treasurer
Bucks County Courier-Times: Time for change in the 178th
Patriot-News: Pa. should take these three steps to make sure our seniors' golden years stay golden
Patriot-News: The sound of a pension can being kicked…again…rings hollow
Patriot-News: An election year driving us to drink? Pa. sold $2.4B in booze in 2015-16, report
Post-Gazette: Planet under pressure: A WWF report is grim, but offers a ray of hope
Post-Gazette: Vote 'No' on judges: In plain language — keep their retirement age at 70
Blogs
Keystone Crossroads: $60 billions remains unfunded in liability loans in PA while lawmakers push for a change with pension vote
LuLac Political Letter: My Criteria for Picking a President
Lehigh Valley Ramblings: New businesses entering Bethlehem, PA will improve community