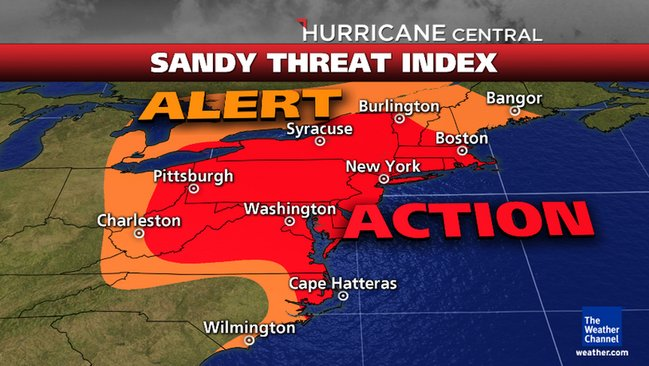 Good morning politicos, we hope you're hunkered down and ready for the storm. The U.S. Senate race turned from warm to white hot over the weekend, with tons of new ads and outside spending. Here's the Buzz.
How Hurricane Sandy Could Affect the Election in PA: Hurricane Sandy is forecast to slam Pennsylvania from Monday through Wednesday. We take a look at how the Frankenstorm might impact the election in Pa.
U.S. Senate
Casey Ad Goes After Smith Mining Record (Watch Video): In the most pointed personal attack of the U.S. Senate campaign thus far, Sen. Bob Casey's latest television commercial blasts GOP challenger Tom Smith for his safety record as the owner of several coal mines.
Boring and Bumbling, Casey and Smith Debate in Philly: When Pennsylvania voters make their choice in 10 days, they won't see a great orator on the ballot for U.S. Senate. But Democratic Sen. Bob Casey's informed yet boring and bland performance stood above Republican Tom Smith's passionate fumbling and nonspecificity.
Both Senate Candidates Up With New Attack Ads (Watch Videos): The U.S. Senate race is hot, the polls are close, and both Sen. Bob Casey and GOP challenger Tom Smith are on the air with new, negative ads.
Inquirer Poll: Obama Up 6, Casey Up 7: Barack Obama and Bob Casey have healthy leads according to the latest poll commissioned by the Philadelphia Inquirer. Obama leads Mitt Romney 49 percent to 43; Casey leads Smith 49 percent to 42.
DSCC Poll: Casey 52, Smith 40: In an effort to slow GOP challenger Tom Smith's momentum, the Democratic Senatorial Campaign Committee Friday released the results on an internal poll showing him behind Sen. Bob Casey by 12 points.
Breaking: NRSC Coming to PA with $500K: In yet another sign that the Pa. Senate race is on the national radar, the National Republican Senatorial Committee will spend $500,000 to boost GOP challenger Tom Smith.
Smith Continuing to Out Fundraise Casey: Money hasn't been a problem for GOP Senate candidate Tom Smith. His campaign to out is continuing to out raise Senator Bob Casey's campaign.
Rasmussen: Casey up by 1: Senator Bob Casey is clinging to a one point lead over challenger Tom Smith in the latest Rasmussen poll. It shows Casey leading GOP hopeful Tom Smith 46-45.
Features:
10/26 Ups & Downs: It's the second-to-last Ups/Downs of the 2012 cycle. See who is finishing the campaign strong… and who's not.
Newspaper Endorsements Open Thread: It's that time of year. Newspapers around Pa. are backing candidates. Here's PoliticsPA's running list of endorsements in statewide and congressional races.
Row Office Fundraising Report Rundown: The final pre-election reporting deadline has passed for candidates for Attorney General, Auditor General and Treasurer. Here's how they did. Kane beat Freed and Maher beat DePasquale.
Congressional Races
PA-8: In Final Debate, Boockvar & Fitzpatrick Compete for Moderates: Rep. Mike Fitzpatrick and Democratic challenger Kathy Boockvar went head to head today in their third and final congressional debate. While the event covered a broad range of topics, the prominent issues included the country's staggering national deficit, unemployment, and tax reform.
PA-11: Stilp Campaign Ad: "I Can Take The Heat" of Congress (Watch Video): Gene Stilp released a new campaign ad, in very typical Gene Stilp fashion. He says he can "take the heat" of Congressional corruption.
PA-12: CUPVF Poll: Rothfus up 4: A new poll conducted by the conservative Citizens United Political Victory Fund shows Keith Rothfus with a leg up over Mark Critz in Pennsylvania's most competitive Congressional race.
PA-12 Here's Round 4 from the DCCC Against Rothfus (Watch Video): Today DCCC kept up its Medicare attack on GOP challenger Keith Rothfus.
PA-17: Matt Cartwright on TV in PA-17 (Watch Video): Democratic hopeful Matt Cartwright is on TV for the first and only time in PA-17.
Legislative Election Updates
SD-11: Newly minted Sen. Judy Schwank (D-Berks) debated her GOP opponent Karen Mogel, the Reading Eagle reports. Schwank also stepped into Obama campaign surrogate duty.
SD-15: The York Daily Record endorsed Dem Rob Teplitz against Republican John McNally for the seat.
SD-17: Charles Gehret, the Republican running against Sen. Daylin Leach (D-Montco) penned an op-ed to the Delco Daily Times.
SD-35: The race between Sen. John Wozniak (D-Cambria) and GOP challenger Tim Houser has risen to the top of the list Republican targets in the state Senate. The Johnstown Tribune-Democrat has this story on the race.
SD-37: A poll commissioned by Democratic state Senate candidate Matt Smith shows him ahead of his Republican opponent Raja 53 percent to 40. Meanwhile, Raja's final ad of the campaign is a potent spot starring his wife.
SD-49: The Erie Times-News checks in on the battle between Republican Janet Anderson and Dem Sean Wiley.
HD-31: The Bucks County Courier Times endorsed Rep. Steve Santarsiero (D-Bucks) for re-election. He faces GOP challenger Anne Chapman. "Santarsiero has been a thoughtful and energetic legislator, and he is evolving into the kind of leader we need in our much too corruptible state Legislature. For these reasons, we strongly urge voters to send Rep. Steve Santarsiero back to Harrisburg."
HD-32: The Pittsburgh Post-Gazette endorsed Rep. Tony Deluca (D-Allegheny) over Republican Lawrence Paladin. "Despite his long tenure in the Legislature, Mr. DeLuca's energy for the work is not flagging, he continues to be an effective representative for his district and he holds an important position as the ranking Democrat on the House Insurance Committee."
HD-47: Dem Sarah Speed slammed her opponent, Rep. Keith Gillespie (R-York) for his sponsorship of a bill that would prevent women from getting additional money if they give birth while receiving on TANF welfare. Gillespie withdrew his sponsorship after learning that the bill contained language that would compel women to prove they were raped in order to receive that additional aid. The York Daily Record also checked in on the race.
HD-83: The campaign between Rep. Rick Mirabito (D-Lycoming) and challenger Harry Rogers, which is becoming increasingly nasty.
HD-89: The Herald-Mail has a recap of the race between Rep. Rob Kauffman (R-Franklin) and Dem challenger Susan Spicka.
HD-93: A note to candidates seeking to address climate change: resist the temptation to use any specific natural disaster as your "hook." To wit Linda Small, the Dem meteorologist running against Rep. Ron Miller (R-York), issued a Hurricane Sandy/Halloween press release  Sunday: "To beat those who would happily create more Frankenstorms, vote. The brain dead/evil politicians are mainly found in the Republican party. My opponent is one of them."
HD-95: Most people are watching Eugene DePasquale's (D-York) Auditor General race, but he's also facing a contested re-elect for his York state House seat. His opponent is Dave Moser, a Libertarian.
HD-104: The race between Rep. Sue Helm (R-Dauphin) and Dem challenger Chris Dietz has been heating up. The Patriot-News reports.
HD-115: In the seat of retiring ep. Ed Staback (D-Lackawanna), Dem Frank Farina faces Republican Theresa Kane. The Citizens Voice has the writeup.
HD-116: Dem Ransom Young, challenging Rep. Tarah Toohil (R-Luzerne), is keeping up the ethics attack. Sunday, he criticized Toohil for making over $1,200 in ATM withdrawals from her campaign account in 2011 and 2012.
HD-118: For the second straight election, State Rep. Mike Carroll, (D-Luzerne), is being challenged by Terrence O'Connor, an attorney (and member of a Tea Party group in Stroudsburg). The Citizens Voice has the story.
HD-120: Pittston Politics checks in on the race between Re. Phyllis Mundy (D-Luzerne) and Aaron Kaufer. So does the Citizens Voice.
HD-134: The Express Times takes a look at the race between new Rep. Ryan Mackenzie and Dem challenger John Reynard.
HD-157: The Daily Local News takes a look at the high-profile race between Rep. Warren Kampf (R-Chester) and former Rep. Paul Drucker.
National
Roll Call: Trade Commission Scores Tariff Proposals That Would Benefit Mike Fitzpatrick Donors
Weekly Standard: Mr. Smith goes to Washington?
Weekly Standard: Casey Pushed for Millions in Stimulus Dollars for Shoddy Public Housing
National Review: Casing Casey
Statewide
Capitol Ideas: Attorney general candidates release fund-raising data
State House Sound Bites: Casey and Smith participate in their only debate of election
StateImpactPa: Philadelphia City Councilman wants to use marcellus shale gas to revive PGW
StateImpactPa: Why climate change evaporated as a campaign issue
StateImpactPa: Pittsburgh uses Bloomberg grant for green roofs
Capitolwire: Smith and Casey take part in debate
Philadelphia
The Inquirer: Poll: Obama still ahead in Pa., but Romney up
The Inquirer: FactCheck: Benghazi Timeline
Philly Clout: Economy central to Casey-Smith U.S. Senate debate
Philly Clout: Casey & Smith U.S. Senate debate: Where they agree
Philly Clout: Casey & Smith mix it up in lone U.S. Senate debate
WHYY Newsworks: Philly elections official defends email blast for Obama
WHYY Newsworks: Casey, Smith clash — finally
SEPA
Delco Daily Times: Democrats close gap with GOP among registered voters in Delaware County
Daily Local News: Rep. Kampf, former Rep. Drucker face each other
Pittsburgh
Tribune Review: Every list of key states in presidential election includes Ohio
Tribune Review: Pittsburgh communities fear flooding from megastorm
Tribune Review: Casey, Smith debate more of the same
Tribune Review: Dean, Thompson say their guy's leading presidential race
Tribune Review: Tax-increment financing poses big risks in Pennsylvania
Tribune Review: Pittsburgh communities fear flooding from megastorm
Pittsburgh Post-Gazette: Corbett says Pennsylvania is monitoring Frankenstorm
Pittsburgh Post-Gazette: Pittsburgh region may miss full fury of Hurricane Sandy
Pittsburgh Post-Gazette: Casey, Smith cordial in only debate
Pittsburgh Post-Gazette: For N.C. and Pa., a role reversal from '08 presidential election
Pittsburgh Post-Gazette: Critz-Rothfus race tests GOP growth in Western Pennsylvania
Pittsburgh Post-Gazette: GOP likely to keep control in Pennsylvania Legislature
Pittsburgh Post-Gazette: Springsteen rallies voters before evening Pittsburgh concert
Pittsburgh Post-Gazette: Springsteen sings support for Obama at rally in Oakland
Pittsburgh Post-Gazette: Dem poll: Casey up 12 on Smith
Pittsburgh Post-Gazette: NRSC jumping into Casey/Smith
Pittsburgh Post-Gazette: Smith, Rothfus lead in late fundraising
Pittsburgh Post-Gazette: Ras: PA Senate race a tie
Pittsburgh Post-Gazette: PA12: New Dem ad; R poll shows 5-pt Rothfus lead
KDKA: Springsteen Holds Free Concert For Obama Supporters
KDKA: Hurricane Still Expected, PA In State Of Emergency
Southwest
Beaver County Times: Beaver County should brace for massive storm
Beaver County Times: Fracking can cause minor quakes
Altoona Mirror: Power outages expected as storm nears
Johnstown Tribune-Democrat: Local businessman challenges Wozniak
Johnstown Tribune-Democrat: Hopefuls address Mideast issues
Johnstown Tribune-Democrat: Analysis: Election tests GOP's hold on Legislature
Johnstown Tribune-Democrat: Two polling places change locations
NEPA
Citizen's Voice: Newcomer Kaufer, Mundy fight for seat
Citizen's Voice: Carroll, O'Connor ready for Round 2
Citizen's Voice: Marino says he's willing to deal on debt and taxes
The Times Tribune: Smith, Casey differ sharply on Social Security, Medicare
The Times Tribune: Farina backs more funding for schools
The Times Tribune: In October, Smith raises more money than Casey
The Times Tribune: Marino says he's willing to deal on debt and taxes
Lehigh Valley
Morning Call: Absentee ballot math: Republicans see hope in Pennsylvania numbers
Reading Eagle: Candidate Endorsements
Reading Eagle: Schwank says Obama a candidate for women
Reading Eagle: 11th District state Senate candidates square off
South Central
Carlisle Sentinel: Kane leads Freed in fundraising in Pa. AG's race
Carlisle Sentinel: Bureau of Elections director reiterates change in ID policy this general election
Harrisburg Patriot News: Pennsylvania's failure to alter Electoral College votes hinders Mitt Romney's chances of winning the state, GOP officials say
Harrisburg Patriot News: 104th District state House race between Sue Helm and Chris Dietz heats up
Harrisburg Patriot News: U.S. Senate debate light on specifics, heavy on unassuming civility
Harrisburg Patriot News: Election 2012: Patriot-News endorses candidates
York Daily Record: Two 4th Congressional candidates taking money from political action committees
York Daily Record: York County commissioners to hold town hall meeting tonight
York Daily Record: Take a look at Eugene DePasquale's ad for auditor general race
York Daily Record: Incumbent, attorney vie for 47th state House District seat
York Daily Record: Gay marriage: Pa. sees little activity — for or against — amid neighbor states' actions
York Daily Record: 95th District state House race brings focus on education
York Daily Record: Attorney, chief counsel for auditor general running for 15th State Senate District
Lancaster Intelligencer/Era: Attorney general hopeful Kathleen Kane campaigns in Lancaster
North by Northwest
Go Erie: Race for state Senate seat in Erie County heats up
Opinions
Pittsburgh Post-Gazette: Re-elect Obama: The made-over Mitt Romney is no alternative
Tribune Review: Obama's new low
Tribune Review: Sunday Pops:Several voters in Guilford County, N.C., complained while voting early that their electronic ballots for Mitt Romney came up for Barack Obama.
Tribune Review: Reimburse UNESCO: Reject the notion
Tribune Review: Issues in the news: Where's the leadership?
Pittsburgh Post-Gazette: Gun progress: Finally a firearms bill that doesn't scare lawmakers
Pittsburgh Post-Gazette: The other election: China prepares for a new Congress and president
Pittsburgh Post-Gazette: Keep the oversight: Pittsburgh still needs the help of the Act 47 team
Pittsburgh Post-Gazette: DeLuca delivers: The House veteran serves the 32nd District well
Altoona Mirror: Romney best hope for change
Johnstown Tribune-Democrat: Elections ignite passions
Johnstown Tribune-Democrat: Edward Smith | Concerned about what happens in our backyards?
The Inquirer: The American Debate: Counting down to Decision Day
The Inquirer: The Pulse: After the election, Obama plans to reach out to GOP
The Inquirer: Inquirer Editorial: Mixed message on voter ID
The Inquirer: Back Channels: To Bolton, Romney has right stuff on foreign policy
Daily News: DN Editorial: (CANDI)DATE RAPE: From 'legitimate' to what 'God intended,' it's THE issue
WHYY Newsworks: With debates in the rear view mirror, it's a sprint to the finish for Obama and Romney
phillyburbs.com: Romney will spur confidence to boost the economy
Delco Daily Times: GUEST COLUMN: Gehret: Running for Pa. Senate for jobs, education
Pottstown Mercury: Pa. voter ID rules falsely advertised
Blogs
Lehigh Valley Ramblings: General Powell still a "shock and awe" guy
Pittston Politics: West side state rep race starts to heat up
Liberty Blog: Tom Smith's plan for Pennsylvania
Liberty Blog: An explanation of gas prices under Obama administration
Liberty Blog: Is higher education recession proof?
Liberty Blog: Questionable practices in low income housing funding
Liberty Blog: Obama administration and coal miner vote
Liberty Blog: Republican administration and general assembly's surplus