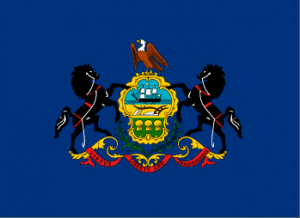 The latest numbers in the Presidential and Senate races, Wolf reveals SRC nominee and Obama stars in new Clinton ad. Plus, last week's Ups & Downs! Good morning politicos, here's the Playbook!
10/28 Ups & Downs: Endorsements, poll watchers and jail. See who made this week's list!
Muhlenberg/Morning Call Poll: Clinton 46% Trump 41%: The former Secretary of State holds onto her advantage in the Keystone State.
PA-Sen: Muhlenberg/Morning Call: McGinty 41% Toomey 41%: The PA Senate race is deadlocked.
CBS/YouGov Poll: Clinton 48 Trump 40; McGinty 44 Toomey 41: The Democrats are ahead nine days out.
PA-Gov: Wolf Announces SRC Nomination: The Governor proposes Estelle Richman to the Philadelphia School Reform Commission.
Torsella Releases New Ad on College Affordability (VIDEO): The Democratic nominee for State Treasurer unveils his latest commercial.
President Obama Stars in Clinton's New TV Ad (VIDEO): The President is making a final push for his former Secretary of State.
Sunday Show Preview: October 30th, 2016: We take a look at the Sunday morning political talk shows that will air throughout the state.
Statewide
StateImpactPA: Wolf vetos bill aimed at giving legislators more control over regulations
StateImpactPA: Supporters of One Call reform lament passage of 'bare minimum' bill
City and State: Municipal unions elect to get organized
PLS Reporter: Gov. Wolf nominates Estelle Richman to School Reform Commission
PLS Reporter: Senate Republican leaders pen open letter to Pennsylvania health insurers
Philadelphia
Inquirer: Why former pare suspicious of Comey
Inquirer: Clinton claims she will not be distracted in final week of campaigning
Daily News: Why the Inquirer  endorses Hillary Clinton
WHYY Newsworks: Why Clinton has to channel John Street in FBI scandal
BillyPenn: Melania Trump expected be in Philly suburbs on Thursday
SEPA
Bucks County Courier-Times: Money spent in the 8th District race dwarfs all Pennsylvania congressional contests
Pottstown Mercury: early voting signs indicate Clinton is winning in key states
Pottstown Mercury: Why Congressman Curt Weldon supports Trump
Pittsburgh
Tribune Review: Uber's self-driving Volvos hit Pittsburgh streets
Tribune Review: Converting closed prisons a protracted process in Pennsylvania
Tribune Review: Greensburg Salem teen pitches in to aid Haiti
Post-Gazette: AG candidates have different approaches to deal deal with charity care issues
Pittsburgh Business Times: Medicine or marketing? How much local doctors received in industry payments last year  
Pittsburgh Business Times: Pitt trustees approve creation of the School of Computing and Information
Pittsburgh Business Times: Rig counts remain stable in Appalachia
Pittsburgh Business Times: Iron Mountain expands data center in Butler County (Video)
Southwest
Beaver County Times: Western Pennsylvania election officer appointed
Beaver County Times: President Bill Clinton tells Aliquippa crowd to "give Hillary the keys"
Observer-Reporter: Most routes to 270 blocked for Trump, needs last-ditch surge
Observer-Reporter: Planet Fitness project stalled over permit issues
Altoona Mirror: Union begins talks with UPMC
NEPA
Citizen's Voice: Official: FBI obtains warrant to search newly found emails (AP)
Citizen's Voice: PSU scientist offers climate change plan
Times-Tribune: Former CEO of Scranton School District dies
Standard-Speaker: Carbon commissioners envision expanded space
Standard-Speaker: 11th District candidates to debate Thursday
South Central
Patriot-News: Gov. Tom Wolf, right on cue, vetoes inspector general bill (and others)
Patriot-News: Mike Pence schedules 2 Pa. campaign stops Tuesday
Patriot-News: Former lawmaker who retired after three decades in state House dies
Patriot-News: State College police release more photos of accused Penn State rioters
Carlisle Sentinel: Panel tried to build community by identifying areas of criminal justice reform
Carlisle Sentinel: Federal funds made it possible for Carlisle to remove train tracks 80 years ago
Lehigh Valley
Morning Call: Brush fire in Lower Macungie out after scorching about 50 acres, fire chief says
Morning Call: Poll: Clinton holds 5-point lead among Pa. voters; Toomey, McGinty tied in Senate race
Morning Call: Pennsylvania playing chicken with Real ID
Reading Eagle: State attorney general candidates aim to restore credibility
Reading Eagle: Reading to adopt new parking enforcement device
North by Northwest
Erie Times-News: Wiley, Laughlin offer contrasting visions
Erie Times-News: Casino revenue uncertainty concerns Erie-area organizations
Centre Daily Times: Penn State doctoral student influencing Chinese media with blog
Opinion
Post-Gazette: Rafferty for state AG: The Republican is a better bet to restore the office
Altoona Mirror: Clinton win would hurt Pennsylvania
Inquirer: You don't have to kill Obamacare to fix what's wrong with it
Daily News: We endorse Hillary for president
Patriot-News: For U.S. Senate, Republican Pat Toomey deserves re-election
Patriot-News: For Mike McQueary, some measure of vindication
Blogs
Citified: Only 24% of Eligible Philadelphians Voted for Mayor – Which is Not that Bad Comparatively
WESA: Pittsburgh budget $10M short after casino tax deemed unconstitutional
Keystone State Education Coalition: Follow the Money: Students First PAC Spends to Privatize Democratically Governed Public Education in PA
Commonwealth Foundation: Unions profit by restricting workers' choices
Third and State: SWPA 2016: College no longer guarantees rising wages – degree holders need agenda to raise PA's pay too