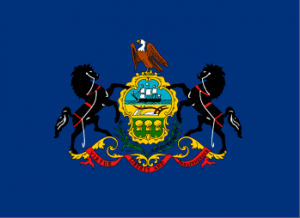 Clinton opens up a larger lead, Monmouth and Quinnipiac poll the Senate race and the latest fundraising numbers are revealed. Good morning politicos, here's the Playbook!
PA-Sen: Quinnipiac Poll: Toomey 50% McGinty 42%: The incumbent posts a strong showing.
Monmouth Poll: Clinton 50% Trump 40%: The ex-Secretary of State increases her lead.
PA-Sen: Monmouth Poll: McGinty 46% Toomey 46%: Toomey improves to a tie with his Democratic opponent.
Clinton Makes Pitch to Females in Delaware County: The Democratic nominee was joined by her daughter and actress Elizabeth Banks.
PA-Sen: Q3: McGinty Reveals $6.3 Million Haul: The Democratic nominee discloses how much cash she raised in the last fundraising quarter before the election.
PA-8: Q3: Fitzpatrick Raises $740K: The GOP nominee announces his fundraising total.
Speaker Ryan to Make PA Campaign Swing: Paul Ryan will be stumping for Pat Toomey, Lloyd Smucker and Ryan Costello tomorrow.
Statewide
Washington Post:  'We're so sexy and important': How Pennsylvania became the prom queen of 2016
Capitolwire: At the quarter-pole of PA's 2016-17 fiscal year, state revenues are more than $200 million short of estimates
Capitolwire: PA Health Department unveils recommendations for changes to state's nursing home rules
Capitolwire: House State Government Committee holds hearing on election integrity
Capitolwire: Toomey breaks away from McGinty in new Quinnipiac poll
StateImpactPA: While global methane emissions are up, research shows fossil fuels not the source
City & State: New Pew study shows support for Philadelphia soda tax, Kenney
PLS Reporter: Allegheny County Executive proposes 2017 $880 million budget
PLS Reporter: ICA makes contingency plans for Pittsburgh budget in light of recent PA Supreme Court casino ruling
Philadelphia
Inquirer: Q poll: Pat Toomey leads Katie McGinty by 8 in Pa. Senate race
Inquirer: Dems hold edge in Pa. registrations as deadline approaches
Inquirer: Local NAACP to aid contractor convicted in deadly building collapse
Inquirer: Philadelphians like their city more than they used to, poll says
Inquirer: 'Hurricane' Schwartz on Hurricane Matthew: Trouble is brewing
WHYY Newsworks: LGBT community faces backlash over inaction over Gayborhood racism
WHYY Newsworks: Kaine celebrates debate at rally in Philly [photos]
WHYY Newsworks: Working and Poor: An overlooked constituency, issue on campaign trail
SEPA
Bucks County Courier-Times: Neshaminy school board accepts fact-finder's report
Bucks County Courier-Times: Bucks County DA: DUI charges to be filed against former sheriff's sergeant
Delco Daily Times: Trump continues to loses while further election predictions are made
Pittsburgh
Post-Gazette:  New Medicare Advantage plans to target diseases such as diabetes, high blood pressure
Post-Gazette: Caligiuri Fund to help spur Pitt research into fatal disease
Post-Gazette: Dollar Bank picking up more branches in second deal of the year
Tribune-Review: Proposed Allegheny County budget keeps property taxes steady
Tribune-Review: PennDOT to close Liberty Bridge inbound overnight
Pittsburgh Business Times: $500M Tenaska facility powering up in Smithton
WTAE: Feds: Some coroners thwarting drug overdose data efforts
Southwest
Altoona Mirror: Veterans' benefits available for classes
Altoona Mirror: Reliant care, AG reach $2M settlement
Beaver County Times: Beaver County Commissioners 'digesting' Friendship Ridge audit as new owner disputes potential findings
Beaver County Times: Donald Trump to hold rally, speak at Ambridge High School on Monday (AP)
Indiana Gazette: Black Student League talks police, racism during forum
NEPA
Times Leader: Eric Mahler named president of Big Brothers Big Sisters Advisory Board
Times Leader: Area legislators push for solutions to opioid addiction
Citizens Voice: WOLF-TV aims to hire its own local news staff
Citizens Voice: Wilkes-Barre General Hospital expansion begins
South Central
Patriot-News: Ahead of Mike Pence rally in Pennsylvania, voters give him kudos for debate performance
Patriot-News: West York Mayor blames media for troubles
Patriot-News: Harrisburg Redevelopment Authority looks to complete Capitol Heights project
Carlisle Sentinel: Eric Trump 'energizes' county GOP
York Dispatch: Exelon grants $225,000 for York Conservation
Lancaster Intelligencer/Era: White House recognizes F&M President Porterfield as a 'champion of change'
Lehigh Valley
Reading Eagle: Albright College still pondering penalty or blackface video
Reading Eagle: Hillary Clinton holds campaign rally in Harrisburg
Express Times: Find out why protesters are back at Just Born
North by Northwest
Centre Daily Times: Wolf, USDA Secretary discuss state of agriculture at White House Rural Forum
Williamsport Sun Gazette: Turnout causes Muncy meeting on planned plant to be suspended
Erie Times-News: Anglers will benefit from new fish habitat structures in Presque Isle Bay
Opinion
Post-Gazette: A near-miss for peace: Why did Colombian voters reject deal with FARC?
Post-Gazette: Civics are a duty: Require a basic test for high school graduation
Inquirer: Orchestra strike over pay struck a chord with other workers
Patriot-News: It's time for West York's Mayor Wasko to go
Times Leader: Forty Fort councilman with felony should resign from post
Williamsport Sun Gazette: Wolf, lawmakers in joint effort to end heroin epidemic
Centre Daily Times: The problem with charter school funding
Blogs
Plan Philly: Can Pennsylvania help drivers kick deadly cellphone addictions to the curb?
KeyStone Crossroads: Working and Poor: An overlooked constituency, issue on campaign trail
Keystone Crossroads: Pay for Success sounds straightforward, but getting it right may take a while
Keystone Crossroads: Chaos in Pennsylvania on Election Day? Probably not
Keystone Education Coalition: US DOE Audit: Chester Charter CEO wrote checks to himself totaling $11M without board approval