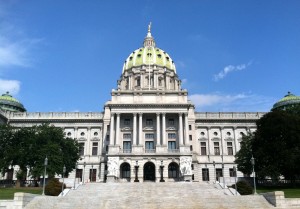 New polls in the presidential race and the PA-12 race lead off the Buzz; 3 score of endorsements from the NRA; more Mumia in PA-8; and much, much more. Good morning politicos, here's the Buzz.
Today is the last day to register to vote in Pa.
Susquehanna Poll: Obama 47, Romney 45: Barack Obama leads Mitt Romney by a 2 point margin, identical to his lead in late September according to Susquehanna Polling and Research. But the Republican's debate performance contributed to a 6 point jump in his favorability rating.
NRA Grades & Endorsements: PA Rundown: See how the National Rifle Association graded candidates in PA's top races: U.S. Senate (Smith A, Casey B+), several congressionals (Kathy Boockvar: AQ). Plus state House and Senate races.
PA-12
GOP Poll: Rothfus 42, Critz 40: Republican challenger Keith Rothfus leads Rep. Mark Critz by a narrow margin, according to an internal poll released by a GOP super PAC that is backing Rothfus.
2 New GOP Ads in PA-12: Keith Rothfus and the National Republican Congressional Committee are up with new TV spots in PA-12 today. Rothfus rebuts suggestions that he's a Wall Street guy, while the NRCC calls Critz a flip-flopper.
NRA Backs Critz: The nation's premier gun rights organization has endorsed Democrat Mark Critz for re-election in Pennsylvania's most competitive congressional race. Republican challenger Rothfus picked up the backing of two lighter-weight groups.
SEPA Races
Boockvar Goes on Offense re: Mumia; Williams Says GOP Playing the Race Card: Democratic congressional hopeful Kathy Boockvar continue her push back against GOP efforts to tie her to convicted murderer Mumia Abu Jamal. Ed Rendell denounced the ads and Seth Williams said they were racial.
More Pension Talk in New Trivedi Ad (Watch Video): When you have a hit that moves numbers, don't get fancy. That's the takeaway from Democratic challenger Manan Trivedi's latest TV ad, the second which hits Rep. Jim Gerlach over a 2001 state Senate vote to boost his pension.
Here's the latest in our reader polls. First, vote on whether you think Tom Smith is for real. Then, check out what PoliticsPA readers said when we asked them to guess the margin of the Presidential contest in Pa.
SLOTUS Rallies in Harrisburg: Dr. Jill Biden rallied about 180 Obama supporters in Harrisburg as she embarked on a 7 city tour of eastern Pa. to get out the vote. She talked about education, women's issues, and voter ID on the day before Pa.'s voter registration deadline.
GOP Sounds Off on Decent Jobs Numbers: It's a tale as old as time: no matter how good the economic indicators in an election year, the party out of power goes on the attack. Now it's the GOP's turn to rain on Obama's parade. Pat Toomey and a congressional trio blasted him over the report of 7.8 percent unemployment.
Former Rep. Shane Dies in Auto Accident: One of Indiana County's most respected public servants, former Rep. Bill Shane, died Thursday during an automobile accident on the Pa. Turnpike.
Legislative Election Updates
Check out the NRA's endorsements in top state House & Senate races.
SD-17: Charles Gehret is challenging Sen. Daylin Leach (D-Montco) and also Tom Corbett in a new video. "This is where Governor Tom Corbett and I part ways. I believe it's a mistake to cut public education funding, even when our state has less money to spend. We need to prioritize spending better, and I'll work to establish public education as our number one priority."
SD-37: The Pittsburgh mayoral politicking has just begun, but as Progress Pittsburgh notes all parties are on board with Matt Smith's Senate campaign. Check out this fundraiser host committee.
HD-20: The Pittsburgh Post-Gazette offers its endorsement of Rep. Adam Ravenstahl (D-Allegheny), based, it seems, mostly on the grounds that his GOP opponent is a lightweight.
HD-104: Dem Chris Dietz belatedly knocked Rep. Sue Helm (R-Dauphin) for the Pa. House GOP's decision to withdraw from the floor to avoid discussion of a Sandusky bill. "Her tag line is, 'An independent leader putting people before politics,'" Dietz said. "Is fleeing the House floor, in lock step, with her party leaders independent?  Is walking out on Sandusky's victims, putting people first? I think not."
HD-159: Republican Marcus Hook Mayor Jay Schiliro made a serious accusation Monday of his opponent, Rep. Thaddeus Kirkland (D-Delaware): that he funnelled state money to organizations affiliated with Kirkland and his family. Kirkland said it was totally false, and blasted Schiliro for holding an event on a day his office was closed.
HD-169: When supporters gather to protest the treatment of the Philly high school student who was ridiculed for wearing a Mitt Romney T-shirt, they'll be joined by GOP candidate Dave Kralle.
Statewide
Capitol Ideas: House working on new gambling bill
State House Sound Bites: Jill Biden campaigns in harrisburg
Capitolwire: Payday bill delayed until next year
Capitolwire: DPW suspends its plan to implement Medicaid co-pays for families with special needs kids
Capitolwire: Romney not likely to make another appearance in Pennsylvania
Philadelphia
INQ: Report: Nutter visits both sides in school T-shirt brouhaha
Heard in the Hall: Report: Chillin' Wit Green Party VP candidate Cheri Honkala
PhillyClout: Report: GOP candidate to protest school where teacher criticized student's Romney shirt
WHYY Newsworks: Report: Ad in Pennsylvania attorney general race vexes both candidates
WHYY Newsworks: Report: Eastwick residents bringing concerns over chronic floods to City Council
WHYY Newsworks: Report: Democrats denounce GOP campaign to tie Boockvar to Abu-Jamal
SEPA
Delco Daily Times: Report: Schiliro seeks ethics probe of Dem Kirkland in hot 159th race  
Pittsburgh
Tribune Review: Rivals in Pennsylvania's 18th District jog in quiet congressional race
Tribune Review: Dozens of donors give millions to super PACs
Tribune Review: Challengers in Western Pa. races face classic hurdles
Pittsburgh Post-Gazette: Jill Biden pushes voter registration in Harrisburg
Pittsburgh Post-Gazette: Incumbent has advantage for Pa. treasurer
Pittsburgh Post-Gazette: Legislature approves Pa.'s capital budget
Pittsburgh Post-Gazette: Rothfus knocks "liberal" Critz
Pittsburgh Post-Gazette: Dueling pro-gun nods in PA12
KDKA: Social Security Tax Rate Expected To Increase
Southwest
Beaver County Times: Changes coming to state prison system will have local impact
Beaver County Times: Dems blast GOP attack ad in Pa. congressional race
Beaver County Times: Libertarians predict victory in Pa. ballot fight
Beaver County Times: Pa. GOP leaders still hope for Romney's coattails
Altoona Mirror: Jay Paterno urges political unity in US
Altoona Mirror: Blair County about a month away from introducing 2013 budget
Lehigh Valley
Morning Call: Pennsylvania voters warming to Romney, GOP pollster says
Morning Call: Jill Biden stopped in Allentown Monday on trip through Pennsylvania
Morning Call: Suddenly, Casey in a battle against Smith
NEPA
Citizen's Voice: Candidates in local Congressional races talk about jobs, economy
The Times Tribune: Jill Biden wife of Vice President Joe Biden stumps in Scranton
Times Leader: Voters facing deadline Tuesday
South Central
York Daily Record: Pressure is on Biden after Obama stumbles at debate
York Daily Record: Indiana Senate race hinges on former Lugar backer
York Daily Record: Mitt Romney accuses Obama of 'passivity'
Opinion
Pittsburgh Post-Gazette: 20th House District: Rep. Ravenstahl faces a weak challenge
Pittsburgh Post-Gazette: Better lunches: Michelle Obama's heart-healthy campaign pays off
Altoona Mirror: Register and cast your vote
Morning Call: Medicare, gold standard of health insurance, at risk