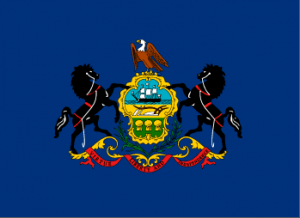 Trump plans a visit to Harrisburg, Wolf continues to make plans for the state's finances without a revenue package, and the ups & downs from the week that was.  Good morning politicos, here's the Playbook!
Trump to Visit Pennsylvania: President Donald Trump will come to Pennsylvania on Wednesday to promote his tax plan.
Wolf on Budget: 'I Can Do This Indefinitely': During a meeting with the Inquirer and Daily News editorial staff, Governor Tom Wolf said that he can continue to manage the state's finances indefinitely without a revenue package.
10/6 Ups & Downs: Murphy is forced to resign, Wolf fires up his base and pushes for campaign promises, Shapiro starts to make a name for himself nationally, political reporters get lots of new material, and the 7th Congressional district earns a dubious distinction. See who made this week's Ups & Downs!
Legislative Election Update
Bucks County Courier Times: Chalfont native seeks Democratic nomination for 2018 congressional election
KDKA: Pa. Rep. Rick Saccone Suspends Senate Run, Bids To Replace Murphy
Statewide
City & State: Winners and Losers for the week ending October 6
State House Sound Bites: Republicans petition Wolf to distribute education tax credits
State House Sound Bites: Episode 26: Meltdown
Philadelphia
Inquirer: Natural land rescues PA and NJ walks on the wild side
Inquirer: No budget deal? No problem. 'I can do this indefinitely,' Wolf says
Inquirer: Trump slams Corker, who responds by calling the White House 'adult day care'
Inquirer: Hurricane warning for Gulf; Philly region in Nate's path
WHYY: Pa. GOP bid for Medicaid work requirements unlikely to withstand veto
WHYY: Philly assist black small-business owners with networking  
WHYY: Just cause; Jones introduces surprise bill aimed at preventing surprise evictions
Philly Voice: Joe Biden to visit Bucks County next week
Philly Voice: The Supreme Court and gerrymandering: what it means for Pennsylvania
Philly Tribune: Frustrated, borrowing vowed to plug state budget gap
Philly Tribune: Policymakers not holding breath on gun control
SEPA
Delco Times: Pennsylvania GOP crosses Trump divide from 2016 to 2018
Delco Times: Protests rain on pipeline project in Glen Mills
Pottstown Mercury: WATCH: Rep. Costello slams former Equifax CEO during questioning Tuesday
Bucks County Courier Times: Courier Times wins general excellence award in state contest
Bucks County Courier Times: Joe Biden appearing in Warminster Tuesday
Bucks County Courier Times: Bucks County names new planning commission director
Pittsburgh
The Incline: How the special election for Rep. Tim Murphy's seat will work — and which party might win
WPXI: Local Republicans, Democrats eye Murphy's seat
Tribune Review: Monroeville bids for slice of Amazon HQ benefits
Tribune Review: Allegheny Land Trust looks to add 70 acres in Sewickley Valley
Post-Gazette: Birthplace of an industry: Study focuses on 'little corner of Pennsylvania' and its role in coal, coke businesses
Post-Gazette: PWSA rates lower than many in region
Post-Gazette: Tim Murphy's startling downfall unrolled quickly but quietly on Capitol Hill
Post-Gazette: Tim Murphy: A voice for values who went astray, an expert on anger who succumbed to it
WESA: PA Court Weighs Delaying Gerrymander Lawsuit Similar To Case Before US Supreme Court
Southwest
Altoona Mirror: Pa. Republicans pick up fight over health care
Altoona Mirror: Frankstown Twp. seeks to have lawsuit dismissed
Beaver County Times: Bartolotta, Democratic senators back bill helping victims of domestic and sexual violence living in public housing
Beaver County Times: State again taking bids on Lawrence County site at center of Islamic group controversy
NEPA
Standard-Speaker: Legislators see light at end of budget tunnel
Times Leader: State highlights cybersecurity initiatives to protect Pennsylvanians
Times Leader: Judge races, property tax issue go before voters next month
South Central
LNP: Gov. Wolf offers $5M in naloxone supplies across state; Lancaster County responders 'really welcome this'
LNP: Not all Pennsylvania lawmakers on board with October being declared Biodiversity Awareness Month
Patriot News: 'Tax killers,' Libre and cellphones: Why the Pa. budget is 100 days late
Patriot News: Hope alone won't lure Amazon: Pennsylvanians may need to pay
Patriot News: Trump coming to Harrisburg, not Hamburg
York Dispatch: Pennsylvania GOP crosses Trump divide from 2016 to 2018
Lehigh Valley
Morning Call: Pennsylvania state lawmakers join calls to ban bump stock
Morning Call: Philadelphia among cities targeted in ICE sanctuary city aids  
Morning Call: Stronger Hurricane Nate to make landfall on Gulf Coast Saturday night, reach Pennsylvania Monday
Reading Eagle: Little change from new Title IX guidelines at local colleges
Reading Eagle: Judge races, property tax issue go before voters next month
Reading Eagle: Congressional map lawsuit may be too late for 2018 elections
Reading Eagle: Gov. Tom Wolf will sign 'Right to Try' bill
Reading Eagle: County office hopefuls answer to Berks County Farm Bureau
North by Northwest
Bradford Era: Rep. Gabler supports legislation to address debt
Erie-Times-News: Public Forum set for Monday on Erie opioid epidemic
Erie Times-News: County executive candidates outline plans for local economy
Opinion
Patriot News: Trump's tax cuts are the right cuts at the right time | Charlie Gerow
Patriot News: The biggest gainer of Trump's tax plan? Trump himself, of course | Kirstin Snow
Patriot News: Wolf's pending veto of Medicaid work requirement is the right call | Editorial
Reading Eagle: Editorial: Courts should not decide school funding
Express Times: As GOP leaders fiddle, Wolf resorts to a payday loan | Editorial
Daily Local: Editorial: Let's talk about the right to save lives
Post-Gazette: State of distress: The inexcusable failure to fund the state budget
Erie Times-News: Our view: Join us for Monday opioid forum
Inquirer: Gov. Wolf's scary fairy tale, but it's for real
Inquirer: What Philly must do to get its lily-white trade unions to stop discriminating | Editorial
Daily News: Predatory creep Harvey Weinstein – and why they want to crush a free press | Will Bunch
Bucks County Courier Times: Shooting blanks: The bare minimum on gun violence
Bucks County Courier Times: Court should tell lawmakers, 'Do your job!'
Tribune Review: Airport's $1.1B redo: Unknowns & serious questions
LNP: Gov. Tom Wolf did what he had to do on state budget