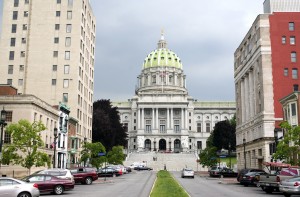 Here's the latest from Harrisburg to DC. Good morning politicos, here's the Buzz.
And don't forget to check back later for the Ups & Downs.
AG-Elect Kane Assembles Top Staff: Kathleen Kane today named the top staffers who will help her manage the office of Attorney General. Several familiar names dot the list.
Harper Poll: Philly to Andy Reid: Don't let the door hit you on the way out: Their latest survey from Harper Polling shows that a decisive majority of Philadelphians and suburbanites – a margin of 60 percent to 9 percent – say they are satisfied with Jeffrey Lurie's decision to can coach Reid after 14 seasons.
Reader Poll: Will Corbett's NCAA Lawsuit Boost His Re-election Chances? Not one but two polls – Public Policy Polling and Harper Polling – show that Gov. Tom Corbett's lawsuit against the NCAA is popular in Pa. But will the move boost his re-election campaign in 2014?
Reader Poll: No New Gun Laws Likely: By a wide margin, PoliticsPA readers said it's unlikely that Congress will enact new gun legislation.
Statewide
Capitolwire: Corbett, teaching the Battle of Gettysburg, will likely face his own battles on school funding
Capitolwire: Corbett seeks to add $20 million to reduce intellectual disabilities waiting list
Capitolwire: Corrections Sec. Wetzel announces plan to move prison inmates to new facility, closing the inmates' two old prisons
Capitol Ideas: Thursday Morning Coffee: The five things you need to know this morning
Capitol Ideas: PA in the company of states expected to end their fiscal year with a budget surplus
Capitol Ideas: New PA State Police app makes it easy to inform on your neighbors
State House Sound Bites: Casey crosses fingers for earlier work on farm bill this year
PA Independent: PA turnpike officials received personal vehicles worth $28,000 each
PA Independent: PA utility companies awash in high marks for response to 'Superstorm Sandy'
PA Independent: WATCHBLOG: State police launch mobile app for reporting suspicious activity
The Times-Tribune: Article DEP missed more than 15,000 wells in impact fee count
StateImpact: Mine reclamation group seeks allies in natural gas industry
Philadelphia
Commonwealth Confidential: Controversial Cyclorama Building on Gettysburg battlefield to be demolished
Commonwealth Confidential: Ex-Rendell aide to lead AG Kane's new legal team
Heard In the Hall: Does city know why it's paying $1 million in bank fees?
Heard in the Hall: Firefighters say 'never mind' on recall
Philly Clout: Butkovitz: Audit raises questions about city cash management
Philly Clout: National Group recognizes Philly's coordination of planning and zoning overhauls
SEPA
Pottstown Mercury: Montco lawmaker wants to legalize pot
Pottstown Mercury: Souderton school in lockdown after suspicious persons report
AP: Extension possible on Pa. Lottery management bid
AP: D.A. responds to Pa. justice's Supreme Court appeal
The Intelligencer: Police: Gunman report unfounded at West Broad Street Elementary
Burlington County Times: Riverton police settle contract with borough
Burlington County Times: Democratic freeholders question outsourcing of parks maintenance
Bucks County Courier Times: Bucks negotiates contract with probation officers
Delco Daily Times: Delco detective tapped for top post in Attorney General's office
Delco Daily Times: Upper Providence re-elects chairman, vice chairman at reorganization
Montgomery Media: Superintendent outlines safety measures at Springfield schools
Montgomery Media: Upper Dublin School District faces 'difficult' budget
Bucks Local News: PennDOT to begin $36.5 million improvement of Route 13 (Bristol Pike) in Bucks County
Daily Local News: Tredyffrin-Easttown to 'harden' school safety sites
Pittsburgh
Tribune Review: Jordan Miles gets second chance to convince jury that officers used excessive force
Post-Gazette: Pa. attorney general-elect will appoint deputy to investigate handling of Sandusky case
Post-Gazette: Lottery management bid extended by one day
Early Returns: Pa prez vote by congressional district
KDKA: Liquor License Controversy Brewing In Wilkinsburg
KDKA: Nasty Flu Season Has Some Still Seeking The Vaccine
Southwest
Beaver County Times: Michael Baker creates committee after acquisition offer
Observer-Reporter: Commissioners make good on bet with Beaver Co. board
Observer-Reporter: Sandusky heads to court hearing on defense claims
Altoona Mirror: Amendola testifies in legal challenge over Sandusky case
Johnstown Tribune-Democrat: Ex-Gitmo inmates: Bin Laden movie excuses torture
NEPA
AP: Pa. AG-elect Kathleen Kane names her top deputies
AP: Kane to name special deputy for Sandusky probe
AP: Pa. Health Department: Flu 'widespread' in state
Daily Item: County owes DCED $215K
Daily Item: Jones won't seek fifth term as mayor
Times-Tribune: Casey among U.S. senators meeting with Afghan chief
Times Leader: Santorum takes up fight against Hagel nomination
Times Leader: Many feel area care is lacking
South Central
Roxbury News: Pennsylvania State Police Launch New App to Help Fight Terrorism
Lebanon Daily News: Lebanon Mayor Sherry Capello to announce re-election plans
Lancaster Intelligencer: Deadline for bid to privatize Pa. lottery draws close
York Daily Record: Gov. Corbett: Maryland residents moving to Pa. is a good sign
The Carlisle Sentinel: Harrisburg mayor eyes executive powers for ban on military-type weapons sale
Harrisburg Patriot-News: 'Things need to turn around': Views mixed on Harrisburg's ranking on 'most dangerous' list
Harrisburg Patriot-News: Harrisburg Mayor Linda Thompson responds to city's ranking on 'most dangerous' list
Harrisburg Patriot-News: Attorney General-elect Kathleen Kane has a full plate but running for governor in 2014 isn't on it
Harrisburg Patriot-News: Lottery privatization: Camelot agrees to a one-day extension on its lottery privatization bid
Lehigh Valley
Morning Call: PA may have missed more than $300 million in drilling taxes
Morning Call: Bethlehem OKs huge warehouse on old steel land
Morning Call: Parents, crisis experts criticize district's decision not to release details on Allentown HS gun incident
Morning Call: Teachers' union responds to Allentown HS gun incident
Reading Eagle: Reading, city resident settle police beating suit for $250,000
Reading Eagle: State: Reading schools' missing millions district's fault
Reading Eagle: State legislators address property tax elimination
Reading Eagle: Boyertown school board advances $55 million building project
WFMZ: Public, media locked out of upcoming crime summit with governor, US senators, county, state legislators
WFMZ: Rep. Charlie Dent (R-Lehigh) talks guns, Sandy
WFMZ: Easton council invokes eminent domain to seize private property, build parking garage for Crayola Experience
Express-Times: Northampton Co. council introduces ordinance to lease new human services building
Express-Times: Nazareth councilman applies for first-time offender program
North by Northwest
Centre Daily Times: Philipsburg-Osceola School Board considering new grant-writer
Times-News: Erie School Board sells school building
Times-News: Social worker announces run for Erie Co. Council
Opinions
Daily Item: Pension amount, access speak to legislative excess
Lancaster Intelligencer: Where the action is
Pottstown Mercury: Averting the 'Lottery Cliff' for Pa. seniors, taxpayers
Delco Daily Times: EDITORIAL: Victims forgotten in Penn State-NCAA lawsuit
Times-News: Erie School Board needs travel rules
Blogs
Above Average Jane: CeaseFirePA Director in White House Meeting
Above Average Jane: Philadelphia Campaign Training
Commonwealth Foundation: Averting the "Lottery Cliff" for Seniors and Taxpayers
Jon Geeting: Wayne Woodman Knows How to Run a Political Party