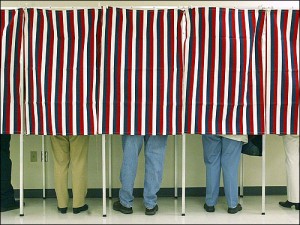 Good morning politicos, here's the Buzz! The Democrats sweep the judicial races, Reschenthaler wins the State Senate special election, Jim Kenney is elected the next Mayor of Philadelphia and so much more is included in our special post-Election edition of the Buzz!
Election Results
BREAKING: Dems Sweep Supreme Court Races: The Democrats won all three open seats on the State Supreme Court.
Wojcik Takes Commonwealth Court Seat: GOP nominee Paul Lalley has conceded the race.
Dubow Wins Superior Court Race: The Philadelphia Judge wins the open on the State Superior Court.
SD-37: Reschenthaler Wins Special Election: Republican Guy Reschenthaler prevails over Democratic opponent Heather Arnet in the 37th district Senate election.
PHL-15: Jim Kenney Elected Philly Mayor: After winning the primary by a landslide, Councilman Jim Kenney has clinched the Mayoral seat in Philadelphia.
Kevin Steele Elected Montgomery County DA: Democratic candidate Steele wins DA race over Republican Bruce Castor.
Philly City Council At-Large Race Too Close To Call: The race for the two at-large minority seats on Philadelphia's Council is too close to call tonight.
Non-Election Results
PA On Track to Lose Congressional Seat: The Keystone State may once again lose out when the Census comes around.
Could Budget Stalemate Derail PA Society?: Some lawmakers are talking about boycotting the December event if no budget agreement has been made by then.
Reader Poll: Do You Support Liquor Privatization?: We ask our readers whether they're in favor of reforming the state's liquor system.
Reader Poll: Dems Will Sweep Supreme Court Races: Our readers believe the Democrats will emerge victorious in the three Supreme Court contests.
PA Supreme Court Named One of WaPo's Races to Watch: The three Supreme Court contests made the Washington Post's 2015 list.
Statewide
PAIndependent: Record spending in PA Supreme Court race fuels talk of merit selection
StateImpactPA: Supreme Court race could hold the key to future environmental rulings
PLSReporter: IFO compares monthly revenue figures to prior year
State House Sound Bites: PA Swipes Illinois Record for Priciest Supreme Court Contest
State House Sound Bites: State Urges Early Applications for Heating Assistance
Philadelphia
Philadelphia Business Journal: Pa. on track to lose congressional seat: Study
Philadelphia Business Journal: Nutter to join Stallone, more at special 'Creed' celebration in Philly
Philadelphia Business Journal: U.S. Supreme Court case features controversial video of Philly attorney
WHYY Newsworks: Turkey shortage, price increase may mean bleak holiday
WHYY Newsworks: Record-setting spending in race for Pa. Supreme Court
Inquirer: Mayor Nutter on after he leaves office: Show me the money
Inquirer: Election Day 2015: 'Quiet, quieter, quietest'
Daily News: Fattah points finger at other in alleged alternative school scams
Philly420: Growers can help fight 'corporate cannabis'
SEPA
Pottstown Mercury: Upper Pottsgrove won't renew township-wide trash pact
Delco Daily Times: Protesters target outsourcing at Delco schools
Bucks County Courier Times: Lower Bucks County voter turnout light: 'We're falling asleep here'
Bucks County Courier Times: Montgomery County tourism agency partners with DNC
Pittsburgh
Tribune Review: Election judge arrested
Tribune Review: Abigail Lee Miller pleads not guilty
Tribune Review: U.S. Steel profits continue to sink
Tribune Review: Polls open in Pennsylvania
Post-Gazette: New technology to organize city bids
Southwest
Beaver County Times: The voters are out
Beaver County Times: United Steelworkers file charges
Beaver County Times: Raise for Moon area superintendent
Observer-Reporter: Election highlights
Observer-Reporter: Conservancy seeks grants
NEPA
Times Leader: Cusat new Hazelton mayor
Times Leader: George is new Wilkes-Barre mayor
Times Leader: New offices arriving in Wilkes-Barre
Times-Tribune: Cinram manufacturing purchased by French company
Times-Tribune: Rates dropping for PPL Electric
South Central
Harrisburg Patriot News: Midstate counties reports smooth municipal election day, low turnout
York Daily Record: Veteran:  'Take advantage' of voting privileges
York Daily Record: Working the polls is more social than political
York Daily Record: Doug Hoke on November 2015 election
Carlisle Sentinel: Campaign spending for the Cumberland County Commissioner race
Lebanon Daily News: No tax hike in Annville's 2016 budget
York Dispatch: Late contributions push state judicial candidates' coffers near a record $11.5M
Lehigh Valley
Express Times: Working residents to see tax hike under Allentown budget plan
Express Times: Election Day 2015: Focus on Pa. judicial races as polls open
Morning Call: In Bethlehem, a push to elect Martin Tower – really
Morning Call: Bethlehem Township seeks reimbursement for cost of emergency calls
Reading Eagle: No morning rush at Berks polls
Reading Eagle: High court campaign sets record
Reading Eagle: Mayoral candidates greet voters
WFMZ: No tax increase in 2016 for North Whitehall Township
North by Northwest
Onward State: Your comprehensive 2015 State College Election Guide
Williamsport Sun Gazette: Unofficial election results will not include write-in names
Erie Times-News: Clerical error prompts paper ballots in Corry Area School District voting precincts
Opinion
Erie Times-News: Our view: Why voting in today's election matters
Williamsport Sun Gazette: Spending on Obamacare propaganda is unacceptable
Williamsport Sun Gazette: Pakistan should suffer for betrayal of America
Harrisburg Patriot News: As you head to the polls, here are five other elections that you should be following
York Dispatch: EDITORIAL: Don't vote only be capital letters
Reading Eagle: Editorial: Decision reinforces need for an independent appointee
Pottstown Mercury: Cokie & Steve Roberts: Why Marco Rubio scares the Democrats
Delco Daily Times: Are citizens mad enough to vote today?
Philly.com: Is labeling needed for GM products?
Tribune Review: Clinton's gun buyback plan will not work
Tribune Review: Government wage mandates strip workers of bargaining power
Blogs
Commonwealth Foundation: A PLCB Special: Red Ink
PA Budget & Policy Center: If the Robots Actually Came … We Could Enjoy Shorter Work Time
Citified: Can Dwight Evans Beat Chaka Fattah?