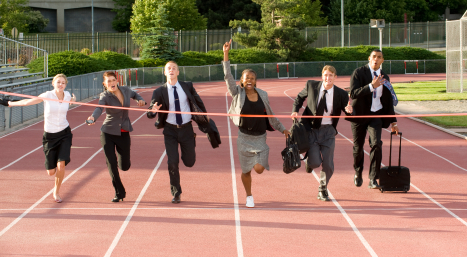 Mitt Romney visited Pa. yesterday and Bill Clinton is here today. There's just 1 day of campaigning remaining – see the latest dispatches from the trail. Good morning politicos, here's the Buzz.
Romney Rallies in Bellwether Bucks: Mitt Romney spent some of the waning hours of the campaign in Bucks County Sunday night where he spoke to 25,000 excited supporters who braved the cold. It was part of a last-minute, multi-state tour in the final two days of the campaign.
Clinton Coming to PA Today: Former President and Obama pinch-hitter Bill Clinton is coming to Pa. on Monday for events in Scranton, Pittsburgh, Blue Bell and Philly.
Top Ten PA House Races: Final Days: There's just 36 hours of campaigning left to go, and the picture for the state House is getting clearer. Here's our latest look at the state House seats most likely to switch party control.
Top 5 PA Senate Races: Final Days: With just a few days left in the campaign, here are the top 5 state Senate races in Pennsylvania.
PA Scrambles to Minimize Sandy's Election Impact: Hurricane Sandy has wreaked havoc across the East Coast and officials are trying to minimize its effects on the political arena.
11/2 Ups & Downs: Here it is: our final Ups & Downs list before the election. We've got a massive list for you today.
Presidential
Ryan, Republicans Barnstorm Across PA: Vice Presidential candidate Paul Ryan got a hero's welcome from 2,000 Republican supporters Saturday during a rally at Harrisburg airport. It's one of several events around Pa. this weekend with top GOP surrogates.
Trib Poll: Obama, Romney Tied at 47: President Barack Obama and Mitt Romney enter the final 3 days of the campaign at a dead heat according to the latest survey from Susquehanna Polling and Research.
PPP Poll: Obama 52, Romney 46; Casey 52, Smith 44: The top of the ticket is looking safe for Democrats according to the latest survey from Public Policy Polling. And Gov. Corbett would lose by 10 points to a generic Dem opponent.
YouGov Poll: Obama & Casey Lead: According to a pollster that combines online surveys with traditional methods, President Barack Obama leads Mitt Romney 52 percent to 44. Sen. Bob Casey leads Tom Smith 50 percent to 42.
Abortion & Colin Powell: Obama's Ads in Philly: TV viewers in the Philadelphia market are seeing a different mix of Obama campaign ads, including this one about abortion and another featuring former Secretary of State Colin Powell.
Planned Parenthood Up with $100K Radio Buy in Philly: Planned Parenthood Action Fund is responding to the GOP ad blitz in Pa. with a new radio ad buy in the Philly area.
Rubio Rallies the Troops: High-profile surrogate Senator Marco Rubio (R-Florida) was the keynote speaker at a Romney rally in Delaware County on Thursday evening.
Senate
Trib Poll: Casey 46, Smith 45: The U.S. Senate race is a dead heat, according to the latest poll commissioned by the Pittsburgh Tribune-Review. Casey leads by 1 point, 46 percent to 45.
Smith Poll: Smith, Casey Tied at 46: Tom Smith and Bob Casey are neck and neck, according to the latest internal survey from the Republican Senate hopeful's pollster.
Chamber Launches Ad Against Casey (Watch Video): The U.S. Chamber of Commerce has chosen its final target of the 2012 cycle, and it's U.S. Senator Bob Casey. The national business group launched a television ad slamming the Democrat in western Pa.
Attorney General & Row Offices
Freed Goes Negative in Closer; Kane Plays Defense (Watch Videos): In their final television ads of the Attorney General race, Republican Dave Freed slams Democrat Kathleen Kane over her campaign flubs. Kane taps GOP DA Andy Jarbola to rebut charges that she was not an effective prosecutor.
Trib Poll: Kane Leads, Other Row Offices Muddled: Kathleen Kane, the Democrat running for Attorney General, has a double digit, 48 to 37 over GOP candidate Dave Freed. Dems lead narrowly for Auditor General and Treasurer.
Maher Up with 15 Second TV Spot (Watch Video): Republican Auditor General hopeful John Maher is finally on TV. He's got a basic 15 second spot that boasts his newspaper endorsements and his background as an auditor.
Hafer Crosses Party Lines (Again), Endorses Maher: Former Auditor General and former Republican Barbara Hafer endorsed John Maher for the position on Saturday.
Congress
Once Again, Marino Evades Opponent: This is getting ridiculous. Rep. Tom Marino cancelled a radio show appearance scheduled for Monday because the station wouldn't refuse his opponent the opportunity to call in.
Romney, Clinton Join Bucks Battle: With only days until the election, and a Romney rally in her own district, Kathy Boockvar has enlisted help from a favored Democratic heavyweight in order to close the gap between herself and incumbent Rep. Mike Fitzpatrick (R-Bucks).
New Barletta Ad Touches on Jobs, Knocks Stilp (Watch Video): The Barletta campaign released its second ad of the campaign season Friday, touting the Incumbent Congressman's fight during his first two years in Congress, and going negative on Democratic hopeful Gene Stilp yet again.
Coal Industry Digs Deep for Critz: GOP challenger Keith Rothfus says he'd be an ally for American energy, especially coal. But if money talks, the coal industry is yelling Mark Critz's name loud and clear.
WaPo Upgrades Rothfus: GOP challenger Keith Rothfus is now a slight favorite in his race against Rep. Mark Critz (D-Cambria), according to the Washington Post.
Badey, Meehan Battle Over Budget: George Badey and Rep. Pat Meehan attempted to set the record straight about what the Ryan budget proposal means for Medicare and the country in their only debate of the campaign. They talked FEMA, too.
Features
Newspaper Endorsements Open Thread: It's that time of year. Newspapers around Pa. are backing candidates. Here's PoliticsPA's running list of endorsements in statewide and congressional races.
Legislative Election Updates
Don't miss it: PoliticsPA's Top Ten PA House Races and Top 5 PA Senate Races.
Dunbar in Disarray: Police Incident & Staff Problems Mire Dem Challenger in HD-177: Bad poll numbers, a police incident with a former staffer, and a campaign run by students. It's another day on the campaign trail for William Dunbar. The Democratic challenger to John Taylor, Philadelphia's last Republican state Rep, has been mired in problems since September.
Capitolwire's Pete DeCoursey takes a look at the races being targeted in the state House and the state Senate; the Philly City Paper looks at the state House picture.
The Philly Gay News made its 2012 endorsements (spoiler alert: all Dems).
SD-15: One word, "education," defined the first 6 months of this race. Two words have defined the past 2 weeks: "commuter tax." ABC 27 has the back-and-forth on Republican John McNally's accusation that Dem Rob Teplitz supports such a tax, and Teplitz's protestations that he doesn't. In other news, "Dreamgirl" actress Sheryl Lee Ralph and her husband Sen. Vincent Hughes (D-Phila) rallied for Teplitz in Harrisburg on Sunday. Finally, here's an op-ed from write-in candidate Alvin Q. Taylor.
SD-17: Two conservative groups, the Eastern Pennsylvania Chapter of Associated Builders and Contractors, Inc. and the Citizens Alliance of Pennsylvania, backed GOPer Charles Gehret in his longshot bid to unseat Sen. Daylin Leach (D-Montco).
SD-37: KDKA has this final recap of the heated state Senate race between Republican Raja and Dem Matt Smith.
SD-47: The New Castle News checks in on Beaver County's state Senate race between Sen. Elder Vogel (R) and Dem challenger Kim Villella.
HD-15: Rep. Jim Christiana (R-Beaver) doesn't have a terribly tough race against challenger Robert Williams. But just for good measure, pro-vouchers groups gave him over $100,000 in October alone.
HD-16: North Pittsburgh Politics has oodles and oodles of mailers in the race between Rep. Rob Matzie (D-Beaver) and challenger Kathy Coder.
HD-29: Brian Munroe is a Democrat with a decent resume, but a tough opponent in Rep. Bernie O'Neill (R-Bucks). Here's his ad, airing on cable TV, slamming O'Neil for taking government perks.
HD-39: Dave Levdansky closing ad is a brutal hit on Rep. Rick Saccone (R-Allegheny), the man who beat him in 2010. This is one of the top state House races in Pa.
HD-41: The Lancaster papers have a look at the race between Rep. Ryan Aument (R-Lancaster) and his plucky Dem challenger Marcy Dubroff.
HD-44: We got a hold of Dem Mark Scappe's mailers against Rep. Mark Mustio (R-Allegheny). Check 'em out here: 1, 2, 3, 4, and 5.
HD-50: Democrats are expected to retain the seat of now-incarcerated Rep. Bill DeWeese (D-Greene). The Tribune-Review has the latest on the race between Greene Co. Commissioner Pam Snyder and Republican Mark Fischer.
HD-51: PoliticsPA has its share of being cited in campaign attack ads. But this is.. something else. This video by GOP challenger Gary Gearing against Rep. Tim Mahoney (D-Fayette) is a MUST WATCH.
HD-57: A.J. Gales is a veteran challenging Rep. Tim Krieger (R-Westmoreland). Here's his closing campaign web video.
HD-60: Jo Ellen Bowman, the Dem challenging Rep. Jeff Pyle (R-Armstrong), has this basic radio ad laying out her policy platform. She also picked up some endorsements: Armstrong County Commissioner Richard Fink, Indiana County Commissioner Patty Evanko, Indiana County District Attorney Pat Dougherty and Armstrong County Sheriff Larry Crawford.
HD-89: Remember that hilarious photoshop by Rep. Rob Kauffman's (R-Franklin) campaign? Yahoo! News named it to their list of top campaign photo gaffes.
HD-112: Kevin Haggerty beat Rep. Ken Smith in the Democratic primary in April and is a favorite to win. Tragically, this is in part because his opponent Ray Nearhood was in an auto accident in August and is presently in a coma. The Scranton Times-Tribune backed Haggerty, saying, "The editorial board endorses Mr. Haggerty, who is certain to be hardworking."
HD-115: The Scranton Times-Tribune declined to endorse in this race: "Democrat Frank Farina of Jessup and Republican Theresa Kane of Olyphant seek to replace Mr. Staback. Mr. Farina has demonstrated little grasp of key issues; Ms. Kane has spoken in broad terms about being business-friendly, but also has questioned the legitimacy of crucial government functions such as zoning. The Times-Tribune editorial board does not endorse either candidate."
The Wilkes-Barre Times-Leader has voter guides in these races: HD-116, HD-118, HD-119, and HD-120.
HD-116: Ransom Young has hammered Rep. Tarah Toohil (R-Luzerne) not for her indiscretions, he insists in his final TV ad, but for her refusal to answer questions about her indiscretions.
HD-120: We're beginning to wonder whether we missed the boat by not including this race in our top 10 list. Rep. Phyllis Mundy (D-Luzerne) faces GOP challenger Aaron Kaufer, who is backed by HRCC and CAP. Pittston Politics has a look at the mailers, and also reports that West Pittston Councilman Brian Thornton slammed Mundy over her actions during Tropical Storm Lee.
HD-134: Here's the Pottstown Mercury's Q&A with John Reynard, the Dem running against Rep, Ryan Mackenzie (R-Lehigh).
HD-143: The Bucks Intelligencer endorsed Rep. Marguerite Quinn (R-Bucks) for re-election over GOP challenger Joe Frederick. They wrote, "As a representative, Quinn comes with a good dose of moderation and compromise with a splash of independence. We think those are qualities that are sought by voters in the 143rd District, and why we endorse her candidacy for another term."
HD-151: Will Sylianteng, the Democrat running against Rep. Todd Stephens (R-Montco), released his 4 point job creation plan last week. He also term-limited himself (3 terms).
HD-159: The campaigns and tenure of Rep. Thaddeus Kirkland (D-Delaware) has been rife with apparent conflicts of interest. The Daily News takes a comprehensive look at it all, following up on allegations by Kirkland's GOP opponent Jay Schiliro, the Mayor of Marcus Hook.
HD-169 & 172: The Philly City Paper looks at GOP efforts to reclaim two state House seats in northeast Philly. Dem State Reps. Ed Neilson and Kevin Boyle face Republicans David Kralle and Al Taubenberger, respectively.
National
The Daily: Pennsylvania in play
Politico: Mitt Romney's Pa. gamble
FiveThirtyEight: Romney's Reason to Play for Pennsylvania
Statewide
State House Sound Bites: U.S. Senate candidates, working it, in the final days before election
State House Sound Bites: Paul Ryan makes late campaign stop at HIA
State House Sound Bites: Meet the candidate: U.S. Senate candidate Bob Casey Jr.
PA Independent: Redistricting, retirements open door for Dem control of Senate
PA Independent: Week in Review — Five days to the election
PA Independent: Treasurer's race shows different takes on pension investments
PA Independent: Sandy one week later would have caused election chaos
Capitolwire: In 120th, political newcomer challenging long-time House Democrat.
Capitolwire: OFF THE FLOOR: Upsets looming in widely-contested state House races, but neither party to pick up many seats.
Capitolwire: A look inside the race for attorney general.
Capitolwire: OFF THE FLOOR II: Inside the battle for the state Senate.
Capitolwire: Prez, auditor general election could go hand-in-hand.
Philadelphia
City Paper: Pennsylvania's wealthiest try to buy a government
City Paper: Return to Fishtown
City Paper: Will Sen. Casey's lackadaisical campaign sink a half-century-old political dynasty?
City Paper: In AG race, Kathleen Kane is poised to win. What about Pennsylvanians?
City Paper: Why Democratic congressional hopefuls in the suburbs can't catch a break
City Paper: Philly Republicans attempt to reclaim their stronghold in the Northeast
City Paper: Dems looking to gain clout in Harrisburg face an uphill slog
Inquirer: Monica Yant Kinney: New sex-abuse charges put institutional leaders on notice
Inquirer: In this church, the power of voting preached
Inquirer: High-profile Pa. races go negative
Inquirer: Big names returning amid one last dash for 3 U.S. House districts
AP: Election blitz focuses on Philadelphia, suburbs
Inquirer: The Pulse: The smearing of a president: From start, unrelenting, unfair
AP: Obama leads but Romney with shot in electoral race
AP: Romney: Obama win 'possible'
Inquirer: Karen Heller: The storms before the calm
Inquirer: Back Channels: Romney our best hope for Ike-like peace and prosperity
Philly.com: Bill Clinton coming to Phila. region
Inquirer: Foot soldiers' job: Get out the voters
Inquirer: At Philadelphia's Masterman High, mock debate and serious citizenship
Inquirer: Pennsylvania polling places slowly getting power back
Philly.com: Bill Clinton cuts robocall for Boockvar
Inquirer: Heated races for Pa. auditor general, treasurer
Philly Clout: PA voters upset about Libertarian group's "vote history audit" letters
Inquirer: European team may monitor Pa. polls, creating a stir
Commonwealth Confidential: Ryan rallies GOP base outside Harrisburg in quest for PA votes
WHYY Newsworks: 'We need each and every one of you to take us to victory,' says Jill Biden at West Oak Lane campaign rally
WHYY Newsworks: Paul Ryan attracts a crowd campaigning in Harrisburg
WHYY Newsworks: Campaign closers head to Pa.
SEPA
Philly Burbs: Clinton to stump for Obama Monday in Montco
Delco Daily Times: County campaign workers make final push for their candidates in Delco
PA Independent: GOP should maintain Pa. House majority, but Dems look to chip away
Delco Daily Times: Face the Facts Election Countdown: Leading the world in putting people in prisons
Delco Daily Times: Absentee voters flock to Election Bureau
Delco Daily Times: Vice president's wife Jill Biden makes stop in Media
Delco Daily Times: County campaign workers make a final push for their candidates
Delco Daily Times: Face the Facts Election Countdown: Where the jobs are: Health Care, Hospital Industry
Delco Daily Times: Elections 2012: Early voting likely to break records in key swing states
Delco Daily Times: 250-300 Pa. polling places lack power, state won't ID them
Delco Daily Times: Missed the Badey-Meehan 7th District debate? Here is the replay
Pottstown Mercury: Bill Clinton to rally Obama supporters in Blue Bell
Pottstown Mercury: The 2012 presidential campaign in its own words
Pottstown Mercury: The 11 goofiest campaign gaffes of the presidential election
Pottstown Mercury: Five things that probably won't change no matter who's president
Pottstown Mercury: Five nightmare scenarios for Election Day
Pottstown Mercury: Seven women who might be in Romney's binders
Pottstown Mercury: The Simpsons' predicts Electoral College: Obama 290, Romney 248
Pottstown Mercury: Q&A with John Reynard, candidate for the 134th Dist. Pa. House seat
Daily Local: What Chester County voters need to know
Daily Local: Senate candidate Smith makes West Chester swing
Daily Local: Biden, Nutter rally local Obama supporters
Pittsburgh
KDKA: Raja & Smith battle for local state Senate seat
Early Returns: AG candidates in final sprint
Early Returns: Pa/Romney Reax
Early Returns: PPP Obama by 6, Casey 8
Early Returns: Bill Clinton to Pittsburgh
Early Returns: WashPost: PA 12 leans republican
Early Returns: PA 12 dark money makes union head "puke"
Early Returns: Lawyers, poll watchers await Tuesday
Early Returns: Rick Perry campaigns for Smith
Post-Gazette: Ellen Goodman cancels Oakland lecture scheduled for Monday
Post-Gazette: Denial upheld in suit over access to polling places
Post-Gazette: In Pennsylvania, Ryan accuses Obama of 'appealing to our lowest fears'
Post-Gazette: Pa. voting right groups increase prevention efforts
Post-Gazette: Federal agents to check on election irregularities
Post-Gazette: Judge refuses to curb voter ID advertisements
Southwest
Tribune-Democrat: Ryan boosts GOP ticket during fleeting Pa. visit
Tribune Democrat: Pupils hit the polls as part of mock election
Tribune Democrat: Cambria County commissioner backs Rothfus
Tribune Democrat: Campaigns in final push
Tribune Democrat: Hopefuls similar on cultural issues
Tribune Democrat: Unbeatable Shuster? Win could lead to chairmanship of transportation panel
Tribune Democrat: Races for president, Senate, AG top state ballot
Beaver County Times: Critz, Rothfus battling for new seat
NEPA
Times Leader: State Representative 120th Legislative District
Times Leader: State Representative: 118th District
Times Leader: State Representative 116th Legislative District
Times Leader: State Representative 119th Legislative District
Times Leader: U.S. Senate
Times Leader: U.S. Representative: 17th Congressional District
Times Leader: U.S. Representative: 11th Congressional District
Times Leader: Cummings favors Fair Tax
The Times-Tribune: President Clinton due at Scranton High Monday night
The Times-Tribune: New faces dot general election ballot
Citizens Voice: Kane, Freed present case for runs as attorney general
South Central
ABC27: GOP floods Pa. airwaves in last-minute blitz
Carlisle Sentinel: Romney Sons stop in Mechanicsburg Saturday
Carlisle Sentinel: The electoral college: Pennsylvania late to swing state game
Carlisle Sentinel: Thousands line up to see Paul Ryan
Carlisle Sentinel: Who's running in the general election
Carlisle Sentinel: When Cumberland County votes are expected to be tallied
Carlisle Sentinel: What voters need to know for Tuesday's election
Carlisle Sentinel: Cumberland County gears up for presidential election
Carlisle Sentinel: PA a part of presidential political stops
York Daily Record: Early voting likely to break records in swing states
York Daily Record: Five things that won't change no matter who's president
York Daily Record: The 11 goofiest gaffes of the presidential election
York Daily Record: The 2012 presidential election in its own words
Lancaster Intelligencer: GOP still attempts to upend senate Democrats
Lancaster Intelligencer: Ryan boosts GOP ticket in short PA visit
Lancaster Intelligencer: Obama on the road: a study in self assurance
Lancaster Intelligencer: Races for president, Senate, AG top Pa. ballot
Lancaster Intelligencer: Election blitz focuses on Philadelphia and suburbs
Lehigh Valley
Morning Call: Presidential campaigns present final election predictions
Morning Call: Bill Clinton goes to bat for Boockvar in robocall
Morning Call: Romney highlights Obama remark on voting as "best revenge"
Morning Call: Romney: jobs numbers "short" of what Obama promised
Morning Call: New polls say Obama and Romney in an even race
Morning Call: Mail-in ballots: the hanging chads of 2012?
Morning Call: In Pa, Obama up by three points
Morning Call: Thousands greet Paul Ryan in Harrisburg
Reading Eagle: Harry J. Deitz Jr.: Election madness almost over, but it's not that simple
Reading Eagle: For Romney and Obama the long slog has lead to a nail-biter finish
North by Northwest
Campaign '12 Blog: Races for president, Senate, AG top Pa. ballot
Campaign '12 Blog: Thompson, Dumas campaign to be 5th District congressman
Campaign '12 Blog: Sonney unopposed for 5th term as state representative
Centre Daily Times: Senate candidate Tom Smith, Texas Gov. Rick Perry stop in State College
Centre Daily Times: Thompson, Dumas clash on health care, taxes in House bid
Williamsport Sun Gazette: AG: 'Conspiracy of silence'
Opinions
Robert Vickers, Patriot News: Why I'm voting for Mitt Romney
Salena Zito: Main street in revolt
Chris Freind, Delco Times: Will Sandusky and Corbett beat Romney?
York Daily Record: Our take: endorsement recaps for the election
Times Leader: Steady leadership has earned Obama another term Kevin Blaum In the Arena
The Times-Tribune: No photo IDs needed to cast votes
The Times-Tribune: Haggerty in 112th District No endorsement in 115th
Citizens Voice: Barack Obama, still the better choice
Philly Burbs: Negative ad doesn't negate years of positive public service
Philly Burbs: We endorse Quinn in 143rd District
Philly Burbs: Election 2012: taking America's pulse
Delco Daily Times: The Ghost of William Penn: Robert Proud (1724-1813) – Father of Pennsylvania Historians – Needy Reappraisal
Pottstown Mercury: Rep. Ryan Mackenzie, candidate for the 134th Pa. House seat
Daily Local: What exactly happened in Libya, Mr. President
Blogs
Keystone Politics: Bill Clinton Robocalling for Kathy Boockvar
Keystone Politics: Yahoo News Puts PA Politician on List of Nation's "Biggest Election Photo Gaffes"
Pittston Politics: Kelly spot on with Linskey lawsuit
Pittston Politics: Thornton throws Mundy under the bus, supports Kaufer