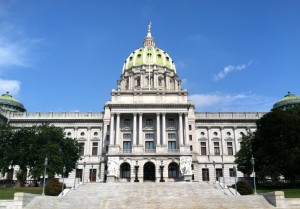 The post-election dust continues to settle, and we begin to look beyond to 2014. Good morning politicos, here's the Buzz.
Reader Poll: Who Should Challenge Tom Corbett? Coming off of strong statewide wins, Democrats are chomping at the bit to take on Gov. Tom Corbett. Who is the best Democratic challenger to square off against him?
Dems, GOP Fight to Near-Draw in State House: After months of campaigning, it appeared Tuesday night that at least 2 but no more than 5 state House seats would switch party control.
Reader Poll: You Called It: PoliticsPA readers stuck true to their belief that Obama would win Pennsylvania, despite the late GOP charge.
Statewide
Capitol Ideas: Faced with changed topography, legislative Republicans say they're ready for the next term.
State House Sound Bites: Turnout: lower. Voter ID mishaps: fewer.
State House Sound Bites: Kane leads Dems' sweep of row offices
State House Sound Bites: Casey wins second term
PA Independent: One day after election, voter integrity issues are a hot topic
PA Independent: Republicans play defense in state House, slip in state Senate
Capitolwire: GOP, Democratic officials differ on three state House race outcomes.
Capitolwire: OFF THE FLOOR: State House wins Best In GOP for 2012.
Capitolwire: House Dems claim two net seats. House GOP ran ahead of rest of ticket, isn't conceding anything.
Capitolwire: OFF THE FLOOR: A bad Election Day for Gov. Tom Corbett.
Capitolwire: State Senate Democrats add three seats, 23-27, despite 3-1 spending deficit.
Philadelphia
Inquirer: Pennsylvania's swing-state status is up in the air
Inquirer: Philadelphia's city commissioners oust Singer as chair
Inquirer: Will Philly reap rewards for big Obama turnout?
Inquirer: Vote was astronomical for Obama in some Phila. wards
Inquirer: Pa.'s incoming attorney general vows to be an activist
Inquirer: Will Philly reap rewards for big Obama turnout?
Commonwealth Confidential: Top Republican: "questionable" that Philly turnout was so high
Inquirer: President Obama wins reelection
Philly.com: FactCheck: The 'Obama Phone'? How do I get one?
Inquirer: Karen Heller: Some lessons emerge from election drama in Penna.
Daily News: Women propel Obama to second term
Daily News: Turnout machine, modern coalition lifts Obama to 2nd term
Daily News: Casey holds off big-money challenge
Daily News: Clean sweep for congressional incumbents in Philly and the burbs
Daily News: Here comes the country's 'Thelma and Louise' moment
Daily News: Philly celebrates Obama's win
Inquirer: Black voters "not as rah-rah," but "really focused" for Obama :
Inquirer: GOP expected to keep control of Pa. Senate, House
Inquirer: Democrat Kathleen Kane will be Pennsylvania's first female attorney general
Inquirer: GOP expected to keep control of Pa. Senate, House
Daily News: Kane becomes 1st woman – and 1st Democrat – to become Pa. attorney general
Philly.com: Five constitutional lessons learned from the presidential election
Philly.com: Yay! Boo! So? Reactions to Obama win vary
Philly.com: Super PACs, super busts?
Philly.com: Incorrect voter-ID info at Delco polling places
Heard in the Hall: Nutter Douses Rumor: He's Staying in Philly
Heard in the Hall: Singer toppled as city elections chief
Heard in the Hall: A look at Philly's presidential vote
PhillyClout: Mayor Nutter: I'm finishing my term
WHYY Newsworks: The emotional toll of running for office
WHYY Newsworks: As far as voter turnout, 2012's got nothing on 2008
WHYY Newsworks: Few voter ID problems across Pa.
SEPA
Phillyburbs: Fitzpatrick's no easy out in the 8th
Phillyburbs: Obama turnout bump plagues county GOP again
Delco Daily Times: Election 2012: Pat Meehan defeats George Badey to win re-election to House (With Video)
Delco Daily Times: Election 2012: Meehan, incumbents come up big in Delco. Here's all our election results
Delco Daily Times: Election 2012: Kirkland wins 11th term in state House after trouncing Schiliro
Delco Daily Times: Face the Facts Election Countdown: 100 days, 100 facts
Delco Daily Times: Katharine Kane becomes 1st woman elected to Pa. attorney general's post
Delco Daily Times: Marcus Hook budget spells doom and gloom
Delco Daily Times: Exit Polls: Why Pa. stuck with Obama amid economic woes
Delco Daily Times: Text of Barack Obama's speech after winning re-election
Pottstown Mercury: Little changes with release of final vote counts
Pottstown Mercury: Inconsistency, confusion as voters asked for IDs
Pottstown Mercury: 93-year-old driver hits Perkiomen voting site, none hurt, voting continued
Pottstown Mercury: Rep. Quigley: Still in it
Daily Local: Gerlach beats Trivedi in Sixth Congressional District
Daily Local: Drucker concedes 157th to Kampf following close race
Pittsburgh
Tribune-Review: Dermody coasts to victory
Tribune-Review: Candidates for District 39 states rep seat within 3-dozen votes
Tribune-Review: Molchany wins by big margins for District 22 state rep
Tribune-Review: Rep. Tim Murphy holds congressional seat
Tribune-Review: Doyle, Kelly defeat little-known rivals
Tribune-Review: Smith defeats Raja in state Senate race
Tribune-Review: Zachariah Connell holds mock elections
Tribune-Review: Armstrong County goes to Romney
Tribune-Review: South Buffalo Elementary students get hands-on lesson in presidential politics
Tribune-Review: Democrat TIm Mahoney captures 4th House term in 51st District
Tribune-Review: Dunbar gets 2nd term in Harrisburg
Post-Gazette: Doyle, Murphy, kelly win re-election bids
Post-Gazette:Treasurer McCord sails to 2nd term
Post-Gazette: Smith defeats Raja in close race
Post-Gazette: Republican maintain control of both chambers of Legislature
Post-Gazette: DePasquale celebrates auditor general win
Post-Gazette: Tight races mark state House races
Post-Gazette: Election Day sees heavy turnout, confusion over voter ID issue
Post-Gazette: Rothfus upsets Critz in bitter battle for U.S. House
Early Returns: Obama Pa win narrows but maintains
Early Returns: Pa Dem chair reacts to wins
Early Returns: Inside the Rothfus win numbers
KDKA: Republican Rothfus is newest member of Congress
KDKA: Local diners reacts to election outcome
KDKA: New AG wants to investigate Gov. Corbett
Southwest
Tribune Democrat: Democrats, Latinos flexed muscle for Obama in Pa.
Tribune Democrat: Critz ousted by Republican foe
Tribune Democrat: Democrat Casey wins re-election to Senate
Altoona Mirror: Rothfus defeats Critz
Altoona Mirror: McGinnis wins 79th District
Altoona Mirror: Wozniak's victory met with conflicted emotions
Beaver County Times: Newsbreak: Happy day after Election Day
Beaver County Times: Rothfus' 'long road' ends with a win
Beaver County Times: Voter turnout just cracks 70 percent
NEPA
Times Leader: Democrats vote in force for candidates
Times Leader: GOP's Toohil defeats Young, cruises to 2nd term
Times Leader: Barletta handily tops activist challenger
Times Leader: Casey easily beats wealthy challenger
Times Leader: Unopposed candidates win new terms
Times Leader: Mundy holds off well-funded GOP challenger
Times Leader: Voters rule in Cartwright's favor
The Times-Tribune: Lackawanna County for President Obama
Citizens Voice: Toohil coasts to second term
Citizens Voice: Mullery humbled by re-election
Citizens Voice: Carroll secures state district seat
Citizens Voice: Mundy fends off young challenger
South Central
Carlisle Sentinel: Perry wins congressional district seat
Harrisburg Patriot News: Midstate voters hit few snafus election day
Harrisburg Patriot News: Casey wins what was supposed to be close senate race
Harrisburg Patriot News: Kathleen Kane 'We have expanded the boundaries for women in Pennsylvania'
Harrisburg Patriot News: A rundown of the election results
York Daily Record: Gay marriage gets historic backing in election ballots
York Daily Record: 2012 election charts: Obama was at an advantage
York Daily Record: Mormon moment ends with a loss
York Daily Record: What should Mitt Romney do now
York Daily Record: Can Obama escape the second term scandal curse
York Daily Record: Another Kennedy was justs elected: who's next
Lancaster Intelligencer: Election protest at Ole Miss leads to two arrests
Lancaster Intelligencer: With win, Calif governor takes next step in pledge
Lehigh Valley
Morning Call: Will election change Washington gridlock
Morning Call: Obama, buoyed by election, faces new battles
Morning Call: Presidential and social votes show changing mindsets
Morning Call: Lehigh Valley elections weren't without controversy
Morning Call: How Kathleen Kane did it
Reading Eagle: Mood subdued for Berks GOP
Reading Eagle: Analysis: Berks goes to Obama, the rest to Romney
North by Northwest
Williamsport Sun Gazette: Marino holds off Challenger
Williamsport Sun Gazette: Incumbents Yaw, Mirabito cruise to wins
Centre Daily Times: Economic uptick, Obama's ability to define Romney key to re-election
Opinions
Delco Daily Times: Editorial: Silence golden after annoying election season
Delco Daily Times: Today's Top 10: After Election Day, best reasons to 'Like Ike'
Delco Daily Times: The Heron's Nest: When a win is not a win for the Delco GOP
Blogs
Keystone Politics: How Philly Politicians Are Unwittingly Adopting the Land Use Toolkit of Suburban Segregationists
Keystone Politics: Republicans Have Zero Leverage in the Lame Duck Budget Debate
Keystone Politics: #HD131: Simmons Hasn't Locked It Up Yet
Keystone Politics: How Gerrymandering Saved PA House Republicans
Keystone Politics: Post-Election Reading Thread
Jon Greeting: How to Win the Allentown Water Privatization Ballot Initiative