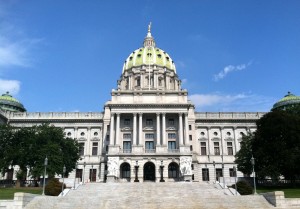 First item up for bid: the Pa. Lottery. Number 2: Liquor stores? Good morning politicos, here's the Buzz.
Don't forget to check back later for the Ups & Downs.
The Next Chapter for PoliticsPA, and for Me, by Keegan Gibson: I'm grateful for PoliticsPA's loyal readers, happy to be able to continue working for the site, and excited about what's next.
May 21 Special Elections Mean Likely Holds for Dems: Speaker Smith's decision to schedule two state House special elections on the same day as the statewide primary means the GOP probably won't go all out to pick up the Democratic seats.
Corbett To Propose Gas Tax Increase as Transpo Funding Fix: Facing one of his biggest challenges yet as Governor, Tom Corbett has elected a pragmatic rather than partisan approach to transportation funding. The Associated Press reports that Corbett will pitch a $2 billion increase on wholesale gasoline taxes.
Editor's note: we'll be on call for breaking news on Martin Luther King, Jr. day, but we won't have a morning Buzz.
Statewide
Capitol Ideas: House special elections announced for DePasquale, Smith seats
Capitol Ideas: House Democrats ask Kathleen Kane to reject #PALottery contract
State House Sound Bites: Corbett sends Camelot lottery contract to attorney general
PA Independent: Survey: Pennsylvanians want better roads, don't want to pay for them
PA Independent: New lottery dollars to go towards at-home senior services
PA Independent: WATCHBLOG: Lawmaker asks colleagues to give up per diems
PA Independent: WATCHBLOG: Corbett confirms liquor privatization, transportation funding plan on their way (Audio)
StateImpactPA: Yoko Ono on Anti-Fracking Bus Ahead of Cuomo Decision
StateImpactPA: AP: Range Resources Gets EPA to Reverse Course in Texas Contamination Case
Capitolwire: Gov. Corbett dismisses complaints about Lottery procurement process.
Capitolwire: Gov. Corbett says his budgets should make Pennsylvanians optimistic.
Capitolwire: Corbett says pending Lottery deal could provide more funding for upcoming budget.
Philadelphia
AP: Corbett touts Pa. Lottery deal; AG review up next
AP: Special Pa. House election set to fill vacancies
AP: Corbett to roll out billion-dollar roads plan
KYW Newsradio: Pennsylvania officials call for more funding for local law enforcement
Phillynow: State Rep. Floats 'Safe Ride Home' Legislation for the Drunk
Phillynow: National Republicans Support Pennsylvania Vote-Rigging Bill
Inquirer: NRA ad draws criticism from Nutter and Ruynan
Inquirer: Corbett plan for transportation funding: Uncap wholesale-gasoline tax
Inquirer: Local pro- and anti- gun control advocates echo the national debate
Inquirer: Fitzpatrick, Meehan embrace background checks for gun buyers
Inquirer: State Rep. Cherelle L. Parker found guilty of drunken driving
Daily News: Obama gun-control effort: 'Turning point' or 'tyranny'?
Heard in the Hall: Ramsey enthusiastic about Obama gun proposals
Philly Clout: Councilman David Oh gets new, slightly bigger office
WHYY Newsworks: Contract signed for Pa. Lottery privatization, still needs attorney general's OK
WHYY Newsworks: Casey calls for more U.S. funds to assist police nationwide
SEPA
AP: Democratic Pa. legislator found guilty of DUI
AP: Corbett calls for more money for senior programs if lottery contract goes through
AP: Gov. Corbett to roll out billion-dollar plan for Pa. roads
AP: Yoko Ono, Sean Lennon tour Pa. gas drilling sites
Pottstown Mercury: Rep. Schwartz says nation's mood on gun control has changed
Bucks County Courier Times: Gov. Corbett says lottery privatization the way to go
Delco Daily Times: Delco legislators offer mixed reactions to Obama gun control plan
Yardley News: Lower Makefield supervisors agree to lobby state to ban carrying guns in public parks
Republican Herald: Pottsville school board member plans run for mayor
Pittsburgh
Tribune-Review: Western PA schools take a closer look at security
Tribune-Review: Federal grand jury investigating Pittsburgh police chief
Tribune-Review: Fitzgerald to introduce legislation to allow shale gas drilling on airport land
Tribune Review: Westmoreland GOP rally marks first national 'Gun Appreciation Day'
Tribune-Review: Special election set for Sen. Matt Smith's (D-Allegheny) former house seat
Early Returns: GOP spent $1M in 2010 PA House races to get a leg up on redistricting
Post-Gazette: The British are coming! Gov. Corbett awards PA lottery to UK firm
Post-Gazette: Fitzgerald claims that Pittsburgh Airport Authority could net up to $40M on airport drilling deal
Southwest
Altoona-Mirror: Area legislators Rep. Geist (R), Sen. Wozniak (D) top per diem list
Altoona-Mirror: Area legislators to discuss local prison closings
Johnstown Tribune-Democrat: Cresson prison faces closure reality
Observer-Reporter: Local gun advocates: mental health reform needed
Observer-Reporter: Seven-term Greene Co. sheriff not running for reelection
NEPA
The Times Leader: WB issues statement on concessions stalemate
The Times Leader: Police seek 2 suspects in Philly girl's abduction
The Times Leader: Jailed priest recants plea in Philly abuse trial
Times-Tribune: Gun owners, sellers say president's proposals miss the mark
Times-Tribune: Prospective lottery manager changed headquarters site
Citizens Voice: Court filing: NCAA won't spend Penn State's $12M
Daily Item: Union County judge hands down $4 million verdict in hunting accident
Daily Item: Big Scoop: Selinsgrove might dish out another world record-setting banana split
Standard Speaker:  Union agrees to bargain to help save Philly papers
Lehigh Valley
Morning Call: Eichenberg announces re-election bid in Lower Macungie
Reading Eagle: Berks planners taking inventory of local bridges
WMFZ: Kane strikes plea deal in prescription drug ring case
Express Times: Pennsylvania Lottery privatization contract finalized by Gov. Corbett
South Central
Carlisle Sentinel: Cumberland County commissioners mull use of Marcellus Shale funds
Carlisle Sentinel: Strong farewell to Dennis Marion as he steps down after 31 years
Harrisburg Patriot News: Follow the Penn State Board of Trustees meeting live on Friday
York Daily Record: Records requested from York County under Right-to-Know Law vary
York Daily Record: Special election for York County House seat to take place with May Primary
York Dispatch: Police search for girly-smelling thieves
Lancaster Intelligencer/Era: PSU trustees review legal issues, counsel's role
Roxbury News: Harrisburg School District: The First Meeting of the Chief Recovery Officer's Advisory Committee
North by Northwest
Centre Daily Times: Bellefonte: Centre County commissioners OK contract with architect on Temple Court Building
Opinions
Post-Gazette: Newspaper on possible Texas secession: "Good riddance"
Post-Gazette: Gun laws stymied for "no good reason"
Johnstown Tribune-Democrat: Tighten penalties on hit-and-run drivers
Johnstown Tribune-Democrat: Johnstown poised for progress; city manager lauded
Bucks County Courier Times: The Harrisburglars – Expensive expenses
WHYY Newsworks: Are you looking forward to 'Gun Appreciation Day'?
Daily News: Looney Goons: Thoughtful gun proposals vs. reactions from paranoid nuts
Blogs
Jon Geeting: Wall Street laughs at Pat Toomey's Debt Ceiling Plans
Jon Geeting: We only need $1.4 trillion in deficit reduction before 2022
Commonwealth Foundation: How do Pa. gas taxes stack up?