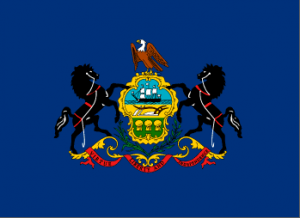 Leach is accused of inappropriate touching and sex talk by former staffers, Wolf calls on Leach to resign, a federal court rules for Shapiro stopping a Trump administration move to stop the birth control mandate, Cook Political shifts it's rating of PA-18, and the ups & downs from the week.  Good morning politicos, here's the Playbook!
Wolf Calls for Leach to Resign in Wake of Sexual Harassment Allegations: Governor Tom Wolf called on state Senator Daylin Leach to resign from the state Senate after allegations surfaced Sunday.
Ex-Staffers Accuse Leach of Inappropriate Touching, Sexual Talk: Former staffers of state Senator Daylin Leach have accused him of touching them inappropriately and crossing the line with sexual talk.
Federal Court Rules for Shapiro, Stops Trump's Removal of Birth Control Mandate: A federal judge in Pennsylvania ruled against President Trump's move to allow moral and religious exceptions to the Affordable Care Act's birth control mandate after Attorney General Josh Shapiro challenged it in court.
Cook Political Shifts PA-18 to Lean Republican: The Cook Political Report updated its rating for PA-18 from 'likely Republican' to 'lean Republican.'
12/15 Ups & Downs: Stack find out the Inspector General's report will not be released, public sector unions defeat a 'paycheck protection' bill in the house, Lisa Deeley takes over as the chair of the Philly City Commissioners, and Pennsylvania is ranked in the bottom five of worst run states. See who made this week's Ups & Downs!
Legislative Election Update
City & State: 16-term state Rep. Roebuck to face primary challenge
Statewide
State House Sound Bites: Wolf: Leach should resign after harassment claims
State House Sound Bites: Episode 35: Holiday bedlam
StateImpact: New book tackles key questions about fracking
City & State: Kenney will fight parking amnesty bill despite Council vote
Philadelphia
Inquirer: Wolf: Leach should resign in wake of allegations
Inquirer: Ex-staffers: Sen. Daylin Leach crossed line with sex talk, inappropriate touching
Inquirer: Wolf signs state CHIP bill, but still no federal action
Philly Voice: In wake of allegations, Wolf calls on Leach to resign
KYW: Gov. Wolf Signs Legislation Reauthorizing Pennsylvania's Children's Health Insurance Program
KYW: Analysis: PA Abortion Issue Plays To Both Parties' Bases
WPVI: Gov. Tom Wolf signs kids health coverage bill, urges Congress to act
WHYY: Wolf: Leach should resign following harassment claims
Philly Mag: DNYED: The Vanity License Plates PennDOT Rejected
Philly Mag: Why Michael Nutter Thinks He Had the Best Job in Politics
SEPA
Bucks County Courier Times: Gov. Tom Wolf calls on state senator to resign after harassment allegations
Bucks County Courier Times: No tax increases planned for at least 28 Bucks County towns
Intelligencer: Toomey's bipartisan animal crushing bill passes Senate
Delco Times: Wolf: Sen. Daylin Leach should resign over misconduct allegations
Pittsburgh
Tribune Review: Senate confirms Scott Brady as U.S. Attorney for Western District of Pennsylvania
Tribune Review: Trump's tax plan puts charitable sector in 'harm's way,' nonprofit leaders say
Tribune Review: Westmoreland County doctors now approved for medical marijuana program
Tribune Review: Trump reconsiders rules protecting miners from black lung
WESA: As Open Enrollment Ends, Pennsylvanians Fear For The Future Of Health Coverage
Post-Gazette: Gov. Wolf urges Congress to pass CHIP funding
Post-Gazette: Highmark extends its vision for care to Central Pa.
Post-Gazette: Ex-staffers: state Sen. Daylin Leach crossed line with sex talk, inappropriate touching
Post-Gazette: City Council nearing decisions on taxes, animal legislation as session ends
Post-Gazette: Voters must register for special election
KDKA: Butler Republican Congressman Hails GOP Tax Bill
Southwest
WTAJ: Children's health insurance bill signed
Daily American: Shade Township property to return to full bloom with state grant
Beaver County Times: Toomey's bipartisan animal crushing bill passes Senate
NEPA
Times-Tribune: Prosecutors have limited success in drug death cases
Times-Tribune: Next Abington Heights strike two weeks away?
Standard-Speaker: Tax sales among differences between mayor, council
South Central
WPMT: PA Senator Daylin Leach accused of sexual misconduct by staffers
WHTM: Ex-staffers accuse Sen. Daylin Leach of inappropriate touching, sex talk
WHTM: Republicans knock Wolf decision not to release Stack report
WITF: Bill would increase penalties for repeat DUI offenders
Patriot News: Trump has ambitious plans to campaign in 2018 midterms, including in Pa.
Patriot News: State to expand industrial hemp projects in 2018
Patriot News: Gov. Tom Wolf calls for resignation of Sen. Daylin Leach following allegations of inappropriate behavior
Patriot News: Leach allegations prompt fresh look at Senate workplace harassment policy: Senate Democratic leader
Patriot News: Read Pa. lawmaker's response to sexual-misconduct claims
Patriot News: Opponent in Democratic primary calls for Pa. lawmaker to resign in wake of sexual-misconduct allegations
Patriot News: Pa. lawmaker accused of inappropriate touching, sex talk: report
Patriot News: AG Josh Shapiro defers to incoming DA on challenge to York mayor-elect
York Dispatch: Bingo prizes could double under bill heading to Gov. Wolf
LNP: Wolf signs kids health coverage bill, urges Congress to act
Carlisle Sentinel: Wolf says Leach should resign over misconduct allegations
Lehigh Valley
Reading Eagle: Meet the four Republicans vying to unseat Gov. Tom Wolf
Reading Eagle: $3.44 million 2018 budget includes no tax hike for Maidencreek
Morning Call: Ex-staffers: Sen. Daylin Leach crossed line with sex talk, inappropriate touching
North by Northwest
WJET: Wolf Administration scores $32 million for Erie
Erie Times-News: Erie awarded $32 million in new investments
Erie Times-News: Decision on land bank awaits Erie County Council
Meadville Tribune: Pennsylvania liquor reforms draw cheers
Centre Daily Times: Local municipalities act to prohibit casinos
Opinion
Patriot News: Is the Alabama Senate race an omen for W. Pa. congressional contest? | Kirstin Snow
Patriot News: After Roy Moore, here's what Republicans need to do to start winning | Charlie Gerow
Reading Eagle: Editorial: 'Paycheck protection' bill deserved better fate
Express Times: Ka-boom! Man's best friend betrayed by Pa. Legislature | Editorial
Daily News: How the GOP produced the worst bill since the Fugitive Slave Act of 1850 | Will Bunch
Inquirer: There's no good reason why the Commissioners' Office should be an elected position | Editorial
Inquirer: Roy Moore's Alabama loss shows that voters want more | Editorial
Inquirer: Why I will veto the anti-choice Senate Bill 3 | Gov. Tom Wolf
Tribune Review: Trib editorial: Paycheck protection defeat puts politics ahead of people
Post-Gazette: No secret settlements: Congress cannot hide payments for harassment