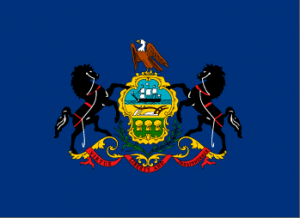 Wagner gets personal with Wolf, even more Supreme Court Justices received lewd emails and new developments in the AG Democratic primary. Good morning politicos, here's the Playbook!
Wagner Doubles Down on Wolf Critique: The State Senator and conservative firebrand makes it personal.
More Supreme Court Justices Involved in Lewd Email Chains: Among the recipients are sitting Justices Kevin Dougherty and Max Baer.
PA Dems Hire New Communications Director: Preston Maddock will handle communications under freshman Chair Marcel Groen.
BREAKING: Stollsteimer Drops Out, Endorses Shapiro: The former Assistant U.S. Attorney is ending his campaign for Attorney General and supporting Josh Shapiro.
PA-2: Evans Releases First Campaign Ad (VIDEO): The State Representative and Congressional candidate filmed his first commercial at a Fresh Grocer store in Philly.
Zappala to Host Event with Top Democrats: Jay Costa, Frank Dermody and Rich Fitzgerald will all be in attendance.
Morganelli Gains Support of 3 Prosecutors: The prosecutors will also serve as County Coordinators for his Attorney General campaign.
HD-10: Former Congresswoman Melissa Hart Endorses Bernstine: The Bernstine campaign also reported $25K raised in Q4.
SD-36: Aument Replaces Pileggi on Senate Education Committee: Pileggi is leaving his post in the State Senate.
Legislative Elections Update
HD-37: Tim Reedy declared that he'll be running for this seat.
"I believe that new leadership is needed in Harrisburg; and as such, I would rather tell you how my work ethic, ideas, and solutions will make an impact in PA," Reedy said. "A vote for my opponent would be a vote for the status quo, the same, tired non-compromising attitude that runs rampant in the halls of the Capitol."
The 37th district consists of parts of Lancaster County.
HD-50: State Rep. Pam Snyder announced she is running for her third term.
"I look forward to building on my first two terms and making sure the people of the 50th legislative district continue to be heard," Snyder said. "It's my friends, neighbors and constituents who motivate and inspire me to continue serving the Commonwealth of Pennsylvania."
The 50th district includes all of Greene County and parts of Washington and Fayette Counties.
HD-122: Neil Makhija has entered the race as a Democratic candidate. Makhija served as an aide in the offices of Vice President Joe Biden, Senator Kirsten Gillibrand and Congressman Joe Sestak.
"I'm fighting to ensure every child gets access to a world class education," Makhija said. "There is a realization in America that the political system is rigged — and we desperately need a new generation of leaders to unrig it. The middle class, seniors, our kids, they're depending on us."
The 122nd district contains nearly all of Carbon County.
HD-196: State Rep. Seth Grove declared that he'll be seeking his fifth term.
"I intend to run for re-election based on my conservative record of success and working to ensure the views of the residents of the 196th district are represented," he stated.
The 196th district consists of parts of York County.
HD-199: State Rep. Stephen Bloom announced that he is running for his fourth term this year.
"In my fairly short time as a representative I've solved problems and gotten things done, like my bills that ended death taxes on family farms and small family businesses, and my successful PA Preferred Act," Bloom said in a statement. "And I've been blessed to serve this exceptional community, exceptional citizens like ours, and to be making a positive difference for us."
The 199th district contains parts of Cumberland County.
Statewide
State House Sound Bites: Wolf Mum on Plans For Prison Funding
State House Sound Bites: Food Stamps Program Cutting Errors, Says Wolf
StateImpactPA: Seven arrested at pipeline task force meeting
State ImpactPA: DEP plans more monitoring to clamp down on methane leaks
PLSReporer: Proposals to reduce the size of the legislature will get "serious consideration"
Capitolwire: Keystone Exam two-year delay on its way to Wolf for his expected signature
Capitolwire: Wolf, Senate GOP leaders to meet face to face for first time since partial veto of budget
Philadelphia
KYW: Gov. Wolf To Sign Bill Delaying Controversial Graduation Exams
Heard In The Hall: City Commissioner Clark shows up to work
Inquirer: Ethics board to high court: uphold suspension of AG Kane's law licence
Inquirer: Stollsteimer drops out of A.G. race
Inquirer: Dear Philly non-voter, blame yourself for City Commissioner Anthony Clark
WHYY Newsworks: Philadelphia prison vocational program criticized for losing money
WHYY Newsworks: A DROP foe as city councilman, Mayor Kenney no longer wants to eliminate pension perk
SEPA
Daily Local News: League of Women Voters roundtable touches on lack of voting
Montgomery News: Abington School Board fills vacant seat
Montgomery News: Burke chosen for Souderton council seat
Bucks County Courier Times: How will gerrymandering shape Bucks County's congressional race?
Bucks County Courier Times: SEPTA to hold open house on 2017 budget
Pittsburgh
Post-Gazette: State says error rate for food stamps drops to lowest recorded level
Post-Gazette: Pa. Supreme Court temporarily suspends former county councilman's law license
Early Returns: Mon Valley lawyer to join race for Daley seat
Early Returns: Dem field narrowing in AG's race
WESA: City Council Committee Recommends Hospitals Enact $15 Minimum Wage
Tribune Review: Disciplinary Board suspends law license of former Allegheny County councilman McCullough
Tribune Review: Kane's law license should remain suspended, disciplinary counsel argues
Southwest
Altoona Mirror: Ex-mayor Hippo seeking to alter lawsuit
Altoona Mirror: State Rep. McGinnis to run for third term
Johnstown Tribune-Democrat: 40 new jobs expected for $28.5 million sewer projects in Southmont and Hornerstown
Observer-Reporter: State Rep. Snyder announces bid for third term
Beaver County Times: DEP begins 90-day review of remediation of old J&L tin mill site
Beaver County Times: State Sen. Elder Vogel Jr.'s bill to reduce Legislature passes key committee
NEPA
Standard Speaker: Council awaits chance to approve appointments
Standard Speaker: Luzerne County finally moving to replace Lawton
Times Leader: Peter Moses, Mayor George's choice for Wilkes-Barre's assistant city attorney, withdraws his candidacy
Times-Tribune: Wolf wants to reduce drilling methane emissions by 40 percent
Times-Tribune: Power plant opposition group withdraws lawsuit against borough, developer
Times-Tribune: Lackawanna County commissioner files lawsuit seeking firing of top county officials
Times-Tribune: Court to hear Scranton request to again triple Local Services Tax
Citizens' Voice: County manager search committee raises concerns
South Central
Patriot News: Rep. Greg Rothman plans to seek re-election to House seat
Patriot News: Rep. Stephen Bloom announces plans to seek re-election to State House
Carlisle Sentinel: Midstate senator calls for lobbying reforms
Carlisle Sentinel: County Commissioners approve 2016 farmland preservation funding
York Dispatch: Rep. Klunk to host Senior Sweetheart Tea
York Daily Record: Marco Rubio can count on State Rep. Stan Saylor
York Daily Record: York County legislators working on e-cycling
Lancaster Intelligencer: State saves $35 million by cutting errors in food assistance program
Lehigh Valley
Morning Call: Kathleen Kane should not get her law license back, lawyer panel argues
Morning Call: No confidence vote, what's next for Allentown Mayor Ed Pawlowski?
Reading Eagle: Snyder going from City Hall to Berks County Community Foundation
WFMZ: Bethlehem City Council advances Benner project
Express Times: Sheriff: Caller warned of explosives in Northampton County Courthouse
North by Northwest
Williamsport Sun Gazette: Wolf urged to rethink budget deal
Williamsport Sun Gazette: County receives $1M to mitigate properties
Erie Times News: Erie officials drop citation against owner of vacant complex
Opinion
Times-Tribune: State sides with consumers
Citizens' Voice: Sen. McConnell, it's time to take a stand
Pocono Record: Sanders' single-payer plan is a distraction
Post-Gazette: Commuters' toll: A survey sheds light on Pittsburgh travel habits
Post-Gazette: Prison nation: It's time to rethink American incarceration
York Dispatch: Pollution is not a conservative value
Daily News: Pols: Flight, Not Fight
Inquirer: Bunker mentality?
Blogs
Raging Chicken Press: How Pennsylvania's Democratic Lieutenant Governor & An ALEC Lobbyist Deregulated the Bail Bond Industry
Citified: Insider: Like Wall Street Bankers, Philly Pols Get a Golden Parachute
Citified: Kevin Dougherty and the Email Scandal – Will There Be Political Fallout?
Citified: Philadelphia Recognizes Columbus Day, But Not Any Muslim Holidays
Commonwealth Foundation: 2012 Corrections Reform Still Paying Off
PA Budget and Policy Center: Senator from York Predicts a Recession