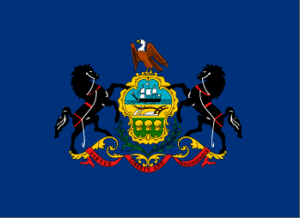 Meehan gets a primary challenge, Gov. Wolf extends the filing deadlines while Shapiro secures the endorsements of several Mayors. Good morning politicos, here's the Playbook!
PA-7: Meehan Gets Primary Challenger: Montgomery County businessman Stan Casacio has jumped into the race.
PA-Gov: Wolf Extends Election Deadlines: The Governor issued an executive order concerning candidate filings in the March 15th special elections.
Three Mayors Endorse Shapiro for AG: The Mayors of Lancaster, Harrisburg and York are supporting Josh Shapiro's campaign for Attorney General.
PA-Sen: Could Trump Hurt Toomey?: Does the top of the ticket matter or will voters split their ballots?
All in the Family: Brothers Succeeding Brothers in the US House: If Brian Fitzpatrick wins his brother Mike's 8th CD seat in Pennsylvania this fall he will join a fairly short list of U.S. Representatives who directly followed a brother in serving their congressional district.
PA-BGT: The Budget of Yesteryear: Planning for next year's budget is set to begin Feb. 9th.
Legislative Elections Update
SD-45: Incumbent State Sen. Jim Brewster will be running for re-election.
"As state Senator, there are excellent opportunities to improve the lives of families throughout the region," Brewster said. "We have a lot of work to do to ensure that important initiatives in the areas of job creation, economic development, transportation, education and energy are considered. I have been honored and privileged to be elected state senator and look forward to providing additional leadership and service to the region."
The 45 district includes parts of Allegheny and Westmoreland Counties.
HD-101: Pier Hess is running for State Representative. She is currently a senior prosecutor in the Lebanon County DA's office.
"I am committed to Lebanon County, as my family lived here for over five generations," she stated. "My experience comes from the thousands of hours I've logged in the Courtroom, fighting for the rights of victims and to make our community safe. My upbringing instilled in me the passion, desire, and work ethic to continue the fight in Harrisburg for the great people of the 101st District."
The 101st district consists of part of Lebanon County.
Statewide
StateImpactPA: Fuel oil spills into Schuylkill River
PLSReporter: Gaveled out: An odd situation for an even numbered year
Capitolwire: Sestak aims to close 'trust deficit'. Could Trump help?
Capitolwire: PA's employment environment shows a bit more improvement in December
Philadelphia
WHYY Newsworks: Snow prompts Wolf to delay March special election deadlines
Inquirer: Rendell walks back Bloomberg remark, says he'd back Bernie
Inquirer: In trial and in politics, Fattah bets on future
Inquirer: Some new Council members getting old-fashioned perk: City car
Inquirer: Al Schmidt explains his support for Clark
SEPA
Montgomery Media: Montgomery county officials, staff return country to full force
Bucks Local News: Brian Fitzpatrick announces candidacy for Congress in Pennsylvania's 8th District
Courier-Times: Homeless finding refuge from cold at Levittown Post Office
Pittsburgh
WESA: Rural Hospitals Join The List Of Budget Impasse Victims
WESA: Plan Would Take Politicians Out Of Redistricting
WESA: Human Services Funding, Tax Options Top County Leaders' Wish List
Tribune Review: Senate, House members seek hearings on stranded turnpike motorists
Tribune Review: Former Attorney General Linda Kelly to run Allegheny County courts
Post-Gazette: Candidates in special elections for state House get extension on deadline
Southwest
Tribune-Democrat: Council, new mayor at odds over police plan
Beaver County Times: Hyping bipartisan work, state Rep. Jaret Gibbons makes re-election bid official
Observer-Reporter: Smith Township delays approving cryogenic plant
Observer-Reporter: Commissioners not in favor of Clean & Green program changes
NEPA
Times Leader: Budget items targeted for cuts by new Wilkes-Barre mayor made money for the city last year
Times Leader: Wilkes-Barre's new mayor says he won't attend city council meetings
Times-Tribune: Scranton board debates hiring freeze
Times-Tribune: Local boroughs oppose Scranton triple tax
South Central
York Daily Record: York Mayor: "We will get to everyone"
Lancaster Intelligencer: Obamacare signups in Lancaster County approach 2015 levels
Lancaster Intelligencer: Supreme Court rejects Pa. female death row inmate's appeal to outlaw capital punishment
Patriot-News: Kraig Bruder seeking Republican nomination for 92nd District House seat
Patriot-News: Supreme Court ruling favoring juvenile killers will traumatize victims' kin, DAs say
Lehigh Valley
Reading Eagle: Snowstorm new Reading mayor's first challenge
Reading Eagle: How Gov. Tom Wolf mirrors President Barack Obama
Express Times: Lawsuit: County failed to check proof of workers' citizenship
Express Times: How a political appointment has ensnared Phillipsburg
Express Times: Lawmakers call for halt to PennEast pipeline
Morning Call: Hundreds of juvenile killers in Pennsylvania granted hope of release by U.S. Supreme Court
Morning Call: Joe Sestak's speech draws small crowd in snowed-in Harrisburg
North by Northwest
Williamsport Sun-Gazette: City Council attempt to create 'quiet zone' in Newberry
Erie Times-News: U.S. Supreme Court ruling favors Erie juvenile 'lifers'
Erie Times-News: Wiley announces re-election bid
Opinion
Reading Eagle: It's time to finally resolve budget stalemate
Express Times: Sanders' single-payer plan would save billions
Carlisle Sentinel: Flowers: I can no longer support Palin
York Daily Record: Right call by Supreme Court on juvenile-lifers
York Dispatch: Nice job if you can get paid not to do it
Lancaster Intelligencer: The Flint catastrophe shows how essential it is that our drinking water be safe
Patriot-News: Will Gov. Tom Wolf's first budget be done before his second? That's up to him: Charlie Gerow
Patriot-News: It's past time for Pa. to reform civil asset forfeiture: Michael Hough
Williamsport Sun-Gazette: The Achilles heel to labor unions' self-preservation
Inquirer: Legislative cowardice
Post-Gazette: Retroactive justice: The court extends its ban on life terms for youths
Post-Gazette: Turnpike debacle: The blizzard was awful; state response was worse
Blogs
Citified: Did Mayor Kenney do a good job handling the blizzard?
Keystone Crossroads: Pay to play rules elude most Pennsylvania municipalities
Commonwealth Foundation: Demographics destined to hold Pennsylvania back?
Lu-Lac Political Letter: The LuLac Edition January 25th, 2016