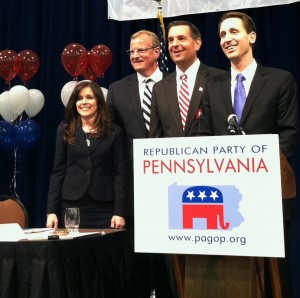 Good morning politicos, and welcome to the Buzz. If you couldn't make it to Republican state committee this weekend, you missed quite a show.
After strong pressure from Gov. Corbett and his team, the party endorsed Steve Welch in the Senate race, thereby ending the primary. Just kidding. Literally every other candidate – as of today – remains in the race. Tim Burns said Saturday he would stay in, about a 170 degree reversal from his pre-state committee position. He's likely ticked off about the Guv's impressive last-minute vote-whipping effort, which you can read about here.
Meanwhile, everyone is still waiting on the Pa. Supreme Court's ruling on redistricting.
1/27 Ups & Downs: Redistricting, redistricting, redistricting, redistricting. Is anyone talking about anything else this week? There are too many individual lawmakers and candidates who would win or lose depending on the myriad possibilities to name them all, but here are the broad strokes.
Corbett: Election Under 2001 Lines 'Stupid': "We're waiting to see an opinion from the court. We got an opinion from the dissenting side, now we're waiting for an opinion from the majority, but they seem to have gone out of town somewhere."
Urban for Congress in PA-17: Luzerne County Councilman Stephen Urban, who made headlines last year when he switched from Republican to Democrat, is circulating nominating petitions for U.S. Congress. He would face incumbent Rep. Tim Holden and Democratic primary challenger Matt Cartwright, an attorney from Scranton.
$40K on Hand for Feinberg: Former congressional staffer Evan Feinberg raised just $50,000 so far in his Republican primary challenge to incumbent Rep. Tim Murphy (PA-18). This is in comparison to Murphy's $200,000 he raised in the third quarter of 2011, the latest filing available for the congressman.
Bud George to Retire: Longtime state legislator Rep. Camille "Bud" George, D-Houtzdale, who represented parts of Centre County throughout his nearly four decades in office, announced Friday he will retire at the end of 2012.
Another Dem v. Kelly: Democratic attorney George Schroeck has announced his candidacy against Rep. Mike Kelly. He joins psych prof Missa Eaton in the Dem primary. Let's hope he makes the ballot… 'Schroeck' would make for an interesting write-in campaign.
Legislative Election Updates
Note: these will be chaotic until we have a better idea of the final maps so bear with us.
SD-19: Former Rep. Tom Houghton had announced a primary against Sen. Andy Dinniman, but if the old lines stick he'll be back in Sen. Dominic Pileggi's district.
SD-31: Dem Susan Spicka, one of the challengers challenged by the redistricting mess, said she wouldn't challenge Sen. Pat Vance.
HD-26: The Chesco Dems endorsed Spring City Councilman Michael Hays against incumbent Rep. Tim Hennessey.
HD-50: Bill DeWeese defiantly declared his bid for re-election, saying, "I am confident that by [the petition deadline], the battery of politically motivated missiles aimed at me by Gov. Tom Corbett will have been defused in the courtroom setting."
HD-74: Longtime Rep. Bud George will retire, giving the map-drawers a handy district to cut. If the old lines stick, however, its a sure pickup for the GOP.
HD-88: State Rep. Sheryl Delozier is a challenger magnet. In addition to rumored primary candidate Gary Eichelberger, a Cumberland County Commissioner, Delozier has officially drawn a Dem opponent in Joshua Coward, 23, an ex-Marine and HACC student who lives in Mechanicsburg. With a name like Coward, how could he lose!
HD-104: The Dauphin County GOP endorsed Jenna Lewis, the 27-year old Republican challenger to Rep. Sue Helm. Lewis works in the Dauphin District Attorneys office.
HD-134: Former Northwestern Lehigh principal Dennis Nemes threw his hat into the crowded ring to replace former Rep. and now Lehigh Co. Judge Doug Reichley.
HD-155: If the old lines stick, Downingtown Mayor Josh Maxwell will run for retiring Rep. Curt Schroeder's seat instead of the new 45th district in Chester County.
HD-156: Two Democrats are vying to face Rep. Dan Truitt, a conservative freshman whose seat is one of the Dems' top pickup opportunities: East Bradford attorney Bret Binder and West Chester Councilwoman Cassandra Jones. Neither was endorsed.
HD-157: Former state Rep. Paul Drucker was endorsed by the Chesco Dems for a rematch against freshman Rep. Warren Kampf.
HD-158: Susan Rzucidlo, who ran in 2010, was endorsed against Rep. Chris Ross.
Have an update on a legislative election? Email it to press@politicspa.com. Hat tip to Eric Smith of the Pottstown Mercury for his eight-dozen election updates.
National:
Politico: It's Dem on Dem in PA GOP primary
USA Today: Swing States poll: Romney and Obama tied; Gingrich trails
USA Today: Ron Paul: Staying in GOP race through convention
The New York Times: Facing second loss to Gingrich, Romney went on warpath
The New York Times: The man behind Gingrich's money
New York Times/Five Thirty Eight: Gingrich upset chances dwindle in new Florida poll
New York Times/Five Thirty Eight: Advantage Romney  in February, but risks abound
New York Times/Five Thirty Eight: Another check on the campaign's truthiness
New York Times/Five Thirty Eight: In Florida debate, Gingrich ignores lessons of recent history
New York Times/the Caucus: Romney says Gingrich is making 'excuses' for his Florida woes
The Washington Post: Mitt Romney, Newt Gingrich trade blows in Florida
Pennsylvania Ave: Santorum hints he's quitting Florida, but not race
Pennsylvania Ave: F&M poll: Bush and Congress more to blame for economic woes
Pennsylvania Ave: Casey, Schwartz stake out roles on payroll tax cut committee
Politico: Mitt Romney finds his mojo going into the Florida primary
Politico: Super PAC takeover? Not so fast, campaigns say
Politico: Risk Santorum 2012 campaigh: Leaving Florida, heading west
Politico: Herman Cain endorses Newt Gingrich in Florida
Politico: Newt hints Santorum should drop out
Politico: NBC legally obligated to run Romney ad it wanted pulled
Politico: Biden: Dems will win back the House
Politico: Justice Dept. to SCOTUS: Don't overturn entire law
Roll Call: Getaway presents Democrats as unified
Roll Call: Congressional Republicans not backing down
The Hill: Romney plays for Hispanic support in FL
ProPublica: Obama's unfulfilled State of the Union goals
Slate: Romney fights back
Slate: Douggars help Rick Santorum campaign in Florida
Times Tribune: No front-runner in GOP candidate field
Politico: It's Dem on Dem in Pa. GOP Senate Primary
Early Returns: U.S. Senate Endorsement Reaction
LA Times: Herman Cain endorses Newt Gingrich
Tribune Review: Florida melting pot could be best GOP barometer yet
Tribune Review: Ahead in Florida, Romney turns focus back to Obama
Tribune Review: GOP presidential candidate Santorum's daughter admitted to hospital
KDKA: GOP Presidential hopeful Rick Santorum ready to move campaign to next set of states
Early Returns: Welch gets GOP nod for U.S. Senate
Early Returns: GOP scuffle re: Senate endorsement
Early Returns: Feinberg: $40K in cash
Statewide:
Early Returns: Gov. Election under 01 lines "stupid"
Early Returns: Maher, Pinto joust in aud gen forum
Capitolwire (Paywall): GOP Endorses Three Row Office Candidates
Capitolwire (Paywall): Republicans Weighing Options As They Await Supreme Court Redistricting Decision
Legal Newsline: PA bill requires AGs to wait eight years to run for governor
Patriot News: Governor Corbett shows Republicans he's in charge
Patriot News: Pennsylvania's newly adopted congressional redistricting  plan is riddled with shortcomings, critics say
Capitolwire (Paywall): Republican Senate Candidates Debate, While Corbett Buttonholes for Welch
Keystone Politics: Where do Dem AG Candidates stand on the mortgage settlement
York Dispatch: DePasquale part of effort to close "Delaware loophole"
Wayne Independent: Dems look for good year at the polls
Capitol Ideas: Friday Morning Coffee: Pennsylvania Republicans spar over Senate endorsement
WHYY Newsworks: Patrick Murphy to get Nutter's endorsement for state Attorney General
WHYY Newsworks: Redistricting ruling throws PA political races into chaos
Post-Gazette: GOP auditor general candidates Maher, Pinto clash
Times Tribunes: State tax legislation could attract Shell refinery
The Times Leader: Pa. GOP endorses Welch as Casey challenger
Capitolwire (Paywall): Bud George Went From 'Retire? Retire My Ass!" To Retiring In Three Months
Beaver County Times: PA Republicans endorse Welch to challenge Casey
Morning Call: Welfare drug testing tried in PA
GoLackawanna: Santorum heads home for a breather
Tribune Review: Transit funding a state issue, Port Authority chief says
Tribune Review: Obama to colleges: Keep tuitions down or face federal aid cuts
Post-Gazette: Corbett seeking to make mark in state elections
Post-Gazette: Governor's candidate for Senate gets state GOP nod
Post-Gazette: Obama's backing of shale gas aimed at voters in Marcellus region
KDKA: Could there be 2 Pa. primaries at double the cost?
Tribune Review: State justices drop redistricting bombshell, hurry to tropics
Post-Gazette: GOP auditor general candidate says he'd review system for tracking shale wells
Post-Gazette: Shale drillers see slow down as natural gas prices decline
Observer Reporter: DeWeese to seek Dem nomination in 50th
Philadelphia:
Philadelphia Weekly: Occupy Philly struggles to regroup
Fox: Rick Santorum's daughter admitted to CHOP
CBS: Council members wants city to make up for cuts to school district services
CBS: Philadelphia City council members proposes neighborhood improvement zones
CBS: Free tax help offered for Philadelphia, Delco residents of moderate means
WHYY Newsworks: New City Council session, new rules
WHYY Newsworks: Feds give Philly schools $64M
Inquirer: Jeers for plan to keep bars open to aid schools
Inquirer: Corbett's slate exposes GOP rift
SEPA:
Montgomery Media: Township sees $1.2M surplus
Bucks Local News: Newtown Township adopts resolution supporting repeal of Pa.'s prevailing wage law
Delaware County Times: Changing Landscape In 7th Congressional District Continues To Draw Stares
Daily Local: Chester officials offer solution to school financial crisis
Daily Local: Obama campaign opens new office in West Chester
Pittsburgh:
Tribune Review: Marcellus Shale excites new generation of industry and manufacturing
Tribune Review: Pittsburgh Public Schools shuffle to fill vacancies
Tribune Review: United Way of Allegheny County expanding tax preparation program
Tribune Review: Allegheny County to send tax bills month late
Tribune Review: Bishop Zubik rips Obama on health care mandate
Tribune Review: Report projects most in Pittsburgh will get lower tax bill
Post-Gazette: Mayor asks for cash to cover appraisals for assessment appeals
Post-Gazette: Duquesne schools examine survival strategies
Southwest:
Beaver County Times: CEO: Aither Chemical wants 'multiple plants' in region
Beaver County Times: Beaver Area: Women's Center provides child safety programs
Beaver County Times: Senator wants review of VA cemeteries in Pa.
Observer-Reporter: Pa. GOP endorses Irey Vaughan, Maher
Observer-Reporter: City reopens 2012 budget, seeking cuts
Altoona Mirror: Developer reappointed to water authority
Indiana Gazette: Government in action
South Central:
Lebanon Daily News: Senators rush to city's aid
Carlisle Sentinel: Former Marine, HACC student announces bid for 88th legislative district
York Dispatch: Columbia Gas announces $6M in pipeline projects
York Dispatch: Southern looking at $1.1M budget deficit
Lehigh Valley:
Morning Call: Policy of taking licenses before a DUI conviction draws critics
Morning Call: Politics as usual: Pawlowski, Cunningham fued reaches airport board
Morning Call: Former Northwestern Lehigh principle Dennis Nemes running for Reichley's seat in the 134th District
Morning Call: Lehigh Township supervisors try to end zoning dispute
Morning Call: Audit finds Northampton County paid $100,000 in medical claims for ex-employees
Morning Call: Most board members resign from Lehigh Valley Academy Regional Charter School
Morning Call: Nominees named for Allentown's Neighborhood Improvement Zone board
Morning Call: Mayo named new Allentown schools chief
Morning Call: Townships question earned income tax withholdings
Reading Eagle: School districts forced to spend more on pension fund
Reading Eagle: Congressman Dent eyes 5th term, more of Berks in district
Reading Eagle: School wants change in police coverage
WFMZ: Protecting your kids from cyber danger
WFMZ: DOH cites hospital for putting patients in 'jeopardy'
Express Times: Allentown residents displaced by sinkhole says city is 'pushing it on our backs'
Express Times: Mansfield Township officials haven't spoken in months, residents concerned
Express Times: Easton could see changes in garbage rules as group sees recycling picking up
NEPA:
Pocono Record: State redistricting put on hold as judges travel to Puerto Rico
GoLackawanna: Lackawanna county budget will not be reopened
GoLackawanna: New economic department introduced
GoLackawanna: State election ruling throws 2012 races into turmoil
Citizens' Voice: Corruption runs deep in the hills of NEPA
Citizens' Voice: Barletta: A frustrating first year
Citizens' Voice: Petrilla seeks former Butler Township position
Citizens' Voice: Bipartisan proposal targets business tax loophole
Wayne Independent: Democrats look for good year at the polls
The Daily Review: Pickett supports business tax restructuring bill
North by Northwest:
Erie Times-News: Romney, Gingrich battle it out in Florida
AP: GOP insiders rise up to cut Gingrich down to size
Erie Times-News: More seek unemployment aid, but trend is positive
Erie Times-News: Erie County government looks to save up to $2 million with bond refinancing
Erie Times-News: Lawyer George Schroeck announces candidacy for 3rd district congressional seat
Erie Time-News: Court ruling throws legislature races into turmoil
Erie Times- News: Evans: "Hoping to reinvent myself one more time"
Centre Daily Times: Pa. tax legislation could attract shell refinery
Centre Daily Times: In Florida, Romney's organization seems to trump Gingrich's crowds
Williamsport Sun Gazette: Marino introduces bill to change business as usual in Washington
Williamsport Sun Gazette: Commissioners approve agreement for road transfer
Opinion:
Op-Ed, Post-Gazette: Opinion: Get rid of the political parties: The Republican-Democratic duopoly is not serving us well
Slate: Newt Gingrich's moon colony and Mars plan
Williamsport Sun Gazette: Obama's philosophical disconnect remains
Centre Daily Times: State of Union offers hope, little change
Centre Daily Times: American gun laws downright insane
The Daily Beast: Michaek Tomasky on how Rick Santorum nailed Mitt on Romneycare
Roll Call: Anderson: Address the Housing Crisis's Underlying Issues
Roll Call: Wallison: Common Shock Is the Real Cause of Financial Crisis
Politico: Opinion: Obama needs better plan for youth
Politico: Opinion: Americans now seek a certifiably smart president
Politico: Opinion: The Newt I know
Politico: "Obamacare" shreds social safety net
The Washington Post: If Gingrich debated Obama
The Washington Post: Angry about inequality? Don't blame the rich
Pocono Record: Opinion: Outsourcing: No one to blame but ourselves
The Daily Review: Editorial: Capitol Matters: Rendell walks a path few have trodden
Wayne Independent: Opinion: Redistricting fiasco comes as no surprise
Citizens' Voice: Editorial: EPA serves the interest of the public
The Times Leader: Opinion: Back leaner look for legislature
The Times Leader: Opinion: Not enough women in Pennsylvania politics
Times Tribune: Op-Ed: Former welfare dept. adviser published controversial views
Times Tribune: Op-Ed: What would a letter from a Corbett supporter say, exactly?
Times Tribune: Op-Ed: The world has changed, but local politics fail to keep up
Daily Local: Opinion:  Democrats are rooting for Gingrich
Philly Inquirer: Editorial: Court finds its voice against gerrymandering
Morning Call: Opinion: PA legislature is too big, but is only part of the problem
Morning Call: Opinion: U.S. economy seems poised to grow in 2012
Morning Call: Opinion: U.S. economy still 10 million jobs short of boom times
Morning Call: Opinion: Medical insurance premiums increase
Op-Ed, Post-Gazette: The Next Page/ Council districts that make sense: a proposal for local reappointment
York Daily Record: Editorial: Platts took an aisle seat to history
Morning Call: Opinion: Tax cuts for rich makes GOP salivate
Reading Eagle: Opinion: TransCanada plan not dead yet despite Obama's move
Reading Eagle: John Forester: Court's directions a map to limbo
Op-Ed, Post-Gazette: Opinion: Big Brother Blinks: The high court draws a line against police GPS use
Op-Ed, Post-Gazette: Opinion: Asides
Op-Ed, Post-Gazette: Opinion: Space cadet: Gingrich's moon colony is sheer fantasy
Op-Ed, Post-Gazette: Opinion: Not concerned about budget cuts to public education? Then you are NOT paying attention
Op-Ed, Post-Gazette: Opinion: Local Option – Communities deserve a say in gas drilling rules
Op-Ed, Post-Gazette: Opinion: Un-districted: The state justices leave Pennsylvania hanging
Op-Ed, Post-Gazette: Giffords' grace: She leaves Congress as a fighter and an inspiration
Blogs:
Keystone Liberty: Lawmakers introduce corporate tax reform
Young Philly Politics: What do John Stewart, Elizabeth Warren, & Barack Obama have in common?
Keystone State Education Coalition: Confidential draft fiscal distress legislation
Commonwealth Foundation: Welfare reforms protect the poor, taxpayers
Lehigh Valley Ramblings: Simmons: Allentown's tax grab here to stay
NEPArtison: PA-AG Update: McCaffery Out
NEPArtison: NEPA & the redistricting situation
Water Cooler PA: No secret ballot for GOP endorsement is same as union card check
2 Political Junkies: More on Republicans' respect for the Constitution
2 Political Junkies: More on Rick Saccone, R-Elizabeth
2 Political Junkies: More on Rick Santorum's birther flirtations
Pennsylvania Progressive: Ron Paul the anarchist
PennPatriot: Members of the Penn State Board of Trustees must be held accountable for their actions
Citizens' Call: New state legislative redistricting plan a long shot for this year; current district boundaries will likely hold for 2012 elections
Citizens' Call: Gas industry and citizens groups class over fracking in Obama State of the Union Speech; leading pediatrician speaks at Abington Hospital on health effects of fracking
Keystone Politics: Councilwoman Brown: Extend bar hours until 3AM to help fund public schools
Keystone Politics: Vote count for fracking fee just got tougher
John Hanger: Obama and the Republican circular firing squad are nailing down President's victory