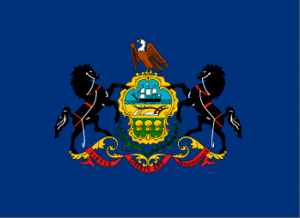 The DCCC targets races in PA, SRCC gets a new Chair, and Wolf and Casey protest in Philadelphia.  Good morning politicos, here's the Playbook!
DCCC Targets Four Republican Seats in PA: The DCCC announced they are targeting the 6th, 7th, 8th, and 16th Districts in Pennsylvania.
Reschenthaler to Chair SRCC: He'll lead state Senate fundraising, recruiting, and campaign efforts for the 2017-2018 cycle, where the GOP is playing defense.
Wolf, Casey Join Protests of Trump Executive Order: Wolf and Casey spent their Saturday protesting against the Trump administration's ban on immigrants from seven countries.
Statewide
Capitolwire: Statute of limitations bill reintroduced, voted out of Senate committee.
Capitolwire: What did Gov. Wolf mean when he told soon-to-be furloughed UC staffers 'elections have consequences'?
Capitolwire: Wolf proposes merging four departments into state new Department of Health and Human Services; most lawmakers cautiously optimistic.
Washington Post: 'Trump is right, in a way': These Christian Syrians in Pa. back the travel ban
Philadelphia
Inquirer: Lawyers make final pitches to jurors in Farnese's federal fraud trial
Inquirer: Pa.'s top education official talks community schools, Phila. school building conditions
Inquirer: Kenney: ACA repeal would leave 200,000 in Philly uninsured
Inquirer: For Trump, like most presidents, executive orders are about PR and power
Inquirer: Pa. makes a mark in direct-to-consumer wine market
WHYY Newworks: Gov. Wolf hears feedback on opioid crisis in Philly
SEPA
Bucks County Courier Times: Casey condemns Trump's travel ban in letter to Homeland Security secretary
Bucks County Courier Times: Brian Fitzpatrick heads into Washington with independent agenda
Bucks County Courier Times: Lower Southampton Dems and GOP looking for candidates
Delco Times: Street renamed in remembrance of fallen police officer
Delco Times: Deadline to sign up for 'Obamacare' coverage is tonight
Pittsburgh
The Incline: These are the Pittsburgh-area pols up for reelection in 2017, 2018
Tribune Review: Pittsburgh-area universities reach out to international students, staff in wake of Trump travel ban
Tribune Review: Fox Chapel judge on Trump's short list for Supreme Court
Post-Gazette: State System will hire a consultant to help it make tough decisions on thorny issues
Southwest
Altoona Mirror: County will support grant to fund study
Altoona Mirror: Altoona board to sell Wright school
Johnstown Tribune-Democrat: More Republicans wary of Trump's travel ban
NEPA
Standard-Speaker: Barletta introduces visa overstay bill
Times-Tribune: Dickson City council slashes fee for tax bill copies
Times-Tribune: Scranton plans to acquire former Army Reserve center for an emergency services facility
Times-Tribune: Lackawanna County judge will now judge other judges
South Central
Patriot News: Senate promises hearings to vet Gov. Tom Wolf's department consolidation proposal
Patriot News: Philly bridge closure throws into sharp relief Pa.'s ongoing bridge problem
Patriot News: Barletta: foreign nationals do not have the right to unfettered admission to the U.S.
Patriot News: Conservatives urge Sen. Casey to support Betsy DeVos nomination
Patriot News: Gov. Tom Wolf Administration official: Department consolidations are 'not about service cuts'
Lancaster Online: Smucker, Toomey react to executive order on immigration
Lancaster Online: Federal appeals court upholds order to admit refugee students at McCaskey High School
Lehigh Valley
Morning Call: Pa. Gov. Tom Wolf wants to merge four health/human services agencies into one
Morning Call: In Allentown's Syrian community, a divide over Trump's travel ban
Morning Call: U.S. Sen. Pat Toomey weighs in on President Trump's immigration order
Morning Call: State Senate reintroduces child sex abuse bill that lifts some time limits for lawsuits
Reading Eagle: Man believed to be Berks County's last Pearl Harbor survivor passes away
Reading Eagle: Berks lawmakers weigh in on Trump's travel ban
North by Northwest
Erie Times-News: Erie area's Congressmen weigh in on travel ban
Erie Times-News: Edinboro University unveils Learning Commons
Centre Daily Times: Some GOP lawmakers worried about Bannon's security role
Centre Daily Times: Future of ACA remains unclear for Pennsylvanians
Sun-Gazette: Business owners calling for flexibility on zoning changes
Sun-Gazette: Food truck ordinance reviewed by committee
Opinion
Tribune Review: The price for Gov. Wolf's pivots?
Delco Times: The scary notion of Trump doing what he said he would do
Lancaster Online: For the Pennsylvania Legislature, the fewer deadlines, the better
Inquirer: Inquirer Editorial: Trump's refugee ban is an insult to American values and ideals
Inquirer: Commentary: Pa. must approve online gaming
Inquirer: Commentary: Maybe a lawsuit can force release of Trump tax returns
Post-Gazette: Lesson in change: State system to look at merging, closing campuses
Sun-Gazette: Budget outlook gets gloomy, screams for fresh revenue source
Blogs
Billy Penn: Trump's travel ban and Philly: More than 2,200 city immigrants likely affected
Billy Penn: Trump's travel ban and Philly: More than 2,200 city immigrants likely affected
Keystone Crossroads: Local members of Congress divided on Trump immigration order