By Caroline Johnston and Keegan Gibson
In small venues like the Dallas Diner in Levittown, the Republican race for Senate has begun. Last night two candidates for the GOP Senate nomination in 2012 offered red meat policy proposals to about 25 Tea Party activists in the Bucks County restaurant.
"They borrowed and spent our nation into oblivion," declared Harrisburg attorney Marc Scaringi. "I accept the challenge to dethrone Bob Casey."
"I have not officially been announced as a candidate," said Laureen Cummings, founder of the Scranton Tea Party, "but I will announce it soon."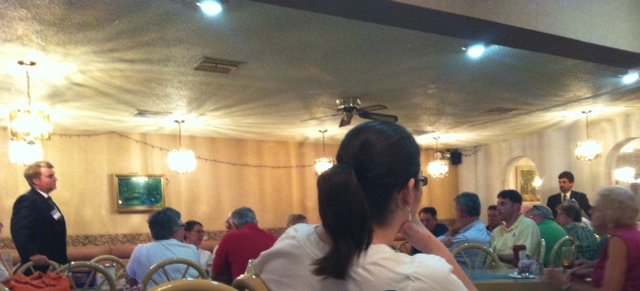 The meeting began with a run through of current hot button issues such as health care, the revolt in Libya and the need for a strong Tea Party candidate in 2012.
Scaringi and Cummings each bragged about not being a "career politician," and sought to link Senator Bob Casey to President Obama.
Scaringi's speech drew cheers and howls from Tea Party members when he stressed the damaging effects of the relationship between the two, suggesting that the American people have become dependents and wards of the state due to the decisions made by Casey.
Cummings took the floor next, and talked about her background as a nurse, Tea Party organizer, and a former Democrat. She said her own business suffered as a result of failed government policies.
She questioned the accountability of Casey and other members of congress and said that if she were elected, she would stay true to her Tea Party followers. She proceeded with a list of conservative issue positions, including her support of the Fair Tax.
The race has thus far been characterized by a lack of interest by well known Pennsylvania Republicans, many of whom have taken a pass on challenging Casey. Republican insiders have reportedly been working to recruit several possible contenders, most recently Pittsburgh businessman Keith Loiselle. A successful campaign against Casey is expected to cost over $10 million.
Casey is considered a very formidable opponent, with over $2.1 million cash on hand presently. His poll numbers have been steady, but not so high as to preclude a competitive campaign.