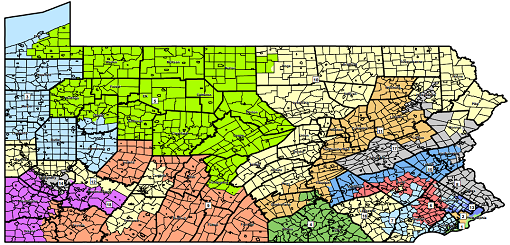 For the third consecutive campaign cycle, PoliticsPA is publishing periodic congressional vulnerability rankings that list of U.S. House districts in Pennsylvania by the likelihood of a party switch in November.
There's one big difference, though, between the 2014 cycle and the 2010 and 2012 cycles: This time, there are significantly fewer vulnerable congressional seats.
As we have previously noted, the Republican Party, which controlled both legislative chambers and the governorship during the post-2010 round of redistricting, succeeded in turning what had been a highly competitive congressional map over the previous decade into one drastically less so. The map they drew has produced a current partisan breakdown of 13 Republicans and five Democrats.
Late in the 2010 cycle, at least seven seats could be described as reasonably competitive, and right before the 2012 election, perhaps three seats would have fit that description.
This year, however, the vast majority of the state's 18 seats are solid for one party or the other.
Interviews with a range of state and national political observers suggest one seat that's reasonably up for grabs (the one occupied by retiring GOP Rep. Jim Gerlach) as well as one that's somewhat less vulnerable (the one held by GOP Rep. Mike Fitzpatrick). Beyond these, it's slim pickings.
That said, we'll dig deep. Here's our ranking of Pennsylvania congressional districts for which there is even a smidgeon of vulnerability to a party switch in this year's general election.
1. 6th District: Republican-held open seat (Rep. Jim Gerlach is retiring)
Gerlach — who represents a slightly Republican-leaning district that spans Montgomery, Chester, Berks, and Lebanon counties — was a longtime target for Democrats, but he always managed to prevail, often narrowly. Despite the district's stronger Republican tilt following the most recent round of redistricting, Gerlach would have been a target in 2014 regardless. However, Democratic hopes rose when he decided to retire at the end of his current term, with the Democratic Congressional Campaign Committee declaring it an "emerging district" – one step below the DCCC's top tier of targeted races.
Until today, two Democrats were competing in the May 20 primary — Manan Trivedi and Mike Parrish. But then Parrish withdrew and endorsed Trivedi, saying a contested primary wasn't in the party's best interest.
Trivedi ran twice against Gerlach, both times unsuccessfully, but he decided to seek the seat for a third time after the incumbent announced his retirement. A physician who served in Iraq, Trivedi has won backing from the Democratic organizations in Chester and Montgomery counties.
Parrish's departure is a disappointment for some in the party who considered him a fresher face. House Minority Leader Nancy Pelosi has held a fundraiser for him, and his moderate credentials are considered appealing to voters in the district. Parrish is a West Point graduate and CEO of Daleco Resources.
On the Republican side, Ryan Costello, who chairs the Chester County Board of Commissioners, appears to have the field to himself, which could help his cause if the Democratic primary turns messy.
While the district's partisan makeup gives Republicans a leg up, there's wide agreement that this contest is shaping up to be the most competitive in the state for 2014.
2. 8th District: Rep. Mike Fitzpatrick (R)
In a vacuum, this Bucks County-based seat is probably the most appealing takeover target in the state for Democrats; the parties are almost evenly matched in the district. But unlike the 6th, this seat isn't losing its incumbent in 2014, and Fitzpatrick has proven himself a fierce competitor, retaking the seat after losing it in the 2006 Democratic wave.
Fitzpatrick leveraged his incumbency to assemble a warchest of almost $1.3 million by the end of 2013.
As for the Democrats, they have two primary contenders, Kevin Strouse and Shaugnessy Naughton.
Strouse, who served as an Army Ranger and later worked for the CIA, has received support from the DCCC and from top members of the House Democratic leadership. By the end of 2013, he had more than $471,000 on hand – well behind Fitzpatrick, but reasonably strong for a challenger.
This warchest puts Strouse well ahead of Naughton, who had about $177,000 on hand by the end of December; that amount includes a significant personal loan by the candidate. But the biggest arrow in Naughton's quiver is the potential of backing from EMILY's List, the group that raises money for Democratic women running for Congress. It remains to be seen when and if the group's endorsement will come for Naughton.
For November, observers rate this contest as more of a reach for Democrats than Gerlach's open seat, but they expect the contest to be at least somewhat competitive.
3. 12th District: Rep. Keith Rothfus (R)
At this point on our list, the vulnerability of seats becomes iffy.
The 12th District – a southwestern Pennsylvania seat held for years by the late Democratic Rep. John Murtha – has consistently ranked among the most competitive congressional seats in Pennsylvania during the past few cycles.
This year, though, it is considered far less so, partly because redistricting made it more solidly Republican and partly because Rothfus, a previously obscure Pittsburgh-area lawyer, ousted Democratic Rep. Mark Critz, a former top aide to Murtha, in 2012.
By the end of 2013, the Tea Party-aligned Rothfus had almost $875,000 in the bank. That's many times over what has been raised by the two Democrats competing in the primary.
One, Erin McClelland, a psychologist and businesswoman, has less than $21,000 in cash on hand, while the other, former top Murtha aide John Hugya, has about $25,000 on hand. The ability of either Democrat to seriously challenge a well-funded incumbent in a GOP-leaning district is in question.
4. 3rd District: Rep. Mike Kelly (R)
Kelly is considered roughly as vulnerable as Rothfus — which is to say, not especially vulnerable. But, like the 12th, Kelly's Erie- and Butler County-based seat has been occupied by a Democrat in recent history (Kathy Dahlkemper, who lost her seat in 2010) and has about the same degree of GOP lean as the 12th.
Kelly reported $478,000 in the bank at the end of 2013. Now that two potential Democratic candidates, Matt Ryan and Rob Joswiak, have backed out of potential bids, the field consists of Pittsburgh native and former Carnegie Mellon basketball player Dan LaVallee.
Democrats say LaVallee may have a bright political future, but right now, he's exceedingly young – just 26 years old. So 2014 seems more likely to be a learning year for him than a fully competitive challenge.
5. 16th District: Rep. Joe Pitts (R)
Like the 3rd, Pitts' Lancaster-based district is worth keeping one eye on, less for what could happen in 2014 than for what the future holds. Pitts' job security owes a lot to his incumbency – he was elected to the seat in 1996. But he's 74, and at some point the seat will come open. Pitts' staunchly conservative record obscures the fact that the district has only a modest Republican lean.
This year, Tom Houghton, a Democratic state representative who lost in the strong GOP year of 2010, is challenging Pitts. Houghton was the first Democrat ever elected to the London Grove Township Board of Supervisors and was the first Democrat to represent the 13th District in the state House. Though he's clearly an underdog for 2014, a better-than-expected showing could provide Houghton with some traction for a future run, once the seat comes open.
***
Meanwhile, there are two seats with virtually no chance of a party switch in November, but where there are primaries worth watching.
13th District: Democratic-held open seat (Rep. Allyson Schwartz is running for governor)
The 13th District, consisting of parts of Montgomery County and Northeast Philadelphia, is playing host to a free-for-all Democratic Primary.
The contenders are physician Val Arkoosh, state Rep. Brendan Boyle, state Sen. Daylin Leach and former U.S. Rep. Marjorie Margolies, who held the seat in the early 1990s.
At the end of 2013, Arkoosh led the field in cash on hand with almost $644,000, bolstered by support from the medical community. Leach, who has received the backing of several liberal groups such as Howard Dean's Democracy for America, ranked second with more than $481,000, while Boyle, who's based in Northeast Philadelphia and has notable union backing, had more than $381,000 on hand.
Ranking last – due more to a high burn rate than to poor fundraising – was Margolies. Luckily for her, former President Bill Clinton is coming to fundraise this Spring. (Margolies is Chelsea Clinton's mother in law.)
No top-tier Republican candidate has emerged in the district, which is historically competitive but was made much more Democratic-leaning after the 2010 Census.
9th District: Rep. Bill Shuster (R)
This Altoona-based district is heavily Republican, and while Shuster will have a big leg up from incumbency – and from the legacy of his father and predecessor, influential House Transportation Committee chairman Bud Shuster – the incumbent won't escape without a pesky primary fight.
Art Halvorson, a commercial developer and Coast Guard veteran, is attacking Shuster from the right, saying he's a supporter of big government. Halvorson's campaign has been aggressive, including radio ads attacking Shuster. In the process, Halvorson has become enough of a nuisance that Shuster felt the need to run radio and TV attack ads of his own.
What isn't clear yet is whether Shuster can get a boost from the fact that there's a second GOP primary challenger, Travis Schooley, who could split the anti-Shuster vote with Halvorson. Still, while anything can happen in a low-turnout, midterm primary, observers say this race remains Shuster's to lose.