2016 Primary Ballot Positions Revealed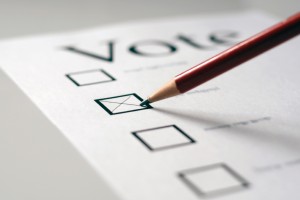 We now know what the April 26th primary ballots will look like.
Every year, ballot positions in the Keystone State are decided by a lottery system. This means that any candidate could end up in any spot without regard to incumbency or even alphabetical order.
We're going to take a look at the statewide races as well as a few congressional primaries to analyze how placement could ultimately affect the results.
You can view the entire list here.
President
Democratic Primary
Hillary Clinton
Bernie Sanders
Roque Rocky De La Fuente
Hillary gets the top spot over Bernie. I have no idea who the third person listed here is or if he/she is even real.
Republican Primary
Ted Cruz
Marco Rubio
Jeb Bush
Ben Carson
John R Kasich
Donald J Trump
Cruz and Rubio are the lucky ones here while Trump ends up at the bottom. Jeb Bush's ballot position continues on even after his campaign is over.
Senate
Democratic Primary
Joseph J Vodvarka
John Fetterman
Joe Sestak
Katie McGinty
Now, this is interesting. One of the most competitive races has an unknown at the top of the list. They'll now be even more incentive for Sestak to get Vodvarka kicked off the ballot. If Fetterman gets the first spot it may help him and McGinty won't be pleased being listed last.
Attorney General
Democratic Primary
John Morganelli
Josh Shapiro
Stephen A Zappala Jr
Once again, the lowest man on the totem poll is the first man on the only poll that matters.
Republican Primary
Joe Peters
John Rafferty
A break for Peters who has the much lower profile. Nonetheless, in a statewide race the favorites should have enough money to overcome ballot placement.
PA-2
Democratic Primary
Brian Anthony Gordon
Chaka Fattah
Dwight Evans
Dan Muroff
Muroff drew the short straw while Gordon has to be ecstatic. Still, Fattah and Evans are very well known in this district, though the Congressman will take a bit of satisfaction knowing he is technically one up on his biggest rival.
PA-6
Democratic Primary
Mike Parrish
Lindy Li
If the Parrish campaign has their way they'll be the first and only name on the ballot. Either way, they have the advantage in what is turning into a bloody primary fight.
PA-7
Democratic Primary
Mary Ellen Balchunis
Bill Golderer
This could be the most underrated intraparty contest this year. Balchunis, though, will enjoy the premiere ballot position and the greater name recognition since she was the 2014 nominee.
Republican Primary
Stan Cascio
Patrick L Meehan
A nice break for Cascio but this shouldn't make any difference. It would be a surprise if Meehan was seriously contested.
PA-8
Democratic Primary
Steve Santarsiero
Shaughnessy Naughton
For the second straight election, Naughton got the No. 2 position on the ballot. She's hoping the result will be different the second time around.
PA-9
Republican Party
Bill Shuster
Art Halvorson
To use the old sports cliche, there's certainly no love lost between these two rivals. Rep. Shuster must be quietly pleased he'll have the top spot.
PA-12
Democratic Primary
Erin R McClelland
Steve Larchuk
Incredible similar to the PA-7 race. Under-the-radar primary with a 2014 nominee getting the top spot over her rival.
PA-16
Democratic Primary
Christina Hartman
Gary Wegman
The trend of this lottery (if such a thing is even possible) is the "establishment" candidate also securing the No. 1 position on the April 26th ballot.