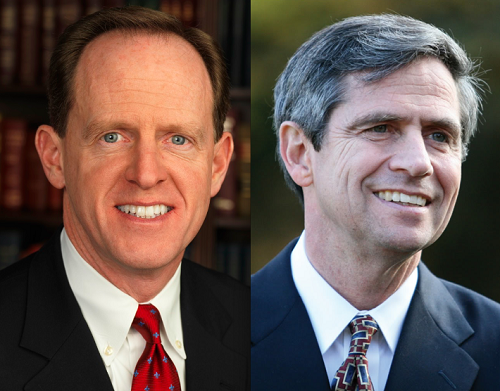 It's incredibly early, but still, incumbent GOP Senator Pat Toomey has to be happy with how his fundraising has gone so far.
Sen. Toomey currently holds a solid fundraising advantage over former Congressman, and his 2010 Democratic Senate opponent, Joe Sestak.
Sestak, though, is still raking in the cash years ahead of Election Day 2016. At this moment, former Rep. Sestak is the only candidate so far to sort-of-formally throw his hat into the ring although Attorney General Kathleen Kane has also expressed interest in the race. There have also been rumors that Montgomery County Commissioner Josh Shapiro is eyeing a run.
In 2014's first fiscal quarter, January 1 to March 31, Sen. Toomey, benefitting from the recognition befitting an incumbent, raised $715,470. Sestak, meanwhile, brought in $221,302. While the Senator clearly outpaced his challenger, he raised about $50K less than last quarter while Sestak brought in roughly $70,000 more.
Toomey also received far more money from PAC's than his rival, getting $143,650 from Political Action Committees compared to the $5,000 Sestak pulled in.
Among the Senator's PAC contributors were Erie Insurance PAC which gave $5,000 along with $2,500 each from the PACs of Liberty Mutual and Citigroup. Curiously for a Republican, Toomey also received $4,800 from the IBEW Local 98. Additionally, the incumbent was the recipient of $1,000 from KOCHPAC, an organization under the umbrella of uber-political donors Charles and David Koch.
The Republican also got significant help from his colleagues. Freshman South Carolina Sen. Tim Scott gave $10,000 through his Tomorrow is Meaningful PAC while Toomey's fellow Finance Committee member Sen. Pat Roberts of Kansas contributed $5,000 from his PAC, Preserving America's Traditions.
Sestak, on the other hand, received $4,000 from his old colleague and former Congressman Brian Baird of Washington.
The Senator also vastly outspent Sestak, $449,240 to $39,970. Among Toomey's expenditures, the most interesting were the $48,807 he spent on direct mail by HSP Direct, the $25,413 rental fee for a fundraising list from the NOVA List Company, and finally the $3,500 given to Push Digital for online ads.
While Toomey could afford to spend such amounts on advertising, Sestak's opportunities were more limited. Most of the latter's spending went to the salaries of a few staff members and to pay for the basic services necessary to keep even the most embryonic of campaigns afloat. The former Congressman did, however, spend $8,377 to the Kennedy Printing Company, which works on direct mail and gave $1,200 to TVEyes, for the purpose of monitoring TV.
Ultimately, though, as things currently stand Sen. Toomey has $4,311,412 cash on hand while former Rep. Sestak has $1,207,090.