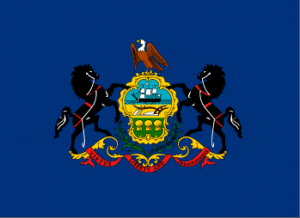 McCord wins the backing of the PSEA, National Journal rates the state's members of Congress and we take a look at the fundraising reports in the race for Lt. Gov. Good morning politicos, here's the Buzz.
PA-Gov: In Major Development, PSEA Backs McCord: Pennsylvania's largest teacher's union – and the largest Pa. union to endorse in the primary to date – threw its support behind State Treasurer Rob McCord.
Lt. Gov: Neuman Raised $90K in 2013: The newest candidate to the race spent his time and money building an organization.
Lt. Gov: Mark Smith Has 112K on Hand: The Bradford County Commissioner entered 2014 in 2nd place in the fundraising race.
Lt. Gov: Stack Has Wide Lead in Money Race: The State Senator both raised and spent the most money in 2013.
Lt. Gov: Critz Fundraising Lags: The supposed front runner in name recognition posted a disappointing fundraising report from 2013.
National Journal: Fitzpatrick Most Liberal PA Republican, Schwartz Most Conservative Dem: The National Journal scored all members of Congress, House and Senate, on how liberal and conservative they were in 2013.
Group Hosts Petition To Remove Pro-Gun Billboard: CeaseFirePA is protesting a billboard in the state's capital that describes an assault rifle as "pure American".
Breakdown of PA Delegation Vote on Debt Ceiling: Check out how the members of Congress from Pennsylvania voted on the latest debt ceiling increase.
Legislative Elections Update:
HD-48: Republican North Strabane Township Supervisor Sonia Stopperich announced today that she will be a candidate for State Representative in the 48th Legislative District. The seat has been held by Brandon Neuman (D-Washington) since 2011, but he recently announced his candidacy for Lieutenant Governor.
HD-120: Democratic Lake-Lehman school director Drew Salko announced his candidacy for this seat vacated by Phyllis Mundy's retirement. Outgoing state Rep. Phyllis Mundy former legislative assistant to replace her. Eileen Cipriani, 50, a member of West Wyoming Council.
Statewide
State House Sounds Bites: To explain rising costs, corrections chief asks lawmakers to look in the mirror
PA Independent: As Pennsylvania speaker heads into retirement, conservatives claim victory
StateImpactPA: Worker still missing after southwestern Pa. gas well explosion
StateImpactPA: Shell seeks to move Pa. highway for proposed ethane cracker
Capitolwire: Keno likely to siphon off casino revenues, gaming official says
Capitolwire: PA Corrections Sec. Wetzel cautions lawmakers about passing new crimes bills
Philadelphia
The Big Tent: McCord gets PSEA backing in governor's race
Heard in the Hall: TRF: Blight enforcement increases home values
The Daily News: Other Dems get squeezed as TVs cry Wolf
Phillynow.com: How the governor's accidental tweet introduced me to "C%#t Show"
SEPA
The Intelligencer: Centennial disses Harrisburg over budget
Delco Daily Times: Republican appointments to Upper Darby redistricting committee draw ire from Democrats
Daily Local News: Pols split along party lines on raising minimum wage
Pittsburgh
Post-Gazette: Corbett says despite explosion at Greene County gas well the industry is 'safe'
Post-Gazette: Seton Hill University names new president
Post-Gazette: GASP files intent to sue unless changes made at Neville Island coke plant
Post-Gazette: Pitt's new chancellor says 'maximum value' a priority
Tribune Review: State sales of wine, spirits increase 3.4 percent
Tribune Review: Verizon Wireless to close Marshall, Cranberry call centers, cut 1,000 jobs
UrbanMediaToday: Research Study Aims to Improve Services for County Youth
Southwest
Altoona Mirror: Nurses' work stoppage could linger
Altoona Mirror: County OKs tax record software
Beaver County Times: Book: Clintons put Altmire on political 'hit list' after 2008 primary
Beaver County Times: Commissioners discuss drug causes, problems
Observer-Reporter: Fire still burns at well site
Observer-Reporter: Ringgold teachers threaten to strike
NEPA
Times Leader: Dauphin County lawyer to seek Barletta's seat
Times Leader: Gov. hopeful stops in Wilkes-Barre to campaign
Times Leader: DEP offers energy education workshop
Times-Tribune: As another storm approaches, municipalities' budgets stretched thin
Times-Tribune: Raided Moosic company tied to veterans housing project under investigation
Times-Tribune: Mellow now in home confinement
South Central
AP: Biotech joins Pa. fight against tobacco decision
Carlisle Sentinel: Renovations to continue at Shippensburg schools
Carlisle Sentinel: Municipalities face large snowfall, salt shortages
Patriot News: Schaeffer school decision will lead to $500K loss, officials and developers say
Patriot News: State Rep. Sue Helm announces campaign for reelection
Patriot News: Cumberland County commissioners mull employee time off to look for savings
Patriot News: Sen. Mike Folmer to host two education-related town hall meetings
Patriot News: Who's Pa.'s next House speaker? Here's some people to watch
York Daily Record: York County commissioners considering more energy projects
Lancaster Intelligencer: Feds seek public comment for proposed natural gas pipeline in Solanco; new details released
Lehigh Valley
Reading Eagle: As storm approaches, salt shortage plagues Berks municipalities
WFMZ: Pennsylvania emergency director outlines plans for winter storm
Express Times: Forks Township resident pushes petition against McDonald's restaurant
Express Times: Controversial Lehigh County appointment pushed off once again
Morning Call: U.S. Sen. Pat Toomey votes no on debt limit
Morning Call: Allentown School District superintendent: Charters are biggest drain
North by Northwest
Erie Times-News Campaign '14 Blog: Thompson, Kelly vote against raising debt ceiling
Centre Daily Times: Bellefonte water project gets more funding
Williamsport Sun Gazette: Township OKs cell tower in Heshbon Park
Williamsport Sun Gazette: Montoursville looks for more funding
Opinion
Patriot News: Liberal group's appalling 'Tom Corbett killed 4 people' claim on Medicaid has no place in our politics
Post-Gazette: Green to the rescue? The rebuff for Alcosan's plan is an opportunity
Tribune Review: The debt ceiling: Boehner's genius
Williamsport Sun Gazette: Community's future quality may depend on task force success
Pottstown Mercury: ESTHER CEPEDA: Immigration's sticky issues
Delco Daily Times: Guest column: Corbett: Pa. set to hit its full economic stride
Blogs
Media Trackers: PA Gov Candidate Katie McGinty Wipes Soot off Her Face
Keystone Politics: National Journal: Allyson Schwartz Is the Most Conservative PA House Democrat
Keystone Progress: Budget Hearings Put Corbett Proposal to the Test
Keystone State Education Coalition: Pennsylvania Education Policy Roundup for February 12, 2014: OP-ED: Reform of Pa. charter schools long overdue