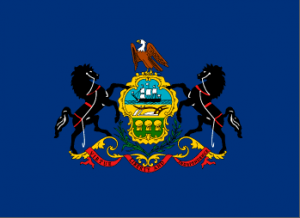 How well did Pennsylvania's Congressmen raise money to finish 2016, and meet Dwayne Woodruff.  Good morning politicos, here's the Playbook!
Ranking Pennsylvania's Representatives Cash on Hand: Year-end reports are filed, so it is time to break down the numbers for Pennsylvania's Congressmen.
Supreme Court Candidate: Dwayne Woodruff: Former Steeler Judge Dwayne Woodruff is the only declared Democratic candidate for the Pennsylvania Supreme Court. PoliticsPA sat down with him to see why he is running and what he learned from his 2015 bid.
Industry News
Joe Hill has joined Cozen O'Connor Public Strategies as Government Relations Professional in Philadelphia
Statewide
NewsWorks: Wolf vows to veto Pa. abortion bill, says he has votes to prevent override
State House Sound Bites: Lawmakers look to create new drug-prescribing guidelines
State House Sound Bites: SWIF asks legislature for help against insurers gaming the system
Philadelphia
Philly Voice: Wolf, Kenney denounce Pa. Senate's passing of bill to restrict abortions
Inquirer: Philadelphia Police Commissioner Richard Ross parks illegally, gets ticket, pays ticket
Inquirer: Restaurant owners, workers ready for 'Day Without Immigrants'
Inquirer: Dems for DA: A crowded field swings toward chaotic
Inquirer: Closer monitoring on tap for City Council's ethics training
SEPA
Bucks County Courier Times: Residents continue to oppose church expansion in Lower Makefield
Bucks County Courier Times: Bensalem school board to work on $11 million budget gap for 2017-2018
Delco Times: Neighbors outline objections to Nether Prov 'sober' home
Pittsburgh
Tribune Review: Pittsburgh's only open-air reservoir might be more trouble than it's worth
Post-Gazette: Lancaster based 'micro-hospital' planning to save in surgery costs
Post-Gazette: Before boil orders, PWSA made unauthorized changes in water-treatment chemicals
Post-Gazette: Trump's new VA chief, lone holdover from Obama administration, has Pittsburgh ties
Southwest
Beaver County Times: Three judicial seats — including one to replace District Judge William Livingston, to be on ballot this year
Beaver County Times: Bartolotta bill expands access for nurse practitioners
Beaver County Times: Matzie's bill OKs sports betting in PA if federal law tossed
Beaver County Times: Employee buyouts saved Beaver County $1.5 million in 2016, contributed to financial turnaround
Beaver County Times: Group calling for shutdown of Beaver Valley nuclear plant
Observer-Reporter: Woman claims she was libeled by Cook's campaign, state GOP
Observer-Reporter: County controller seeking fifth term
Observer-Reporter: Political newcomer challenging incumbent district judge
Observer-Reporter: County, CYS employees arrive at new contract
Altoona Mirror: Counties gear up to offer 911 texts
NEPA
Times-Tribune: Judge nixes raises for Scranton retirees
Times-Tribune: Kelly: Absentee landlord Toomey may find self evicted
Times-Tribune: Commonwealth Health hiring 160 registered nurses, support staff
Times-Tribune: Wolf proposes cut in private college grants
South Central
Patriot News: Susquehanna Township superintendent to resign, head back to hometown
Patriot News: Cambria County man announces plans to run for governor
Patriot News: Lawyer whose offices were raided accuses Lycoming County DA of targeting her
Patriot News: 16-word ruling denies DA's petition against judge, both sides claiming victory
Patriot News: School board member votes for 'no hate' after tweeting controversial chimp photo
Patriot News: Pennsylvania could finally see its first privately owned liquor store: Here's how
Patriot News: Pennsylvania retains rank as state with fifth most hate groups in U.S.
Carlisle Sentinel: Eichelberger gets scrutiny from constituents at town hall meeting
Carlisle Sentinel: Which Midstate lawmakers opt out of state pension system?
Lancaster Online: $25 police fee a fraction of local police costs, data show
Lancaster Online: U.S. Rep. Lloyd Smucker's office has responded to thousands of constituent inquiries, 'no decision' on public town hall
York Daily Record: Perry: In-person town hall meetings coming
York Dispatch: WATCH: Rep. Scott Perry's Facebook Town Hall meeting
York Dispatch: York City gives Thackston deadlines
Lehigh Valley
Morning Call: Pat Toomey says he'll vote for Supreme Court nominee Neil Gorsuch
Morning Call: Northampton schools fear decrease in state transportation subsidy
Reading Eagle: Public pension issue a bargaining chip?
Reading Eagle: Boscov memorial service moved to Santander Arena
Reading Eagle: Kutztown Community Partnership celebrates, plans
North by Northwest
Centre Daily Times: Rep. Thompson calls for more info surrounding Flynn resignation
Centre Daily Times: AccuWeather VP to run for Harris Township supervisor
Erie Times-News: Bayfront Parkway tops Erie transportation priorities
Erie Times-News: Nonprofit gets $1.6 million to improve Erie neighborhoods
Erie Times-News: County Councilman DiMattio to seek Erie County Executive job
Opinion
Inquirer: Inquirer Editorial: Toomey seems missing in action to many of his constituents
Tribune Review: Peeling back Obama's 'onion': It's going to take time
Patriot News: WH adviser Stephen Miller's authoritarian gaffe spoke volumes: John L. Micek
Inquirer: Commentary: Court should strike down soda tax
Inquirer: Commentary: Be thoughtful on health-system reform
Reading Eagle: Editorial: State should get on board with Real ID