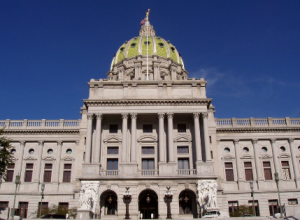 We take a look at Kane's fundraising numbers, Wolf releases a new video and shots are fired in PA-13 over Social Security. Good morning politicos, here's the Buzz.
Wolf Releases New 'Profit Sharing' Video (With Video): Tom Wolf pumps out yet another video — this one dealing with his business's profit sharing model.
President Signs Fitzpatrick Veteran Pension Bill: The bill restores pension cost-of-living adjustments for military veterans.
Gearing Up? A Look At Kane's Finance Report: Revealed that, for a prosecutor, her fundraising is on par with some of the best politicians.
PA-13: Arkoosh Endorsed by Social Security Group, Picks Fight with Margolies: The first-time candidate won the backing of the National Committee to Preserve Social Security and Medicare and used this as an opportunity to hit Margolies over her 1994 attempt to reform Social Security.
Pittsburgh Hosts Two International Delegations: Pittsburgh welcomes two international delegations today — one from China and the other from countries spread throughout Europe.
Legislative Elections Update:
HD-36: The Democratic primary for this Allegheny County seat pits two incumbents against each other: freshman Rep. Erin Molchany and long-term Rep. Harry Readshaw. Molchany has the backing of Pittsburgh progressives, like Councilwoman Rudiak and Mayor Peduto, but Readshaw has the backing of the local unions. More than 70% of the new district previously belonged to Readshaw and Molchany's district moved to Lehigh County. The combined district includes Pittsburgh's South Side, and South Hills neighborhoods ranging from Mount Washington to Carrick, along with Mount Oliver and suburban neighborhoods in Brentwood and Baldwin Borough.
HD-72: Veteran and Cambria County Fair President Philip Rice announced his candidacy for the Republican nomination in this seat. The Cambria County seat is in an odd situation after redistricting. Democratic Reps. Burns and Haluska now live in HD-72 and may face each other in the primary.
HD-131: State Rep. Justin Simmons (R-Lehigh) announced his reelection bid yesterday. He's seeking a second term. He includes the following items in his legislative agenda: privatization of the state liquor store system, reducing the size of the legislature, and making significant changes to the property tax system to provide relief for homeowners.
HD-132: Freshman Representative Mike Schlossberg (D-Lehigh) announced his reelection campaign last night in Allentown. In 2012, he filled the seat left by Jennifer Mann's retirement. So far, he has no primary or general opponent.
HD-146: Representative Mark Painter (D-Montgomery) announced that he will seek re-election. Painter will be seeking his second term representing the 146th district, which includes parts of Pottstown, the boroughs of Royersford and Trappe, and the townships of Limerick, Lower Pottsgrove, and Perkiomen.
HD-193: Pennsylvania Taxpayers Cyber Coalition endorsed Brian Gembusia for the Republican nomination in HD-193. He's also been endorsed by the Cumberland County Republican Party. He's running in the primary against incumbent Rep. Will Tallman (R-Adams).
SD-28: Republican Scott Wagner has announced that he will run as a write-in candidate for the March 18th PA Senate Special Election to fill the remaining term of former Senator Mike Waugh. Rep. Ron Miller (R-York) will be the Republican nominee.
York City Mayor Kim Bracey endorsed Democrat Linda Small for the PA Senate 28th district seat today.  Small is running in the special election for the seat on March 18th, 2014.
SD-46: Senator Tim Solobay (D-Allegheny) announced that he will seek reelection this year. Solobay, from Canonsburg, was first elected to the Senate in 2010 after serving twelve years in the State House of Representatives. Following last year's legislative redistricting, the 46th Senatorial District will now encompass all of Greene County; nearly all of Washington County (except Peters Township); and the City of Aliquippa; Hanover, Hopewell and Independence townships; and South Heights and Frankfort Springs boroughs; all in Beaver County. He will likely face Republican Camera Bartolotta.
Statewide
Capitolwire: POINT OF ORDER: Why can't PA lawmakers just pay what's owed to state's pension systems?
StateImpactPA: EPA approves waste disposal well in Clearfield County
StateImpactPA: With fire out, crews move toward capping wells at Greene County explosion site
Philadelphia
Inquirer: Quiñones Sánchez backs House, Senate seat challengers
Inquirer: Lawyer to clients who take center stage
Inquirer: Deadline nears for Philadelphia's homeowner tax relief program
Inquirer: Luxury hotel to replace Family Court building
Daily News: Yo, it's a Daily News quiz on presidents
Daily News: Low-tax PA?
Attytood: The Chevron Guarantee: Our well won't explode…or your pizza is free!
Heard in the Hall: City union leader calls for round-the-clock negotiations
SEPA
Courier-Times: Cordisco seeks more Dems for Legislature run
Courier-Times: Bucks County reports record high homeless population
Courier-Times: Upper Makefield GOP to hold screening meeting
Pottstown Mercury: With petition filed, judge to decide new Spring-Ford board member
Pottstown Mercury: Clock ticking down on decisions for $33M Pottsgrove High School project
Pottstown Mercury: Painter to seek re-election to 146th District House seat
Pittsburgh
Early Returns: Molchany launch Monday
KDKA: Teachers Union Opposes $40 Mil Grant's New Evaluation System
Urban Media Today: Attorney General Kane: Budget cuts to public safety will weaken Pennsylvania
Post-Gazette: Study: More 'big-city bills' fail
Post-Gazette: African-American leaders come out in favor of change in Pittsburgh Public Schools teacher evaluations
Post-Gazette: Mayor Peduto puts new focus on Pittsburgh Public School system
Tribune Review: Low-priority bridge projects close off North Side residents
Tribune Review: Latest winter storm hits as Pittsburgh joins W. Pa. communities facing road salt shortage
Southwest
Altoona Mirror: Lawyer: Strike down state law
Johnstown Tribune Democrat: Plans in place to help pay for infrastructure fixes
Johnstown Tribune Democrat: Transportation bill's impact felt immediately
AP: Penn State names new president
Beaver County Times: County boosts efforts for hotel tax compliance
NEPA
Times Tribune: Prison inmate growth pressures easing
Times Leader: Attorney General to speak at Hazelton Crime Watch meeting
Standard Speaker: Acting education secretary explains why subsidy is unchanged
Standard Speaker: Abortion rates down in Pa., up in Luzerne County
Pocono Record: Commuter train: NJ progressing, while 'plans in Pa. have not left station'
South Central
Carlisle Sentinel: Health, environmental experts discuss pollution potential as warehouse debate continues in Dickinson Twp.
Harrisburg Patriot News: Harrisburg needs more time to figure out school finances
Harrisburg Patriot News: Republican Scott Wagner mounts a write-in campaign in special election for Senate seat
Harrisburg Patriot News: Scott Wagner's special election write-in campaign raises ire of GOP opponents
Harrisburg Patriot News: South Middleton Twp. supervisor challenging state Rep. Will Tallman in GOP primary
York Daily Record: What Scott Wagner's write-in campaign will mean for March 18 special election
Lancaster Intelligencer/Era: Is Barack Obama breaking a campaign promise he made in Lancaster?
Lancaster Intelligencer/Era: GOP to throw support behind candidates Tuesday
Lancaster Intelligencer/Era: Democrat joins race for state Senate seat in the 36th
Lehigh Valley
Express Times: State Rep. Justin Simmons will seek re-election
Express Times: State Rep. Mike Schlossberg will run for re-election
Express Times: Northampton County executive wants to spend $715,000 on business consultant
North by Northwest
Campaign '14 Blog: Tuesday is big day for candidates in May primary
Williamsport Sun Gazette: With low-wage jobs the trend, retiree worries about middle class
Opinion
Tribune Review: Abuse in Harrisburg: The per-diem party
Post-Gazette: Jailhouse rap: The county's lawyers must be more responsive
Daily News: DN Editorial: MOVING SALE
Inquirer: Inquirer Editorial: Feeling the LOVE
Harrisburg Patriot News: Will Kathleen Kane finally ensure justice in Mancini case? Editorial
Blogs
Above Average Jane: Affordable Care Cats
Keystone Politics: #PAGov: Corbett DEP Wants to Use Radioactive Fracking Waste Crystals as Road Salt
Keystone Politics: #HD36 Replay: Why the PA Democratic Party Needs to Back Erin Molchany Over Harry Readshaw
Keystone Politics: #PA13: Social Security Becomes a Top Issue
Keystone Politics: Bob Brady on the Maria Quiñones Sánchez Slate: Latinos Have Enough Power
Keystone Politics: #HD164: Margo Davidson Called It a "Conspiracy Theory" That Act 122 Would Shutter Health Clinics. Then 5 Clinics Closed
Lehigh Valley Ramblings: Mr. Brown To Meet the Press
Lehigh Valley Ramblings: A Main Street Manager in the 'Burbs