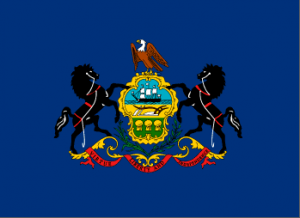 Toomey comments on the SCOTUS vacancy, the Philly Police offer Kanye a job and Terry Madonna analyzes Kathleen Kane's character flaws. Good morning politicos, here's the Playbook!
Philly Police Offer Kanye West A Job: The Philadelphia Police Department made waves yet again.
Politically Uncorrected: The Fall of Kathleen Kane: Where does the Kane saga belong in the notorious annals of Pennsylvania's disgraced politicians?
PA Religious Group Calls Out Trump: The Pennsylvania Family Council issues the presidential candidate an open letter.
PA-Sen: Toomey Attacks McGinty's Business Career (VIDEO): The Senator asserts McGinty is looking out for her own interests instead of the commonwealth's.
PA-Sen: Toomey Stands Firm on Not Confirming: The junior Senator would, however, be open to voting on a Scalia-like nominee.
PA-2: SEIU Endorses Fattah's Re-Election Effort: Fattah receives a much needed endorsement in his campaign to retain his Congressional seat.
PA-8: NRCC Embraces Fitzpatrick, Adds Him to "Young Guns" Group: The NRCC is coalescing around the younger brother of the incumbent Congressman.
Statewide
PA Watchdog: Philadelphia approves 3 new charter schools
PA Watchdog: Teacher unions stage 'walk-in' action to protest budgets – and competition
PA Watchdog: Taxpayers subsidize union politics of 'ghost teachers'
PLSReporter: Pennsylvania enters new phase of criminal justice reform with JRI II
State House Sound Bites: PA embarks on review of its criminal justice system
State House Sound Bites: Stricter campaign finance law? There's a bill for that
Philadelphia
Heard In The Hall: Freshman Councilman Taubenberger fined by ethics board
Heard In The Hall: Top-paying jobs in Kenney's administration
KYW: PA Congressman Says FDA Should Take Popular Form Of Birth Control Off The Market
KYW: City Council Committee Hearing Held On State Of Phila. Schools
Inquirer: Kenney appoints Judge Benjamin Lerner to top post in his administration
Inquirer: Pa. to review criminal justice system
Inquirer: Council bill aims to increase city employment
Inquirer: Toomey pressed, praised on Supreme Court stance
SEPA
Pottstown Mercury: Spring-Ford mulls impact of extended state budget impasse
Pottstown Mercury: Montgomery County OKs new contract for detectives bureau
Bucks County Courier Times: Penndel council approves contract with new solicitor
Bucks County Courier Times: Morrisville not alone in its efforts to merge with another school district
Pittsburgh
Post-Gazette: Statements that aren't quite true usually don't hurt politicians, experts say
Post-Gazette: Pa. auditor general finds size of dining allowance too steep for gaming control execs
Pittsburgh Business Times: Filing alleges UPMC accidentally handed privileged documents to DOJ
Pittsburgh Business Times: More bridge work needed in Pennsylvania
WESA: Do High Taxes Play A Part In Keystone Exodus?
WESA: No, Pittsburgh, Your Recycling Isn't Going To The Landfill
Southwest
Altoona Mirror: Juvenile treatment challenging courts
Altoona Mirror: Starr falls off ballot over paperwork error
Johnstown Tribune-Democrat: 'We're coming after you': Police, lawmakers form united front in war on drugs
Observer-Reporter: Judge Toothman rejoins Greene County elections board
NEPA
Pocono Record: East Stroudsburg artist's work to hang in Governor's mansion
Pocono Record: Longtime Stroudsburg solicitor to depart
Times Leader: Rep. Lou Barletta, marshmallow pizzas and a very successful SHINE after school program
Times Leader: Wilkes-Barre finances buoyed by Tax Anticipation Note acquired in January
Times-Tribune: Peters defends work for Preate, Kane and Democrats
Citizens Voice: Committee seeks public input in county manager search
Citizens Voice: Audit: Gaming industry overstated table game jobs projections
South Central
Patriot News: Pennsylvanians registering to vote by the thousands using online system
Patriot News: Gov. Tom Wolf, state leaders launch new look at Pennsylvania's criminal justice policies
Carlisle Sentinel: Auditor General says gaming board needs more self control with expenses
Carlisle Sentinel: Chamber of Commerce breakfast addresses state of education
York Dispatch: Gov. Wolf pays visit to York City Elementary
Lancaster Intelligencer: Meet the national security adviser to Ted Cruz who's from Lancaster
Lebanon Daily News: PA 101st candidate John Dissinger's petitions rejected
Lehigh Valley
Morning Call: Gracedale passes state inspection without a single citation says Northampton County Councilman
Morning Call: Lehigh County Executive Tom Muller says finances strong despite state budget mess
Reading Eagle: Berks Republicans hear messages on multiculturalism
WFMZ: Patrick Murphy sworn in as Under Secretary of Army
Express Times: Ex-Bangor councilman headed to possible trial in sex abuse case
North by Northwest
Centre Daily Times: Pennsylvania gets new study to cut crime, prison population
Williamsport Sun Gazette: Independent to run against US Rep. Marino
Erie Times News: Dan Laughlin announces bid for state Senate nomination
Erie Times News: 2 Republicans vie for 6th District state House nomination
Opinion
Express Times: Trump, Clinton, Sanders fail the godly test
Patriot News: Kathleen Kane: Was playing the mom card the wrong move?
Morning Call: Foul language has no place in presidential campaign
Standard Speaker: Normalcy at last in Kane episode
Times-Tribune: Common sense prevails
Citizens Voice: Reform in Pennsylvania
Altoona Mirror: Cambria tax increase wise choice
Observer-Reporter: Let the Sunshine in
Post-Gazette: Kane's good news: Why wait till January? She should leave now
Post-Gazette: Carbon uncaptured: The Supreme Court suspended a sensible plan
Post-Gazette: Asian summit: Part of Obama's aim was to counter China
Tribune-Review: Cheating charter schools: Gov. Wolf's dichotomy
Inquirer: Kathleen Kane's long goodbye
Daily News: Students falling for socialism
Blogs
2 Political Junkies: Brave
2 Political Junkies: Meanwhile, Outside It's Getting Warmer and The GOP Is Still Denying The Science
Citified: Maria Quinones-Sanchez Wants to Make Philly the "BCorp Capital of the World"
Citified: Pa. "Sanctuary Cities" Could Face Crackdown