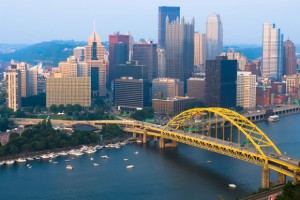 The race in Pittsburgh heats up. Good morning politicos, here's the Buzz.
Toomey Joins GOP To Spike Hagel Nom: Last Thursday, the Senate voted 58-40 to vote on former Senator Chuck Hagel's nomination for Secretary of Defense, falling just short of the 60 votes required for cloture. Senator Pat Toomey (R) was one of many GOP senators who voted against cloture, postponing the vote to February 26th.
Reader Poll: Uphold Or Strike Down The Pa. Voter ID Law? Pa.'s Voter ID law has been put on hold yet again.  Do you think the Pa. Supreme Court should ultimately uphold the law or strike it down?
Reader Poll: Corbett Made Wrong Call On Medicaid: Recently we asked our readers' opinion on Governor Corbett's decision to reject Medicaid expansion in Pa. A majority 70% think that the governor made the wrong call and will neglect Pennsylvanians in need.
Local Elections:
Pittsburgh Mayor: Luke Ravenstahl officially kicked off his re-election bid Tuesday night.
Statewide
PA Independent: Federal tax hikes put squeeze on consumer spending in Pennsylvania
StateImpact PA: Pipeline protests shift from courts to direct action
State House Sound Bites: Bid deposit on state lottery returned to British firm
State House Sound Bites: Lawmakers look for sizzle with budgetary grill sessions
Philadelphia
Inquirer: PA investigating alternative education school in Bucks Co.
AP: Corbett returns $50 million to UK firm in lottery deal
Commonwealth Confidential: Budget hearings start today in Harrisburg
Heard in the Hall: Put property assessments first
PhillyClout: Plenty of candidate interest in Traffic Court, which may be abolished
PhillyClout: City Councilwoman: It's inappropriate to comment on federal investigation
PhillyClout: Philly property owners flood city phone lines about assessments
WHYY: District reduces number of planned school closings from 37 to 29
CBS/KYW1060: Philadelphia school to begin randomly drug testing students
SEPA
Pottstown Mercury: Sestak, Schwartz hedge on saying they will enter 2014 governor's race
phillyburbs.com: Most Bucks, Montco schools don't have a policy on strip-searching students
Intelligencer: Lottery contract, Medicaid expansion stir ire as budget hearings begin
Delco Daily Times: UPDATE: Sestak says he wants to run for office, but doesn't know if it will be for governor
Daily Local News: County pipeline project moving forward
Daily Local News: Chester County environmentalists reflect on Washington, D.C., climate rally
Pittsburgh
Tribune Review: Mayor says police bank accounts paid for hotels, travel, food for G-20 summit
Tribune Review: Pittsburgh council considers smoking ban on playgrounds
Tribune Review: State Supreme Court appoints Allegheny County prosecutor to committee
Tribune Review: State ruling subjects kindergartners to attendance rules
Post-Gazette: Ravenstahl kicks off re-election campaign
Post-Gazette: Wilkinsburg School Board discusses borrowing $3 million to maintain cash-flow
Post-Gazette: Allegheny County Council approves drilling at airport
Post-Gazette: FBI joins investigation of Heinz deal
Post-Gazette: Weighing an appeal, Pa. returns $50 million lottery pay
Early Returns: Events heat up 13 weeks out
Early Returns: Ravenstahl confirms G20 condo stay
KDKA: Pittsburgh Police Investigation Continues, Mayor Speaks Out
KDKA: County Council To Vote On Airport Drilling Contract
WTAE: Allegheny Co. Council approves airport drilling deal
WPXI: Above and beyond: Connellsville firefighters rescue dog from burning home
Southwest
Beaver County Times: Council approves drilling at Pittsburgh airport
Beaver County Times: Ruling says no Pa. privacy right for home address
Observer-Reporter: Pittsburgh officials probe police-related spending
Observer-Reporter: Democrats take on Corbett over Medicaid, pensions
Altoona Mirror: County weighing five Valley View bids
Altoona Mirror: 'State Patty's' alcohol sales cut
Johnstown Tribune-Democrat: Establishments go alcohol-free for 'State Patty's'
Johnstown Tribune-Democrat: School settles truancy fine suit for $265K
NEPA
The Times Leader: Hospitals to study drilling and health
Times-Tribune: Principal evaluations by teachers 'meaningless,' attorney says
Times-Tribune: Rep. Flynn to hold open house
Times-Tribune: Deputy sheriff McAndrew wants top job
Citizens Voice: Suspensions renew 'zero tolerance' debate
Citizens Voice: Protesters block pipeline access gate
Standard Speaker: Toohil wants Pa. company to manage lottery
Pocono Record: $800,000 payout for Delaware Valley School District leader
Lehigh Valley
Morning Call: Councilman Lamont McClure joins Northampton County executive race
Morning Call: State cracks down on unemployment cheats in county prisons
Reading Eagle: Candidate for judge's seat hits role of money in campaigns
WFMZ: Former state Rep. Joseph Brennan heads back to work
WFMZ: Jeffrey Waltman announces bid for council president
WFMZ: Bethlehem pays tribute to former Mayor Gordon Mowrer
South Central
AP: Counties hope to quell Pa. voting law confusion
AP: Democrats challenge Corbett over Medicaid analysis
AP: Ruling says no Pa. privacy right for home address
AP: Corbett returns $50M to UK firm in lottery deal
Carlisle Sentinel: Pa. one of hardest hit states in Army's estimated budget cuts
Harrisburg Patriot-News: Gov. Tom Corbett weighing options about lottery management privatization
Harrisburg Patriot-News: Carlisle Mayor William 'Doc' Kronenberg running in primary to preserve police positions, help businesses
Harrisburg Patriot-News: Headlines across Pa.: Oliver Hazard Perry quarter, Marcellus Shale and Katie Couric
Harrisburg Patriot-News: Analysis: What if Gov. Tom Corbett gave up after one term?
Roxbury News: Revenue Secretary Daniel Meuser: We returned the $50 million security deposit to Camelot
York Daily Record: Gov. Tom Corbett to speak at York County GOP event in March
York Daily Record: York County primary candidates wait for Tuesday's 'starting gun'
York Daily Record: City Human Relations Commission meeting called off, residents left waiting
York Dispatch: Mayor on HRC: It's time to step in
York Dispatch: Senators: Medical device tax hurts Pa.
North by Northwest
AP: Ruling says no Pa. privacy right for home address
AP: Corbett returns $50M to UK firm in lottery deal
AP: Counties hope to quell Pa. voting law confusion
AP: Democrats challenge Corbett over Medicaid analysis
AP: Jury ends second day of deliberations for Melvin
GoEire Campaign '13: State lawmakers from Erie County meet monthly
Opinions
Pottstown Mercury: State Sen. Bob Mensch: Pa. faces public pension crisis
Carlisle Sentinel: Our View: Sign that home-rule petition
Daily News: Will Bunch: Comcast, Corbett, and the 1 percent party
Harrisburg Patriot-News: Editorial: Hagel deserves a vote for Pentagon boss
York Dispatch: EDITORIAL: Corbett gambles, loses on lottery deal
Lancaster New Era: Applause-line gun control
Reading Eagle: Post office must be allowed to sink or swim on its own
Williamsport Sun-Gazette: Hearings unmask the painful exercise of covering up
Blogs
Keystone Politics: Yes David Cohen's a Jerk, But His Corbett Endorsement Isn't That Interesting
Keystone Politics: Planes, Wine, and PA GOP Chairman Rob Gleason– Something Stinks in Cambria County
Keystone Politics: Could Legal Marijuana Be a Stimulus for Rural PA?
Keystone Politics: Why Underassessed Land Is a Bad Deal for Low-Income Philly Residents
Jon Geeting: Andy Po of Homebase Endorses Willie Reynolds for Bethlehem Mayor